Walter Scott, Jr. Award
The Walter Scott, Jr. Award is presented to Members who have substantially impacted the programs and mission of the Horatio Alger Association through their leadership and exemplary support.  The award was named after late Chairman Emeritus Walter Scott, Jr., who was the founder of Association's State Scholarship Program and the Horatio Alger Endowment Fund.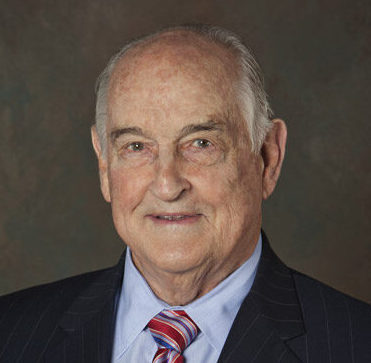 Walter Scott, Jr. ('97)
2017 Walter Scott, Jr. Award Recipient
Chairman & President
Peter Kiewit Sons, Inc.
Born in Omaha, Nebraska, in 1931, Walter Scott, Jr., was the grandson of Scottish immigrants. Raised during the Great Depression, Scott began working at the age of eight as he shoveled snow for neighbors. When he was older, he worked on farms and ranches during the summer. He attended Colorado A&M (later Colorado State University), where he earned an engineering degree. During his college years, he worked summers for Kiewit, a construction company. Scott worked his way up the ladder from job foreman to superintendent to district manager. At the time, Scott became CEO of Kiewit in 1979, it was principally a construction business with some mining interests. Under Scott's leadership, Kiewit became one of the leading heavy construction organizations in the nation. In 1998, Peter Kiewit Sons' (PKS) separated its construction and communication/information services business, thus establishing Level 3 Communications, a subsidiary, as an independent corporation. Scott became chairman emeritus of PKS and continued as chairman of Level 3, operator one of the world's largest communications and Internet backbones.