Walter Scott, Jr. *
Class of 1997
2009 Norman Vincent Peale Award Recipient 2017 Walter Scott, Jr. Award Recipient
Chairman and President Peter Kiewit Sons, Inc.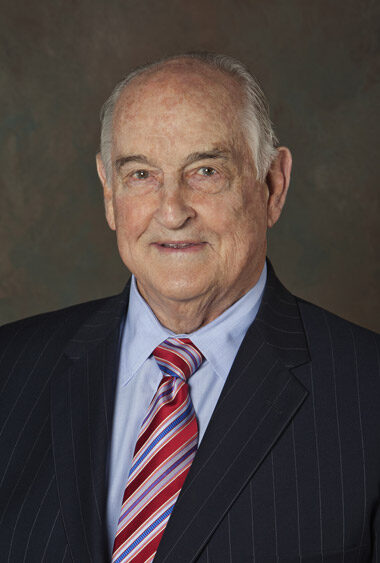 Born in Omaha, Nebraska, in 1931, Walter Scott, Jr., was the grandson of Scottish immigrants. Raised during the Great Depression, Scott began working at the age of eight as he shoveled snow for neighbors. When he was older, he worked on farms and ranches during the summer. One year, Scott hopped a train and worked on a ranch in Oregon. He attended Colorado A&M (later Colorado State University), where he earned an engineering degree. During his college years, he worked summers for Kiewit, a construction company. After graduation, he continued with the company as an engineer.
After a brief stint in the U.S. Air Force during the Korean War, Scott returned to Kiewit, which was in the midst of a major construction boom. Scott moved his family to 17 job sites in 12 years, methodically working his way up the ladder from job foreman to superintendent to district manager as he crisscrossed the country from project to project. Through the years, the company's owner, Peter Kiewit, became a mentor to Scott. Shortly before his death, Kiewit chose Scott as his successor.
At the time Scott became CEO of Kiewit in 1979, it was principally a construction business with some mining interests. Under his leadership, those businesses grew and prospered, and Kiewit became one of the leading heavy construction organizations in the nation. Scott led the company into new ventures in telecommunications, energy, and investments in infrastructure projects.
In 1998, Peter Kiewit Sons' (PKS) separated its construction and communication/information services business, thus establishing Level 3 Communications, which had been a subsidiary, as an independent corporation. Scott became chairman emeritus of PKS and continued as chairman of Level 3, operator one of the world's largest communications and Internet backbones.
Scott thoroughly enjoyed his membership with the Horatio Alger Association, including a term as board chairman. "For me," he said, "each year's ceremonies are an inspirational experience. Meeting the young people receiving scholarships and learning of the hardships they've had to overcome renews your faith in the human spirit and the power of positive thinking."
The father of four, Scott told his children when they were growing up, "The greatest thing you can have in life is your health. The greatest thing you can acquire in life is education. The greatest thing you can do in life is to be a giver because the world already has plenty of takers."