Y. Michele Kang
Class of 2023
Owner Washington Spirit
Founder & CEO Cognosante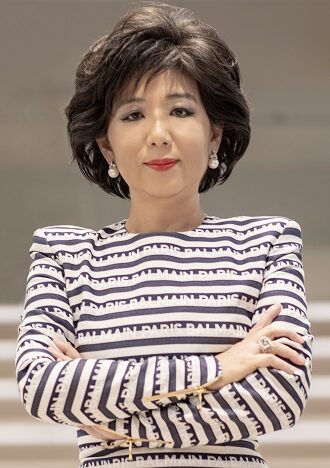 Michele Kang is an American sports team owner, businesswoman, investor, and philanthropist—who came to the United States to pursue her American dream.
Kang was born in South Korea, the youngest of three daughters. Her parents, who were both educators, instilled in her a lifelong passion for learning and hard work. "In 1950," she says, "the U.S. government awarded scholarships to study in America as part of their reconstruction efforts in Japan. My father was the first of four recipients of that scholarship."
Influenced by his western education, Kang's father encouraged his daughters to pursue their interests. "At that time in Korea," she says, "girls were supposed to study and go to college, but after graduation, they were expected to get married and stay home raising children. By the time I was starting high school, my mother returned to work. My older sisters also worked, so my upbringing was unusual for the time."
Kang was a happy, outgoing, and ambitious child. "There was always laughter in our home," she recalls. "My siblings' friends always gathered at our house. My mother was a wonderful cook, and we ate dinner as a family every night, with my parents asking us what went well that day and what didn't. We always felt free to express our opinions. I think this helped me to make persuasive, logical arguments."
In her youth, Kang dreamed of what she wanted to be when she grew up, which included an opera singer, a professional basketball player, and a teacher. "I never dreamed about what I actually became," she says.
Instead of the stage, court, or the classroom, Kang set her sights on the business world. Not only was she the only woman admitted to her business school, but she ended her first year as the number one ranked student in the class. In search of even greater challenges, Kang decided to leave Korea to attend the top-rated economics department at the University of Chicago.
At the time, it was unheard of for an unmarried girl to go overseas by herself, but Kang was determined. "I went to my parents and told them that if they loaned me the money they were saving for my future wedding, it would pay for one year of college in America. After that, I would find a way to pay for the rest of my education." South Korea was undergoing mass demonstrations for democracy, especially on college campuses. Kang's parents feared that if she was on a South Korean college campus and became involved in the demonstrations, she would be arrested—so they relented and allowed her to pursue her education in the United States.
Kang has always believed that her elementary school education gave her a solid foundation for her future studies. In her early days in Chicago, however, she soon realized that she would have to learn to study in new ways. "I was taking microeconomics," she says. "I studied hard for the first test and thought I would ace it. I was shocked when I looked at the test and there was only one question. Until then, all my learning had been memorization of facts and theories. But I came to realize that facts don't help you if you don't know how to apply them to solve real-life problems. That completely changed my way of thinking." Through tireless work to overcome language and cultural barriers—and juggling multiple jobs to support herself financially—she earned a bachelor's degree from University of Chicago and a master's degree in public and private management from the Yale School of Management.
Kang's goal was to become the CEO of a Fortune 500 company, and she set out to develop her management and leadership skills. She began her career as a management consultant, advising companies on how to use emerging technology to lead innovation and growth. She eventually joined Ernst and Young as a Partner and then Northrop Grumman, the American aerospace and defense technology company, as a senior executive. Under Kang 's leadership, the Information Technology Health Solutions division grew fourfold while increasing profits every year in a highly competitive industry. She achieved these profits and managed thousands of employees all while fighting her own battle with breast cancer. Thankfully, she has been cancer-free for almost 20 years.
Eventually, Kang's path to the C-suite took an unexpected turn. In 2008, Kang became an accidental entrepreneur—founding her own company, Cognosante, in the empty room above her garage. "I didn't become CEO of a Fortune 500 company," she says, "but I did become CEO of my own company—right on time."
In just a few short years—and during the Great Recession—her company grew rapidly and emerged as an industry leader and innovator in the field of information technology. Today, Cognosante is a trusted provider of technology solutions for key federal health, military, and intelligence agencies, as well as state health programs. With almost 2,000 employees across the United States and internationally, it is a three-time Great Place to Work certified company, a designation earned because of the forward-thinking and inclusive culture Kang has built.
In 2022, Kang became the first woman of color to own a National Women's Soccer League team: the 2021 League champions, the Washington Spirit. In addition to building a premier team, she took on this role with a firm commitment to help move the League forward, by ensuring parity in infrastructure, sponsorship, and media as well as diversity among League owners. Kang has become a leading global advocate to create a level playing field between men and women in soccer, starting with equal pay.
Building on her transformational work in both technology and women's sports, Kang also invests in early-stage companies that challenge the conventional wisdom. She established Cognosante Ventures to fuel and mentor digital health companies that will profoundly change the way patients experience healthcare. She also supports women-led sports start-ups including Just Women's Sports, the leading media platform dedicated exclusively to women's sports.
In gratitude for the U.S. soldiers who helped defend her home country during the Korean War, Kang stands with American Veterans. She has proudly supported the National Museum of the Marine Corps and The Chosin Few, which is a member organization of Veterans, spouses and lineal descendants of one of the bloodiest battles of the Korean War, the Battle of Chosin Reservoir. She also supports organizations that aim to eradicate homelessness among female veterans and find employment for wounded veterans and their caretakers.
As a long-time, art-loving philanthropist, she currently serves as a Trustee on the boards of the Washington National Opera and the Norton Museum of Art. She has also served on the Kennedy Center International Committee on the Arts and the Palm Beach Symphony Orchestra.
Kang has been recognized for her trailblazing entrepreneurship and philanthropic work with numerous awards. She was inducted as a 2022 Hall of Fame Laureate by Junior Achievement of Greater Washington. Kang received the EY Entrepreneur of The Year® for the Washington, DC, region and the U.S. Award for Services. Along with U.S. senators, high ranking government officials, and top executives of Fortune 500 companies, Kang was also named an inaugural member of 100 Women Leaders in STEM in 2012 and one of the Top 100 CEO Leaders in STEM in 2016.
In 2023 Kang signed an agreement with the OL Groupe to create the first-of-its-kind global multi-team women's soccer organization, of which she is the majority owner and CEO. "This development," says Kang, "will usher in a new era of women's soccer." Recently, Kang received the 2023 Sport Business Journal Deal of the Year Award for her acquisition of the Washington Spirit in 2022.
"I am honored to have the opportunity to share my experience challenging the status quo with new ideas and making a real difference in our society," shared Kang. "I was able to turn my passion for helping Veterans and others who face adversities into a fulfilling career, and I look forward to teaching Scholars how they, too, can stay true to their dreams and achieve success."
Kang believes that success is not only defined by the value you create. It is achieved by knowing that you did all you could to reach your goal. "I could put it in soccer terms," she says. "The team that wins the World Cup is not the only successful team. The other teams may not have won, but that doesn't mean they aren't successful. It's important as an entrepreneur not to fear failure. I learned from my failures and then I picked up the pieces and kept going."
Now that Kang has achieved her own American dream, she is dedicated to helping others reach their own. "When you are successful," she says, "I think it is important to bring others along with you. I believe in making the playing field equal regardless of your gender, race, or economic status. As an immigrant, this country has been incredibly gracious to give me opportunities. Now it is time for me to provide opportunities to those who need them the most."
Honored by her Horatio Alger Award, Kang says, "All of the Members have scars and bruises to show from their journeys to success, but through all the disadvantages and adversities, they pursued their dreams and they got there. To be a part of that persistence and collective wisdom makes this award the Oscar of my life."