William B. Tabler, Sr.
*
Class of 1958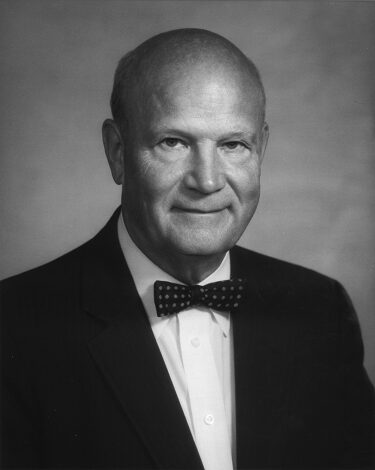 Born in 1914 in a small farming community of Momence, Illinois, which is south of Chicago, William Tabler spent many happy childhood hours helping his father run the family lumber and grain business. He was a good student and graduated valedictorian of his high school class.
Without prior acceptance, Tabler journeyed east to Harvard University to study architecture. He enrolled on probation and completed a nine-year program in seven years, earning scholarships and working summers to pay his bills. Earning both a bachelor's and a master's degree, he graduated at the top of his class in 1939 and went to work for a prominent Chicago architectural firm.
Tabler's first hotel design experience was the Statler Hotel in Washington, D.C. The hotel won praise for its efficient design, and Statler offered him a job. After Tabler served three years with the U.S. Navy during World War II, Statler set him up in business in New York. When Conrad Hilton acquired the Statler chain, Tabler began building Hilton hotels.
"Success does not come from just pleasing oneself," Tabler said. "To feel successful, you have to set worthy but obtainable personal and professional goals. To be worthy, a goal should include an element of altruism. In architecture, for example, a structure should improve the quality of life for many people."
His advice for young people was to learn to feel the joy associated with hard work. "My idea of the American dream revolves around having the freedom to work hard at something I believe needs to be done," he said. "The satisfaction is in the work, not in any rewards that may or may not come after the work is finished."