Wanda M. Austin
Class of 2012
President and CEO, retired The Aerospace Corporation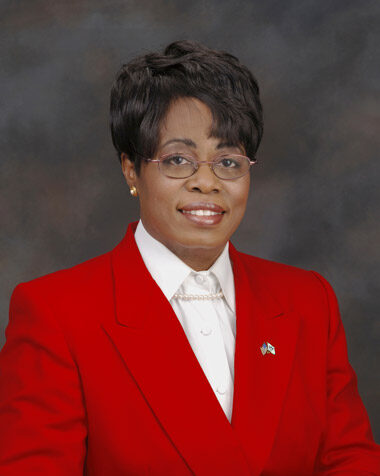 Wanda Austin, the middle of three daughters, was born in the Bronx in 1954. Her family lived above a barber shop, where her father cut hair 12 to 14 hours a day, six days a week. "My father never finished high school," says Austin, "but he valued education and told me and my sisters that our number-one job was to do well in school."
Austin's mother worked as a nurse's aide. While in elementary school, Austin swept the floors and cleaned shelves at her father's barbershop after school. When her chores were done, she would use the key she kept on a string around her neck to let herself into their rooms over the shop. Once home, she did a few house chores and then her homework.
Most of the buildings in Austin's crime-infested neighborhood had bars on the windows. One day a fire engulfed their building, trapping Austin, her mother, and her sisters, in their apartment. Her father had to cross the roof from another building and break a window and bars to make the rescue. Soon after, the family moved down the street to the projects. They lived on the 13th floor in a building that at times had no running water or heat, but it seemed like a step up from where they had been living before.
"Growing up in the inner city during the 1960s was a racially and emotionally charged period," says Austin. "We lived through the assassinations of John Kennedy, Robert Kennedy, Martin Luther King, and Malcom X. Most of my neighbors felt disenfranchised with little hope for the future. My family was poor, but we felt fortunate. We had a loving home, and my parents gave us all they could."
When Austin was in the third grade, her public school was selected for racial integration. She was bused to a mostly white neighborhood and began to live her life split between two worlds. In one, she was a minority student trying to take advantage of an opportunity to get a better education. In the other, she lived in an all African-American world that required her to navigate carefully to stay free of drugs, teen pregnancy, and low expectations that were so prevalent in her neighborhood. Her parents helped her tremendously in this endeavor by creating a circle around their children that was focused on the positive.
"My mother took it upon herself to expose us to all that New York City had to offer," says Austin. "As often as we could, we ventured out of our neighborhood to go to museums and free exhibits. We went to movies or a Chinese restaurant, or went on bus excursions with our church to Atlantic City or Connecticut, anything to get us out of the South Bronx and reveal to us a life full of aspirations."
Austin became involved in Girl Scouts and even served as a spokesperson for the New York-based organization. "That was an exciting, positive experience for me," she says. "I began to have a vision of what might be possible for me. My father always told me, '˜I can't open doors for you, but with a good education everything is possible.'"
A studious child, Austin enjoyed reading and worked diligently. Eventually, she was admitted to Bronx High School of Science, a magnet school to which only top students were admitted. This school opened her eyes and encouraged her to consider a college education, something no one in her family had ever attempted.
Austin applied to several schools and finally decided on Franklin & Marshall College in Pennsylvania, because it was the only one that offered her a scholarship, financial aid, and work study. One of only five African-American females on campus, she majored in mathematics. Upon graduation, a professor encouraged her to attend graduate school. She enrolled at the University of Pittsburgh, where she received a fellowship, and worked as a teaching assistant while earning a master's degree in math. She also tutored engineering students in math and soon added systems engineering to her program of studies. Later, in 1988, she received her doctorate in systems engineering from the University of Southern California.
Shortly before completing her master's degree in 1977, Austin interviewed with Rockwell International in California, which offered her a job upon graduation. By then, she was engaged to be married. She finished her degree in June, married in July, and moved to California in August. Unfortunately, Rockwell was experiencing significant downsizing. By the time Austin arrived for her new job, the department she had interviewed with no longer even existed. She worked for nearly two years in missile systems at Rockwell before joining The Aerospace Corporation, a nonprofit research and development organization dedicated to finding solutions to critical issues affecting the nation's space program.
One of only four women in the department at the time she joined it, Austin was encouraged by her work environment, which judged solely on performance. "It was a great time for me to join Aerospace," says Austin. "On the national level, women's rights were finally being acknowledged, and the company was making an effort to keep positions competitive and open for everyone. I felt I was judged only by my work and my contributions. My parents had always taught me that anything worth doing was worth doing well, and so I did my best."
Within a few years of her employment, Aerospace named Austin one of its five Women of the Year and honored her with the Robert H. Herndon Black Image Award. She became recognized for her work in satellite and payload system acquisition, systems engineering, and system simulation. In 1991, she became manager of Air Force Satellite Communications Systems. She later served as the general manager of Aerospace's Electronic Systems Division. Three years later, as a corporate officer, she was named senior vice president of the Engineering and Technology Group, and later of the National Systems Group. In 2008, the Aerospace Board of Trustees named her president and CEO of the company.
Throughout her climb up the leadership ladder at The Aerospace Corporation, Austin was often the only woman on her team. In those situations, she relied heavily on advice given to her by her parents: choose your battles carefully. "In the workplace I was quick to understand that some people might be offended that I was female, that I was African-American, or that I was young," she says, "but I had to let that be their problem. The best thing I could do was just focus on doing a good job, and let my work speak for me. If someone said something offensive to me, I just let it be. I refused to pick up the stone and put it in my knapsack."
Although the circumstances in which Wanda Austin were born were not conducive to success, she is quick to say that achievement depends more on a person's frame of mind than it does on circumstances. "There are always going to be stumbling blocks in life," she says. "You are never really sure where they're going to come from, but it's important to take the attitude of turning those blocks into stepping stones, so that you can go ahead and achieve your goals. Sometimes people focus on the doors that close, and they miss the doors that are open. It is important to keep in mind the goals you set for yourself, the standards you set for who you are going to be, and what kind of a person you're going to be, and then you just go for it."
Austin believes education is the key to a successful future. "Our country needs young men and women who are educated in science, engineering, math, and technology. From an economic standpoint, we don't want to outsource opportunities for career paths that require a college degree. I applaud the Horatio Alger Association for helping young students who not only need financial support for college, but who are willing to ask for assistance to further their education. Our youth need to set goals and then work hard to achieve them. An educated society is the key to success."
Austin became a member of the National Academy of Engineering, and she was named a fellow of the prestigious American Institute of Aeronautics and Astronautics. She also belongs to the International Academy of Astronautics and the American Academy of Arts and Sciences. In 2010, she was appointed to the Defense Science Board. Austin served on President Barack Obama's Review of Human Spaceflight Plans Committee in 2009, and she was also a member of the NASA Advisory Council.
Austin has received the National Reconnaissance Office Gold Medal, the U.S. Air Force Meritorious Civilian Service Medal, the NASA Exceptional Public Service Medal, the AIAA von Braun Award for Excellence in Space Program Management, and the 2009 Black Engineer of the Year award.
"