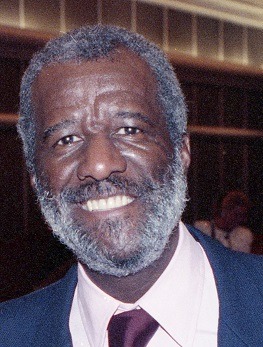 Born in 1936 in Tallahassee, Florida, Wallace "Wally" Amos Jr. had an unstable and sometimes troubled childhood, but he had an innate spirit and gift to view the world with optimism. The most loving person in his life was his aunt, Della Bryant. At the age of 12, Amos moved to New York to live with her. He shined shoes and delivered newspapers to help with finances. His aunt assumed a parental role and was the first person to bake chocolate chip cookies for him.
After a four-year stint in the U.S. Air Force, Amos began working in the stock room at Saks Fifth Avenue. Later, he joined the William Morris Talent Agency as a mailroom clerk. Within a year, he had become the agency's first black agent, and he was the first to book many of the era's top performers, including The Supremes, Simon & Garfunkel, and Marvin Gaye.
Amos formed his own theatrical management agency in Hollywood, but it was a struggle from the start. Eventually, he took control of his life and began to earn a living doing something he had always enjoyed, baking chocolate chip cookies. He opened his first Famous Amos store in 1975 on Sunset Boulevard; it was an instant success. Kellogg Company later bought the Famous Amos brand.
In 1979, Amos dedicated his efforts to Literacy Volunteers of America, serving as its national spokesman until 2002. As a literacy advocate, Amos used his well-known name to support educational causes and served on several boards that promote literacy. In 2005, Amos and his wife, Christine, founded the Chip & Cookie Read Aloud Foundation, a publicly supported organization that promotes reading aloud to children.
An inspirational speaker, Amos is the author of eight books: The Famous Amos Story: The Face that Launched a Thousand Chips; The Power in You: Ten Secret Ingredients to Inner Strength; The Man with No Name: Turn Lemons into Lemonade; Watermelon Magic: Seeds of Wisdom, Slices of Life; The Cookie Never Crumbles: Inspirational Recipes for Every Day Living; Be Positive, Be Positive!: Insights into How to Live a Joy-Filled and Inspiring Life; The Power in Self-Esteem: How to Discover and Fulfill Your Life Dreams; and Live an Inspiring Life: Ten Secret Ingredients for Inner Strength.
Amos began working with his wife, who created Chip & Cookie, two dolls fashioned in the image of boy and girl chocolate chip cookies. Once again, Amos could bake cookies in the kitchen of the Chip & Cookie retail store at the Ala Moana Center in Honolulu, Hawaii.
A firm believer in the benefits of a positive attitude, Amos says, "When people fill their lives with love, positive energy, faith, giving, and enthusiasm, they will be a success."