W.W. Clements *
Class of 1980
1998 Norman Vincent Peale Award Recipient
Chairman of the Board & CEO Dr Pepper Company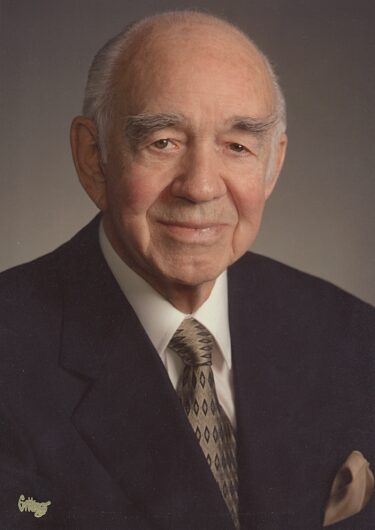 The youngest of nine children, Foots Clements was born in 1914 in Tuscaloosa County, Alabama, where his parents were farmers. His father also held jobs as a justice of the peace, constable, and U.S. Marshal. Clements began working early in life. He picked berries, carried lunches to farm workers, trapped possums, hoed cotton, painted houses, sold magazines, and hauled lumber in his brother's wagon.
An excellent student, Clements was also president of the student body, the Honor Society, and the debating team. While in high school, a growth spurt earned him the nickname he would go by for the rest of his life when his feet grew to an eleven and a half shoe size. He won a football scholarship to Howard College, but a knee injury caused him to switch to the University of Alabama, where he attended on a "working" scholarship. He dug ditches, swept floors in the dorms, and worked as a butcher. Eventually, he bought a small café on credit with a partner and ran the restaurant while completing his education.
Following college, Clements worked for Dr Pepper as a delivery truck driver and then zone manager. He advanced through the ranks, first as a sales promotion manager and then as general sales manager, marketing vice president, executive vice president, president, and, finally, chairman and CEO. When he retired in 1986, he was named chairman emeritus.
Clements once said, "I realized Dr Pepper had potential when I learned how loyal the customers were. We came from nowhere to No. 3." Clements, who at one time wanted to go to law school, never regretted his choice to stay in business. "I enjoyed every minute of my career," he said. "Making Dr Pepper into one of the top soft drink companies and, more important, putting together the team of people who did that was wonderful."
Clements was an active member of the Horatio Alger Association. With the permanent title of chairman emeritus, he received the 1999 Norman Vincent Peale Award, which honors those members who have made exceptional humanitarian contributions to society, have been active participants of the Association, and have continued to exhibit courage and integrity in the face of great challenges. Upon received his award, he said, "I believe in the American dream. That's what this Association is all about. We are the role models, the keepers of the positive attitude."
In 1997, the W. W. "Foots" Clements Free Enterprise Institute opened as part of the Dr Pepper Museum in Waco, Texas. The institute, whose motto is "Do unto others as you would have others do unto you," is dedicated to helping people rediscover and understand the importance of morals in their personal and business lives. A strong believer in the free-enterprise system, Clements's institute designs and managed programs to study the free-enterprise market economy.