Trevor D. Rees-Jones
Class of 2023
Chief Executive Officer Rees-Jones Holdings LLC
Founder & CEO Chief Oil & Gas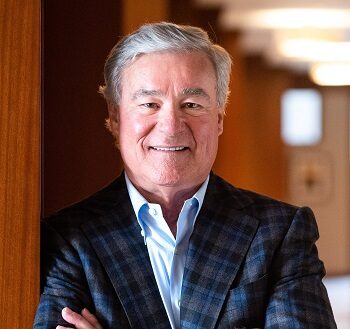 Born in 1951, Trevor Rees-Jones grew up in University Park, Texas. The oldest of three, his mother was a former high school history and Spanish teacher. "My mother was very smart," says Rees-Jones. "She was valedictorian of her high school class and salutatorian at Southern Methodist University (SMU)."
Rees-Jones's parents met at SMU. His father, a World War II veteran, worked as a lawyer. The family lived in a small two-bedroom home that had no air conditioning. "I remember it would get so hot in the summertime, we would sleep on cots in the backyard to get some relief."
Education was very important in the Rees-Jones household. The children were expected to work hard in their studies and get good grades. Rees-Jones did well in school, but he was most enthusiastic when he was outdoors. "I would hop on my bicycle in the morning and be out with friends until it was dark and time to return home," he says. "I was very active. Physically, I was too small to do well in sports, so I guess I turned to nature. Even today, I'm at my happiest when I am in nature."
Rees-Jones enjoyed going hunting with his father, but their relationship was often strained. "My father could be volatile," says Rees-Jones. "When you live with a person who is temperamental, things go along just fine until suddenly they are not. It's unpredictable and it put me on edge when I was around him."
Active in Boy Scouts and school activities, Rees-Jones gave little thought to his future. He knew he would go to college, and the summer after his junior year in high school he went to several college interviews arranged by his mother. But a visit to friends in New Hampshire resulted in a tour of the Dartmouth campus. "Once I saw that school, I knew that's where I wanted to go," he says.
In 1973, Rees-Jones achieved a degree in history from Dartmouth. "When I graduated," he says, "I had no idea what I wanted to do. I returned home and for two years worked at menial jobs. Finally, I decided to go to law school because I couldn't think of anything else to do."
He received his JD from Southern Methodist University's Dedman School of Law and began practicing oil and gas bankruptcy law in Dallas in 1978.
In less than six years, Rees-Jones was made partner at his law firm. "By then, I knew two things," he says. "I learned that I was fascinated with the oil and gas business; second, I learned I hated being a lawyer. I was 32, single, had $4,000 in the bank, and for the first time in my life, I knew exactly what I wanted to do."
In 1984, Rees-Jones got a loan for $48,000, and began drilling for oil. Thirteen months later, all his money was gone and he had nothing to show for it. "At one point, I had drilled 17 dry holes," he says. "Even though I had little success, I was enjoying what I was doing. I felt that success was just around the corner. I knew that if I failed at this business, I could always go back to practicing law, but that thought alone is probably what kept me motivated to keep going."
In 1987, Rees-Jones married, and by 1992, he had two sons. "I knew I had to change what I was doing," he says. "I was taking too much risk and could barely cover my monthly expenses. Once I had a family, I couldn't risk as much as when I was on my own. In 1994, I changed directions and founded Chief Oil & Gas in 500-square feet of office space with a part-time assistant."
Chief became an early operator in the development of the Barnett Shale field in North Texas, the first of the great new shale fields, which revolutionized the oil and gas industry in the U.S. and the world. In 2007, Chief began drilling wells and operating in the Marcellus Shale play in Pennsylvania and West Virginia. At the time of its last sale in March 2022, Chief was one of the largest privately-owned producers of natural gas in the nation.
"I reached a level of success with my company that I really couldn't fathom," says Rees-Jones. "I started in the oil and gas business in a difficult time. There were layoffs, big company reorganizations and mergers. It was a tough time. But things began to change in 1999 and happily I was still there to benefit from that. I think the only reason I was able to realize success was having the resilience to stay in the game."
When asked to give career advice, Rees-Jones can only reiterate what worked for him. "I truly believe you have to enjoy what you are doing," he says. "I could have made good money as a lawyer, but I would have ended up miserable. I also believe perseverance is 90 percent of success. I had many setbacks in the first 10 years of being an oil and gas man. I could've given up, but that's what comes to my next thing you need to be successful: optimism. You have to have it."
With all his business success, Rees-Jones says that his definition of success in life has nothing to do with business. For him, it's all about his family. "I want to be a good husband to my wife, Jan. I want to be a good father to our two sons. And I want to be a good grandfather to our grandchildren. If I accomplish that, then I can consider myself to be successful."
In 2006, the Rees-Jones Foundation was established to support programs—in North Texas and internationally—focused on improving the lives of disadvantaged children, youth, and families. "Jan and I are faith-driven in our philanthropy and our foundation serves God by serving others. Internationally, we support efforts around the world that provide rehabilitative services to youth with disabilities, and provide families with basic needs, such as clean water, and services that teach economic and social resilience. In North Texas, we support programs that work to prevent child abuse or neglect in families. A lot of our foundation focuses on mental and behavioral health, chronic health and disability services, youth internships, animal welfare, and much more. There are problems in our world that we will not be able to fix in our lifetimes. But there is hope for the future and we want to do what we can to rekindle hope for those we assist."
Honored by his Horatio Alger Award, Rees-Jones says, "This award is very important to me because it recognizes the difficulties and adversity I faced in my career. I hope that my story is an example for the Horatio Alger Scholars to see the importance of perseverance in the face of life's challenges. These young people are worthy of their dreams and their quest for a brighter future. Their first step down that path is a good college education and I am very supportive of that endeavor and the overall mission of the Association."