Roger Eugene Ailes *
Class of 2011
Chairman & CEO FOX News
Chairman Fox Television Stations Group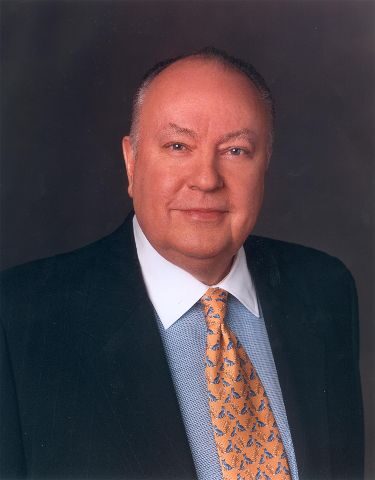 Roger Ailes, the middle of three children in his family, was born in 1940 in Warren, Ohio. His father worked in factory maintenance and supplemented his income as a house painter. "My dad was a good guy," says Ailes. "He was an athlete in high school, and he had a scholarship to college, but he couldn't go because his mother was ill and his father had deserted the family. He went to work to support his mother, and then he got married and had three kids. He worked hard to keep us all going."
When Ailes was 10, he had a paper route and helped his father paint houses after school. Until he was in high school, all of Ailes's clothes were hand-me-downs. "We were pretty poor," he says. "Not too long ago, I took my son to see where I grew up. The people who live in my old house let us in to look around. My son was surprised at how small it was, but I assured him I lived there comfortably with my whole family, and it all worked out fine."
Religion played a central role in the Ailes household. Ailes's grandfather belonged to a small evangelical church and took the grandson to prayer meetings on Wednesday nights and services every Sunday. After his grandfather died, Ailes's mother moved the family to a Presbyterian church because she wanted Ailes to get involved in its youth program. "My mother was tough. She always wanted me to do my best, which meant she could be demanding," he says. "But I learned goal-setting and the importance of achievement from her."
Ailes enjoyed participating in school, scouting, and attending the YMCA. He played sports and was an especially good swimmer. He also enjoyed dramatics and starred in a few school plays. As a young teen, he was a camp counselor, and at 16, he began working for the county highway department. On his first day, his supervisor told him to get down in a culvert and start jack hammering. Ailes had never used a jackhammer before. His supervisor told him to hold the hammer against his stomach and pull the trigger. But as soon Ailes did so, the machine knocked him to the ground. "I was lying in the ditch with cuts and dirt all over me," he recalls. "The whole crew had gathered around, and they were laughing at me. I asked my supervisor why he did that to me, and he looked down at me with cold eyes and said, '˜Boy, I ain't your mother.' From that day on, I never looked to anyone else to help me. Today when things get tough, I just look at the facts and figure out how to deal with them. It set a course for me that probably made me a good executive and manager."
Ailes's parents wanted him to be a lawyer. Shortly before Ailes turned 18, his father gave him the choice to either join the military or work at the factory. "He made it clear that if I wanted to go to college, he wouldn't be able to help me since he was trying to help my older brother become a doctor," says Ailes. "He wanted me to make a decision about my life because as soon as I turned 18, I was going to be on my own."
Ailes's three summers of digging ditches and installing sewer pipes for the county highway department earned him enough money to pay his first year at Ohio University. He also signed up for ROTC, thinking he might go into the U.S. Air Force. However, once he learned his poor eyesight would keep him from becoming a pilot, he dropped out of the program. That's when he discovered that his school's radio station paid for writers, producers, and performers. Ailes auditioned and landed a job on a show called Radio Digest. During his junior and senior years, he served as the school's student station manager.
During his freshman year at Ohio University, Ailes's parents divorced. "I left for school in August, and when I returned in November for fall break, the house was sold and all my things were gone," he says. "It was rough." His mother moved to California and his father was living elsewhere. From that point on, he spent school vacations with his best friend's family or his grandparents.
In college, Ailes also did play-by-play sports announcing. When he graduated in 1962, he sent out résumés and received an offer to announce sports at a radio station in Columbus, and another for a position as a television production assistant in Cleveland. Anticipating that television was the wave of the future, he accepted the latter offer. The station was in the process of launching The Mike Douglas Show, a talk and entertainment production. Ailes's job was to write the cue cards, work with the props, and go on errands. He quickly proved his abilities and was promoted to booker, researcher, associate producer, director, producer, and then executive producer by the time he was 25. Under his guidance, the show ran in 182 cities nationally and became the biggest hit in daytime television. When asked about his early success, he says simply, "I found something I was good at."
Ailes met Richard Nixon as a guest on The Mike Douglas Show. The politician was impressed with Ailes's ease with television, a media that was new to him. Nixon hired Ailes to work as his media consultant during his 1968 bid for the presidency, which was ultimately successful.
In 1969, at the age of 29, Ailes founded Ailes Communications in New York, which he owned until 1992. During the 1970s and 1980s, Ailes produced a Broadway musical, Mother Earth, and served as executive producer for a television special shot in Africa, The Last Frontier, starring Robert F. Kennedy Jr. He received an Emmy for his work as executive producer and director of a television special, Television and the Presidency. That same year, he returned to political consulting and advised Ronald Reagan during his successful presidential bid. In 1988, he wrote a book with Jon Kraushar, You Are the Message: Secrets of the Master Communicators. Also in 1988, he helped to guide Republican presidential candidate George H. W. Bush in a come-from-behind victory over Michael Dukakis.
By 1993, Ailes sold his communications company in search of a new challenge. He became president of NBC's floundering cable channel, CNBC. During his tenure, ratings tripled and profits increased from $9 million to more than $100 million.
In 1996, News Corporation's Rupert Murdoch hired Ailes away from NBC to create Fox News Channel, which became the fastest-growing news network in the country. In August 2005, Ailes became chairman of Fox Television Stations Group.
Ailes attributes his success to his faith in God, his country, and his family. "I am always looking forward," he says. "I don't spend time looking back and wondering if I should have done something differently. I have simple values. I probably got my strong work ethic from my father. I also have a desire for excellence, which I probably got from my mother. I take my job seriously, but I don't take myself very seriously."
Although he relies heavily on his instincts, Ailes credits much of his success in television to his late mentor, Chet Collier. "Chet gave me my first television job and moved me ahead of others to make me a producer on The Mike Douglas Show," he says. "When I took over at CNBC, I needed someone in the room who wasn't afraid to tell me I was wrong. Chet Collier was that person. I hired him when he was 72. I am somewhat conservative, and Chet was a Kennedy liberal from Boston. We didn't always agree politically, but he was a great broadcaster, and he stayed with me until he got sick and had to move to Florida. Even then, he put a big TV at the end of his bed and yelled at me every night. I will always be grateful for his guidance."
Ailes also credits his father for sage advice. "My father always said, '˜It's not a matter of live and let live; it's live and help live.' I try to follow that as best as I can."
Ailes advises new FOX employees that they need four things to advance their careers. "First is excellence," he says. "If you don't do an excellent job, don't take it lightly. Figure out what you are doing wrong, and try to do better. Second is integrity. It's more than not lying, cheating, or stealing. For true integrity, it's important to not take credit for someone else's work. It's also important to not blame others when you screw up. Third is teamwork. Sometimes you have to lead teams, and sometimes you have to follow. It's important to know when you have to do one or the other. Fourth is attitude. If you believe you are a victim, you will be a victim. The same is true if you believe you are going to win, you will win. Don't give up mentally because eventually things work out."
Recognized by U.S. News & World Report as one of America's Best Leaders in 2005, Ailes was awarded The Media Institute's Freedom of Speech Award. In 2008, he was inducted into the Broadcasting & Cable Hall of Fame.
Ailes is a recipient of the Navy SEAL Patriot Award as well as the Marine Corps Law Enforcement Award for his contributions to military families. "I am committed to helping the families of military personnel killed in action," he says. "I do the same for law enforcement officers who are killed in the line of duty. You have to reach out and give back. It's just a part of being a Christian, a part of who I am."
"