Richard J Stephenson
Class of 2017
Founder & Former Chairman Cancer Treatment Centers of America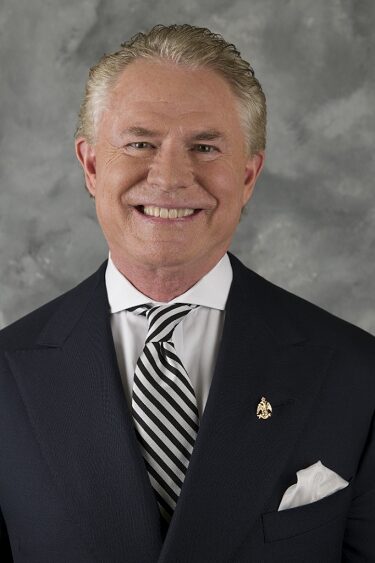 Richard J Stephenson was born in Sheridan, Indiana, a small rural community of 1,200 people where the centerpiece of conversation in the post-Depression era was the grain elevator on Saturday mornings. "That's where the future of the town for the next week or so would be determined, by the price of grain as scheduled on the logs of the grain elevator," says Stephenson.
Stephenson's father, Robert, was the town druggist. When the sole town doctor, was away, he directed everyone to see "Doctor Bob," the druggist, telling them, "He may not have a license, but he knows as much as I do." Stephenson says, "Everyone knew you could get the help and care you needed from the local drug store and its druggist, '˜Doctor Bob,' my dad."
Unlike most people in the small town, who adopted a defeatist attitude over their economic failures, Stephenson's father did not. "My father had an incredibly positive attitude. He used to say to me, '˜We kick the tires, light the fires, and get on down the road in the celebration of life!' He was charismatic and involved in everything in the community, including the Chamber of Commerce, the Lions Club, his church, and the Masonic Lodge.
Stephenson's mother brought a warm and embracing love to her home, along with her own unique zest for life. She grew up in Brazil, Indiana, in a family of stoic Scottish tradition, graduated from DePauw University, and had two sons. Stephenson's brother suffered from an undiagnosed impairment that was likely caused during his birth. "My brother never matured the way most kids do," explains Stephenson. "He had emotional outbursts that were difficult for all of us. Eventually his impairment led to epilepsy. But my parents were dedicated to him and taught me to fully accept and love him for who he was, which I certainly did."
Stephenson's parents did not let their financial hardship affect Stephenson's childhood, despite having to move nine times before Stephenson was 12 and living in three different rentals without indoor plumbing. "I didn't know the deprivations we were going through," says Stephenson. "I didn't know my dad had lost the home they had built, in which I was born, to foreclosure. I didn't realize all the things my parents were struggling to confront. I never once heard them complain about their circumstances; their focus was always on helping others.
Stephenson held many jobs when he was young to help support his family. His paper route taught him a great deal about business, finance, and credit, especially when his subscribers would not pay their bills. "Even though I knew many people were home when I came to their doors, they wouldn't answer," he recalls. "So I finally said, '˜That's okay if you're not home. I'll just have to charge you 5 cents more next week for the Star, and a few cents more for Grit, but that's okay, I understand if you're not there or can't come to the door.' I got paid on time for every delivery thereafter."
Shortly before Stephenson completed eighth grade, his father accepted a job at a larger drug store in the town of Marion, which required the family to move again. However, Stephenson was able to stay behind for the remainder of the school year to complete his various Scouting awards. He lived a room above the slaughter plant owner, and worked in the slaughterhouse on Saturdays. By age 14, Stephenson had earned all of Scouting's highest honors: Boy Scouts of America's Eagle Scout; Explorer Scouts's Silver Award; Order of the Arrow's Vigil Honor; and Protestant Churches of America's God and Country Award. "Scouting was very important to me," says Stephenson. "It taught me to be prepared and self-reliant. The merit badge system teaches the individual how to solve problems and be more complete, resilient and confident. I thrived in the Boy Scouts."
Stephenson worked his way through Wabash College. As an undergraduate, he founded and owned a handyman services and consulting company, and hired six friends as part-time employees, served as vice president of his fraternity and won back-to-back national Amateur Athletic Union weight-lifting championships. He graduated in 1963, and became the Foundation for Economic Education's first Fellow in Political Economy. While earning his law degree from Northwestern University, he established a merchant bank, International Capital Investment Company, while also serving as director of investment banking for Doyle O'Connor & Co.
In 1975, Stephenson acquired his first hospital and committed to changing the health care paradigm. Initially his foray into founding hospitals, physician practices, and research organizations was focused on heart disease, from which his father suffered, but when his mother was diagnosed with bladder cancer, his focus quickly changed.
"My mother's stoicism served her well throughout much of her life, but not now," explains Stephenson. "She kept her diagnosis to herself for too long, worrying that I was too busy with my merchant banking life all over the world, and didn't want to bother me. The cancer spread throughout her lungs. We battled to save her life, and we lost. That's when I swore to change the face of cancer care."
In 1988, Stephenson founded Cancer Treatment Centers of America (CTCA). He had been gravely disappointed in the lack of patient-centered, whole-person care his mother received during her battle, and he vowed to change that paradigm for every cancer patient. Midwestern Regional Medical Center in Zion, Illinois, became the first CTCA location, followed by hospitals in Tulsa, Philadelphia, Phoenix, and Atlanta. The unique Mother Standard of care and comprehensive, innovative Patient Empowered Medicine became the CTCA cornerstones.
Stephenson has a high regard for Adam Smith, the philosopher and economist who argued that markets are moved by consumer decisions and therefore should cater to the customers. Stephenson intently practiced this belief in customer-centrism in his merchant banking business, and even more deliberately and assiduously at CTCA, where he reminds everyone that "it is always and only about the patient!"
In 1991, he founded Gateway for Cancer Research, a nonprofit organization that changed the course of life and hope for thousands of cancer patients. He is a benefactor to many educational, public policy, and advocacy organizations that focus on advancing private property, free markets, limited government and individual freedom initiatives. He is also a lifelong supporter of numerous historical, conservation, and health-care nonprofit organizations.