Rajesh Subramaniam
Class of 2023
President & CEO FedEx Corporation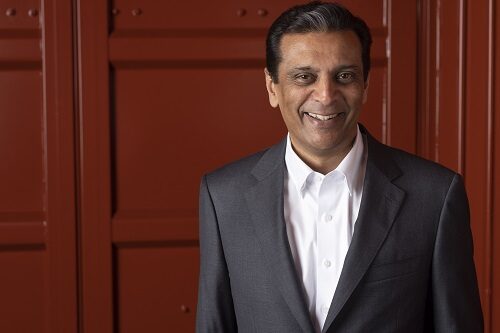 Rajesh Subramaniam was born in 1966 in the city of Trivandrum, located on the southern tip of India. His childhood was highlighted by the importance of a structured education. "My parents taught me that school is where you go to develop your skillset," says Subramaniam, "which is ultimately your ticket to success in the world." The school he attended through tenth grade took a holistic approach to education, ultimately tying together his love of sports (especially cricket and tennis) and an emphasis on learning in an impactful way. "The school wasn't just focused on academics," he said. "We had sports, extracurricular activities, and art. I think this allowed me to be more well-rounded, more socially adept."
After primary school, Subramaniam's parents believed he would benefit most from an education in Mumbai. At just 15 years old, he moved to the teeming metropolis—a drastic change from his coastal hometown—to live with his grandmother in a one-bedroom apartment. "It took me a few months to get acclimated, but it was the best thing that could have happened," said Subramaniam. "It taught me to be adaptable to changing circumstances. I not only learned to survive in this new environment, I began to thrive. It opened my eyes to opportunities, and my world became much bigger, which pushed me to think in a broader way about my future."
After completing his two-year program, Subramaniam was accepted into the Indian Institute of Technology (IIT) Bombay, one of the most prestigious universities in the country. "The caliber of students at this school was on a much different level than I had ever experienced," he says. "I was surrounded by an incredible amount of knowledge and wisdom. My peers pushed me to be better."
Subramaniam completed his engineering degree and decided to move to the United States for his master's degree. "This was 1987, and the internet wasn't available at the click of a smartphone," Subramaniam said. So, he found a book that ranked American universities and circled the top 20 in chemical engineering. "I chose Syracuse University in upstate New York as they extended me a scholarship. When I told a friend about it, he said, 'You know it gets cold there, right?' Until then, I had never experienced temperatures under 75 degrees!"
Subramaniam survived the cold of the Northeast and the rigor of the program, receiving his master's degree in chemical engineering. He originally planned to return to India upon graduation, but decided instead to broaden his horizons and learn more about business. He saved just enough money for one semester at the University of Texas at Austin. "I wasn't sure what I would do if I didn't have some income by the end of my first semester," he says, "but I was fortunate to get a teaching assistant position at the university that covered my tuition."
When Subramaniam completed his MBA in 1991, the country was in a recession. At this point, he had only a student visa, but he knew some employers would help with the process of getting a green card to work in the United States. He sent his résumé to a number of companies and had several interviews, but none were willing to hire him without a green card.
Subramaniam received his degree in June and, with no job in sight by August, he was preparing to return to India. His roommate had an interview lined up with FedEx, but decided to move home instead. Upon hearing this, Subramaniam called the interviewer and asked if he could apply for the job. "When I walked into the interview, I told them up front that I didn't have a green card. I asked if that would be an issue. They said 'Son, let's get through the interview first, then we can discuss a greencard.'" Subramaniam was offered – and accepted – an entry level job as an associate analyst at FedEx. He then packed his bags for yet another move across the U.S.; this time to Memphis, Tennessee.
FedEx leaders immediately recognized Subramaniam's ingenuity and drive. Over three decades, he has worked his way up the ranks, helping FedEx become one of the world's largest transportation companies. He has served in a multitude of global management roles, including vice president of marketing in the company's Asia-Pacific region, to regional president of their entire Canadian operation, to president and chief operating officer of FedEx Corporation. In 2022, he became only the second CEO in FedEx's 50-year history. In this position, his priority is driving the company's strategic direction – Deliver Today, Innovate for Tomorrow – by spearheading a global transformation to fundamentally change the way FedEx operates in order to deliver the greatest value for all its stakeholders.
"From the beginning, I loved FedEx," says Subramaniam. "I always felt, even in my non-management jobs, that I was a key part of the team expanding our presence in the international markets. This company connects people and possibilities around the world. I have always found our work exciting, and I wholeheartedly believe in the work we do.
"We have the simple philosophy here that if your neighbor's house is on fire and you're the one with the firehose, you run to help. This was illustrated during the height of the pandemic, as we delivered critical medical supplies, PPE, and the vaccine. We are one of the the only companies with the worldwide network in place that allowed us to do that. I am very proud of the teams' work."
Looking back over his career at FedEx, Subramaniam is amazed at where he is today. "If you asked me at the age of 25—when I joined FedEx—if I thought it was possible that I would one day be CEO of this company, I would have told you I had a better chance playing professional cricket," he said, laughing. "I think it is important when we are young to not put limits on our vision or ambition."
When offering advice to young people, Subramaniam encourages them to think broader and dream bigger. "When you have big ambitions," he says, "you also have to be diligent in shaping your goals. We don't reach the heights of success in a straight line. There are barriers along the way, so we have to learn how to work around the roadblocks. We have to adapt to change, and to accomplish that, you have to be open to continuously learning."
Honored and humbled by his Horatio Alger Award, Subramaniam admires the Members who have come before him. "There are some tremendous stories that have come out of this organization," he says. "The work of the Association with the scholarship programs is phenomenal. There is so much potential in this world. Giving young people a helping hand at just the right time will provide them with so many opportunities. I believe that if you open the door for them, they will walk right through. They are going to go places, and I am confident we are going to have amazing stories written about them in the years to come."