Philip Anschutz
Class of 2000
Chairman and CEO The Anschutz Foundation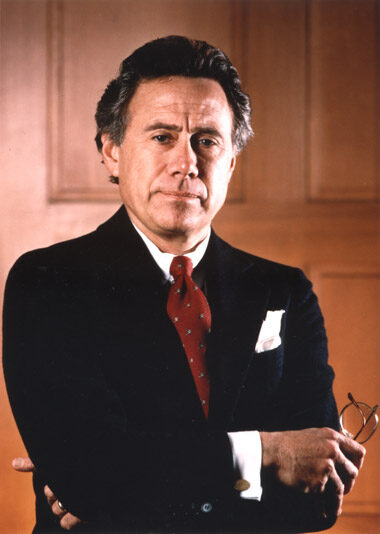 A Kansas native, Philip Fredrick Anschutz was born in 1939 in Russell, but he and his family soon moved to Hays, then on to Wichita for the remainder of his youth. His mother, who Anschutz says "was a lady of great grace who taught me to always try to do the right thing," had a certificate from a two-year teachers college. Anschutz describes his father, who had no college education, as a man of "enormous entrepreneurial skill who taught me about taking risks and the advantages to be found in failure."
Unfortunately, the family experienced many business failures. His father was plagued with a chronic, debilitating illness, which, coupled with his lack of higher education, prevented him from achieving financial success as an oil wildcatter. "In many ways, my father was brilliant and intuitive, but the independent oil business is very risky," he recalls. "One day you're succeeding, and the next day you aren't. Most people in that business fail at it."
At the age of 14, Anschutz began working. His mother felt it was important that he earn his own money and gain work experience. "My mother was a strong person," he says. "She had a strong moral grounding. She greatly valued honesty, religious commitment, and the work ethic." During his teen years, Anschutz worked in yard service and was a messenger, a grocery sacker, and a bank teller.
Anschutz says he was a mediocre student until he realized that to make positive changes in his life, he would have to do it himself. "I came to understand that to be successful, you have to get off the bench and onto the field. You cannot be just an observer; you must become an active participant." He attended the University of Kansas, working his way through with summer jobs and waiting tables. After graduating with a degree in finance, Anschutz was set to begin law school at the University of Virginia. He never attended law school, however. His father was having health problems, and his father's business was experiencing financial difficulties. At 20, Anschutz was determined to do whatever it took to make life secure for his parents. It was a pivotal time for him.
Despite the challenges, his skills and determination paid off in less than four years. After making his father's business both stable and successful, he sold its assets and dissolved the company. With his parents' immediate future secured, Anschutz was free to pursue his own dreams.
Moving to Denver was first on his agenda. In 1965, he was the owner of The Anschutz Corporation and began operations in the oil business. By 1976, he owned oil fields in Montana, Texas, Colorado, and Wyoming. He also bought uranium and coal mines as well as cattle ranches. It was his philosophy that he had to have a diversity of investments because not everything might work out as planned. At one point, Anschutz drilled 30 dry holes in a row, causing banks to occasionally cut off his credit. Undaunted, Anschutz exercised patience and persevered. "You have to have the ability not to give up or lose confidence in what you are trying to do just because it doesn't work out the first time you try it," he says. "You may have to go back and try again and again. Persistence is one quality you need throughout life, and not only in business. I have seldom achieved anything worthwhile the first time I attempted it. It is only by sticking to an objective through adversity that a goal can ever be realized."
In the late 1970s, Anschutz put his knowledge of new seismic technology to work on prospective lands in northern Utah. His instincts paid off in one of the largest new oil discoveries since Alaska's Prudhoe Bay. He sold a large part of his find to Mobil Oil and promptly began further diversification out of oil and into other businesses.
Anschutz says his business success comes from skills he has developed over the years. "You need the ability to be innovative," he says. "You have to find new ways to think about things. You need leadership skills that allow you to get people to work together toward a common goal. You need some level of people skills and intelligence to be able to operate effectively, but I've never considered myself to be the smartest guy in the room. However, I've tried surround myself with bright and skillful people who are committed and of high moral character and possess the skills to operate together as a team."