Mike Jackson
Class of 2014
Retired Chief Executive Officer AutoNation, Inc.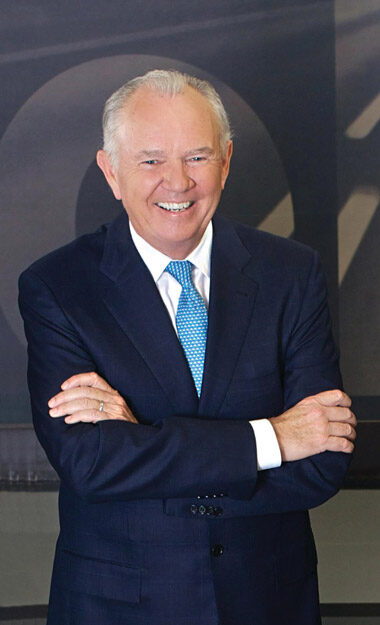 Mike Jackson was born in 1949 in Philadelphia, Pennsylvania, and he grew up in the nearby town of Moorestown, New Jersey. He is the second of five children and was reared by devoutly Catholic parents. His father, a naval aviator during World War II, later worked for a refinery as a mechanical engineer. After his son's birth, Jackson's father attended night classes at Drexel University and earned an engineering degree. "My dad was the most honorable, decent, humble, and hard-working man you could ever meet," says Jackson. "My mother stayed home to take care of the children. She is brilliant and always seemed to have a book in her hand. She read extensively and infused all her children with an intellectual curiosity. Reading was very much celebrated in our home."
When the boy turned 10, his father had a talk with him. "Mike, you are a Jackson, and all Jacksons work. Work defines you in life. But to have choices in life, you need a good education. You are going to be expected to pay for your education, and you had better start working and saving to make that happen." Jackson got his first job one week later, shoveling manure out of horse stalls for $1 per stall.
Jackson had a growth hormone deficiency, which made him much smaller than his peers. "I simply did not grow until I was in college," he says. "As a kid I was bullied quite a bit for my size. I remember when I was 14, I signed up for a Boy Scout camp in New Mexico. I filled out the forms and paid for the camp ahead of time. When my father and I showed up the day the buses were leaving for the cross-country trip, we were a little late and I had to scramble to get on the bus. I looked out the window and saw a scout leader talking with my dad, and then my father came on the bus to tell me the scout leader thought I was too small to go on the trip. I told my father that the application just said you had to be 14; it didn't say you had to be a certain size or weight. I told him I met the standards, I paid for the camp, and I wasn't going to get off the bus. I was a very obedient boy, and for me to defy my father in front of a busload of people was a big deal. The scout leader finally agreed to allow me to attend, but you can imagine the abuse I had to suffer on that trip across America."
Jackson continues: "When we got to the camp with 2,000 other scouts, we experienced three life-threatening events, a flash flood, rattlesnakes, and bears in the camp. I seemed to intuitively know how to handle each situation and had fellow scouts following my advice. At the end of our stay, I was given the highest leadership award in the camp. On the way home, I thought about my adversity and decided that it had given me an advantage because it had prepared me for handling difficult moments. From then on, I thought of adversity as more of an opportunity than something negative."
Jackson, whose Catholic faith was important to him, served as the head altar boy every morning at the six o'clock Mass, and organized his parish's schedules. He attended St. Joseph's University, a Jesuit school outside Philadelphia, intent on becoming a lawyer. Throughout his college years, Jackson worked 40 hours a week to pay his way. He started a business called A-1 Lawn Service. He also worked midnight to eight o'clock in the morning at a gas station.
"Looking back, I would say working in college was the best thing I ever did," he recalls. "I learned a lot about myself and life in West Philly. During the night shift at the gas station, I discovered the world was different in those early-morning hours. I learned how to deal with people, how to judge character and personality, how to smell trouble, and how to stay a step ahead of sticky situations. It was as important as the education I received inside the classroom."
Jackson did well academically. He was excited about his classes and developed an appreciation for the Jesuit way of learning. "I came to understand that the exam was not the finish line," he says. "Cramming facts and figures into your head to do well on an exam was not the point. The Jesuits give you a deeper understanding and a never-ending intellectual curiosity. Every day I found a growing curiosity to know and understand more, and I challenged myself to continue to learn for the rest of my life."
Jackson graduated in 1971 with a degree in political science. The summer prior to attending law school, he bought an old Mercedes, his first car ever, and drove to Cape Cod in search of a summer job. On the way, the car broke down. Without money to pay for repairs, Jackson offered to work for the Mercedes dealership in exchange for having his car fixed. At the same time, he got a job as a chef for the Kennedy family on their Cape Cod compound. "I met all the Kennedys," he says. "It was a wonderful experience."
At the end of the summer, Jackson drove to Washington, D.C., to start law school. His car broke down again, and this time he exchanged the extensive repairs for a job as an apprentice mechanic. Jackson quickly discovered a love for the automobile industry and decided to pursue that rather than a law degree. He became a technical specialist for Mercedes-Benz; a few years later, he switched gears and became a district manager and was responsible for the company's business operations in the Washington metropolitan area.
Several years later, when Jackson turned 29, he negotiated with several European partners to jointly purchase the Mercedes-Benz dealership where he had started his apprenticeship. "I had to borrow a lot of money to be a part of this deal," he says. "It was going to be magic or tragic!"
Jackson traveled extensively to meet with his partners in Vienna and various Eastern European nations behind the Iron Curtain at the height of the Cold War. "I saw communism in its full force," he says. "I learned more about America and the promise of opportunity in America by going to communist countries than I did by being born and raised here. Our opportunities give America a vibrancy that is so exciting. When I would come home from those trips, I would kiss the ground. There is no country in the world like America."
Jackson's first dealership, EuroMotorcars, did so well that within 10 years he had expanded to 13 franchises; eventually, he became chairman of all Mercedes dealerships in the United States and was responsible for representing the brand on issues between retailers and manufacturers. Years after starting as an apprentice mechanic, Jackson became president and CEO of Mercedes-Benz of North America. During his tenure, Mercedes became the nation's top-selling luxury brand.
In 1999, the founder of AutoNation, Wayne Huizenga, who had been inducted into the Horatio Alger Association seven years earlier, approached Jackson. "Huizenga offered me the CEO position at AutoNation," says Jackson, "and I didn't see how I could turn down the opportunity to work with one of the greatest entrepreneurs in the history of mankind." Jackson quickly began to build up AutoNation and, in 2002, became its chairman. AutoNation became America's largest automotive retailer, operating 293 franchises in 15 states with 24,500 associates, and has been named the Most Admired Company six times by Fortune magazine.
When asked about his success, Jackson says he is excited to wake up each morning and see what will come his way. "By the end of the day, I want to be better and smarter than when I woke up. I will never stop learning. I think the fire in my belly came from my handicap. I know I would not have been the same person without it. I developed an '˜I'll show you' attitude and a determination to refuse to fail." Jackson believes young people should embrace hard work, even during their college years. He also believes that in working, a person finds his or her passion. "It's important to be open to opportunities," he says. "View life as a journey of interesting experiences, and the money part will take care of itself."
In 2003, Jackson was named Automotive Hall of Fame Industry Leader of the Year. He is also the first recipient of the Sports Illustrated All-Star Dealer Award. In 2006, South Florida CEO magazine named him CEO of the Year. In 2009, Automotive News named him one of the "Fifty Visionary Dealers" of all time, and in 2010, he was inducted into the H. Wayne Huizenga School of Business Entrepreneur Hall of Fame. In 2012, he was named by Fortune magazine as one of the top 50 global business leaders. Jackson has the distinction of being the only person who has made the Automotive News All-Stars list in two categories: manufacturer and dealer. In January 2011, Jackson was appointed to the board of directors of the Federal Reserve Bank of Atlanta's Miami branch and, in 2013, to the Atlanta Federal Reserve board of directors.
Under Jackson's leadership, AutoNation has become an active and generous corporate citizen as it contributes significant funding and volunteer efforts to dozens of community organizations, philanthropic foundations, charitable enterprises, and cultural institutions.
Jackson serves as immediate past chair of the NSU Art Museum Fort Lauderdale. He is a noted speaker and media personality about the auto industry while contributing to CNBC and Bloomberg TV.
"I think the greatest gift you can give to youth is opportunity in life," says Jackson. "And if you want opportunity in life, you cannot have it without education. If I can help give that to our youth, I am thrilled to do it."
"