Mellody Hobson
Class of 2017
President & Co-CEO Ariel Investments, LLC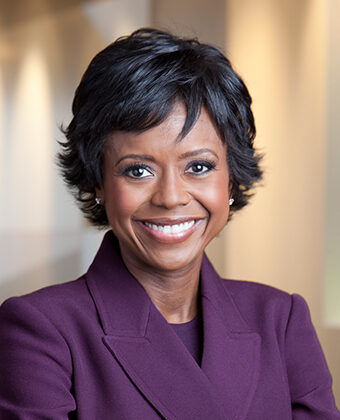 Mellody Hobson, the youngest of six children by nine years, was born in 1969, in Chicago, Illinois. She was raised by a single mother, who renovated apartments and condos in old, and sometimes abandoned, buildings. "My mother believed anything was possible," says Hobson. "She was shy, quiet, religious, and 100 percent a dreamer. She had tremendous faith in the future, and she had the ability to see what a derelict place could be with a little work. Unfortunately her vision and dreams did not really ever amount to financial success."
Hobson's mother was often denied bank loans due to racial segregation, which prevented her from renovating some buildings. That forced the family to move to Chicago's rougher South Side. "We moved often," says Hobson. "There was always a lot of drama surrounding our living situation. At times, my mother couldn't pay her bills and our electricity would be cut off, and we would have to heat water for our baths. We also had our phone cut off at times. We were even evicted a few times and had our car repossessed. But it wasn't as bad as some had it, so I tried not to make too much of it. I had a loving family, and although my mother often came up short financially, she did the best she could."
Hobson's domestic situation made her feel insecure, and she was so embarrassed by the family's many homes that she never invited her friends to visit. "I would always go to my friends' houses," she says. "And if the phone was cut off while we were visiting, I would tell them the next day the phone company made a mistake. In college, I finally stopped hiding the truth and told my friends my real situation. They were shocked."
Hobson struggled in the first grade and was placed into a remedial class. Viewing education as the great equalizer, she created a vision of how she wanted her life to be. "I decided right away I didn't want to be the kid who couldn't keep up," she says. "That's when I became obsessed with my grades and self-improvement. I discovered children's books in the library that were biographies of famous people, and I vowed to read all of them by the end of the sixth grade. Somehow I knew the names of all the Ivy League schools, and I started telling my mother I was going to go to Yale. I posted a sign on the mirror in my bedroom that said 'A+.' Looking back, I can see that school created structure and security for me. It was the one place in my life that wasn't chaotic."
Hobson's hard work quickly paid off and she attended the first baccalaureate school in the United States, the Ogden International School of Chicago. Hobson was a dedicated student despite the heavy workload that kept her up late every night. "I would never miss school," she says. "If my mother told me we were having a snow day, I would make her turn on the television before I would believe it. One day, my bus was in an accident, and rather than wait to be picked up, I walked the rest of the way to school. I thrived on the challenge. That school taught me discipline and really sealed my strong work ethic." Hobson then attended Saint Ignatius College Prep, a prestigious Jesuit high school in the heart of Chicago.
When Hobson was 15, she began working in the storeroom of a high-end clothing store, unboxing, logging, and tagging merchandise. Soon, she was given more responsibilities, helping in the office and closing the register at night, and eventually, she worked on the floor. She later worked at an even more exclusive store, which required customers to make an appointment to see the clothes, until she graduated from high school.
True to her childhood aspirations, Hobson was accepted to the Ivy League school, Princeton University. Afraid that she would be denied admittance if she could not afford the tuition, Hobson did not submit the financial aid forms with her application. After receiving her acceptance letter, she called the school and told them about her dire financial need, and she was able to attend with the help of Pell grants, loans, and financial aid. "I thought I'd died and gone to heaven," she says. "I loved every minute at Princeton. I especially loved the suburban atmosphere of it, which made me feel safe."
Hobson applied to Princeton's Woodrow Wilson School of International Relations and Public Policy, but was not immediately admitted. Unwilling to accept the rejection, she asked her advisers and professors to plead her case, and the school accepted her. Later the head of the Wilson School told Hobson it was the most he had ever been lobbied on a student's behalf.
The summer after her sophomore year, Hobson received an internship with Ariel Investments, the largest minority-run mutual fund firm in the country. "I took to it like a fish to water," says Hobson. "I knew right away I wanted to work there permanently."
After Hobson earned her bachelor's degree in 1991 as the first member of her family to graduate from college, she became a permanent employee of Ariel Investments. Hobson quickly applied her tireless work ethic to her position and became proficient in a number of areas of the business, including sales and marketing. She became Ariel's president in 2000.
"From the beginning, I was given so many opportunities to learn and grow at Ariel. The more I did, the more I was given, and I ate it up. From the start, I liked working for a firm that shares my values. I also felt we were doing important work, making people's lives better by growing their money or helping to start a business. The work has always excited me."
Hobson became a nationally recognized voice on financial literacy and investor education. She has regularly contributed to discussions on finance, the markets, and economic trends for CBS News; weekly money tips on the Tom Joyner Morning Show radio program; and has written for Black Enterprise magazine.
"My work with CBS is my community service effort," says Hobson. "I'm teaching people about money, which all goes back to my childhood insecurity about finances. I want to do anything I can do to alleviate someone else's fears about money management."
One thing Hobson has learned about herself from her television experiences is that she is a strong communicator. She says, "At Ariel we ask our employees, '˜What is your genius? What is your greatest strength?' I've discovered that my greatest skill is communication. I can take complex ideas and make them understandable for everyone."
When addressing young people, Hobson talks about the importance of bravery. "I find that I'm in a lot of rooms where people hang back," she explains. "They don't want to go out on a limb to promote their ideas. I think it's important that young people learn to be brave and take risks. I also tell them to be patient, to take the long-term view, never make a decision based on money, and treat people well. Kindness is so important. I don't mean to say I do all these things all the time, but I think your core values are the ones you feel you should be committed to improving."
Excited about her Horatio Alger Award, Hobson says, "I'm very pleased to be receiving this award. Normally I don't accept awards, but I believe in the mission of the Association and the Horatio Alger scholarship program. If the Scholars can learn or grow from my experiences, then I am happy to serve as an example."
In 2004, The Wall Street Journal profiled Hobson as one of 50 "Women to Watch" in the corporate world, and Time magazine identified her as one of the 25 most influential business people in setting the global standards for management, ethics, marketing, and innovation. In 2015, she was named one of the 100 most influential people in the world by Time.
Hobson has served as chair of After School Matters, a nonprofit that provides Chicago teens with high-quality after-school programs, and as a board member of Chicago Public Education Fund, George Lucas Education Foundation, Lucas Museum of Narrative Art, and Sundance Institute. She has also served as a member of the American Academy of Arts and Sciences, and on the executive committee of the Investment Company Institute's board of governors.
"