Maya Angelou *
Class of 1992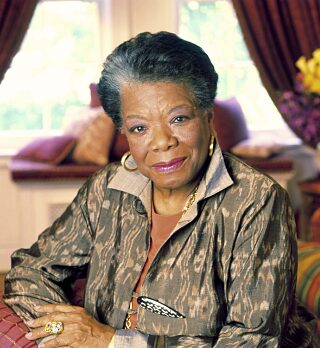 Born Marguerite Annie Johnson in 1928 in St. Louis, Missouri, Maya Angelou was three when her parents separated. She and her younger brother went to live with their grandmother in Stamps, Arkansas. Her grandmother became a positive influence on Angelou's life.
At the age of eight, Angelou was raped by her mother's boyfriend. After she told about the abuse and rape, the man was murdered, and the young girl thought that her voice had killed him. As a result, she became a mute for nearly five years. She credits a Mrs. Flowers, who lived in the same town and who read to her with a "mellifluous" voice, with getting her to speak again. Mrs. Flowers told the young girl that she would never love poetry until she could feel it come across her tongue through her teeth and over her lips. After six months of coaxing, Angelou began speaking again.
Completing high school at the age of 15, Angelou studied dance and drama and worked at a variety of jobs, hoping to have a career on the stage. In 1952, she received a scholarship to study dance in New York, after which she joined a European tour of Porgy and Bess, playing the role of Ruby. During this time, she was also involved in Martin Luther King Jr.'s struggle for civil rights. She produced, directed, and starred in the 1960 musical revue Cabaret for Freedom.
Angelou married a South African freedom fighter and lived in Egypt and then in Ghana, continuing her writing as a journalist and teaching at the University of Ghana. She returned to America in 1966 and wrote the first volume of her autobiography, I Know Why the Caged Bird Sings. It became a bestseller, and she went on to write four more volumes about her life.
After winning her Horatio Alger Award in 1992, Angelou wrote a children's book, Life Doesn't Frighten Me. She added to her vast collection of poetry, including On the Pulse of Morning, which she wrote for and read at President Bill Clinton's 1993 inauguration. Her directorial film debut took place in 1998 with Down in the Delta. In 1999, Writer's Digest magazine named her one of the top 100 best writers of the 20th century.
Angelou said she admired the progress of the Association's scholarship program. Her advice to young people was to stand up for themselves. "I not only have the right to stand up for myself, but I have the responsibility," she said. "I can't ask somebody else to stand up for me if I won't stand up for myself. Once you do that, you'd be surprised how many people say, '˜Can I be of help?'"