Louis L. Holtz
Class of 2023
Vice President of Team Development Zotec Partners
Founder Lou Holtz Foundation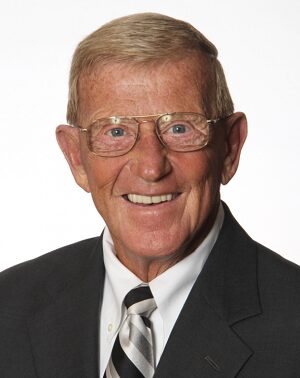 When Lou Holtz was born in 1937 in Follansbee, West Virginia, he lived in a cellar with his parents and an older sister. There was one bedroom for the four of them, a small kitchen, and a half bath—no shower or tub. They were there for seven years. When World War II started, Holtz's father joined the Navy and served in the Pacific. After he left, the family moved to East Liverpool, Ohio, to live with Holtz's maternal grandparents. When his father returned from the war, the family stayed in East Liverpool because there were more job opportunities. Holtz's father had only a third-grade education, but he eventually got a job as a bus driver.
"We were very poor," says Holtz, "but I always felt I was born with a silver spoon in my mouth. Why? Because I was born in this country and I was taught that if I made good choices and showed respect, then good things would happen. I wasn't born with a silver spoon because of what we had, but because of what I was taught."
Holtz grew up among aunts, uncles, and cousins. "We would leave home in the morning, play all day, and come home in time for dinner. We went on big family picnics for Memorial Day and the 4th of July. It was a very happy time and we were a good family."
Holtz's father was in charge of coordinating the local paper boys. There was one route that was especially difficult because it required making deliveries on a mountainside. When all the boys refused the route, Holtz's father asked if he would do it. Holtz accepted. He was nine years old. He made $1.50 a week with his paper route, but the money went into the family treasury. "We were a team," says Holtz. "We needed the money and I didn't mind making a contribution to the family treasury. We were poor, but working together made us successful. I've always been a hard worker and I think it has benefitted me. I have four children and when they were each 14, I got them work permits. They all turned out well, and I think working was a part of that."
Education was not a high priority in the Holtz household. "When I was young," he says, "I did not imagine the life I would eventually have. Since nobody in my family had ever gone to college, I had no intentions whatsoever of doing so myself. When I was a teenager, all I wanted was a car, a girl, a job in the mill, and $5 in my wallet. I saved enough money to buy a 1949 Chevrolet, but before I could buy it, my high school football coach, Wade Watts, came to our house and told my parents that I should go to college. He thought I should study and train to become a coach. My parents took his advice and told me I should use my car money to pay for college. I said no, so we compromised and I went to college. That was a typical compromise for me and my parents."
Holtz did pay as much as he could for his college education, but he also received help from his mother, who went to work on the night shift as a nurse's aide—making $35 a week. "I went to college because of the sacrifices my mother made," he says. "She showed me that success will never come unless you are willing to make a sacrifice both for yourself and others."
Holtz attended Kent State University. He played football there, but was not a particularly great player. After he suffered a debilitating knee injury, he spent his senior year assisting the football coach. Holtz joined the ROTC at Kent State. His plan after graduation was to serve in the army, get married, and teach history and coach high school football. His college coach had different plan for him. He prevailed upon the head football coach at the University of Iowa to offer Holtz a position as a graduate assistant coach. He would also be able to earn a master's degree if he went to Iowa.
Upon his graduation in 1959, he earned a commission as a field artillery officer in the U.S. Army Reserves. As a soldier, he learned an important lesson: His actions could determine whether his fellow soldiers lived or died. Later, as a coach, he taught his players that they had the right to fail, but they did not have the right to cause others to fail because an individual didn't fulfill his obligation and commitment to others.
Holtz began his football coaching career as a graduate assistant in 1960 at Iowa State, where he received his master's degree in physical education. That year, his team finished second in the country.
In 1961, he married his high school sweetheart, Beth Barcus, and became assistant football coach at the College of William and Mary in Virginia.
Over the next eight years, Holtz served as an assistant coach at William & Mary, the University of Connecticut, the University of South Carolina, and Ohio State. In 1968, his last year with the Buckeyes, the Ohio team won the national championship. His first head coach position returned him to William & Mary from 1969 to 1971.
From 1972 to 1975, Holtz served as head coach at North Carolina State. His team played in four bowl games. When the New York Jets offered him a chance to coach in the NFL, he accepted the offer. He only served one season as the Jets' head coach. Deciding that the pros were not for him, Holtz went to the University Arkansas in 1977, where they compiled a 60-21-2 record and reached six bowl games.
After coaching at the University of Minnesota for a few years, Holtz accepted the head coach position at Notre Dame. By the second season, the Fighting Irish appeared at the 1988 Cotton Bowl Classic. The following year, Notre Dame won all 11 of their games, claiming the national championship. They repeated their undefeated streak the following year. During his tenure at Notre Dame, Holtz took his team to bowl games for nine consecutive seasons, which is still a Notre Dame record.
Outside of the Notre Dame Stadium, there is a statue of Lou Holtz. Near the bottom, there are three words that say: Trust, Love, and Commitment. "Those are my three rules for life," he says. "I taught them to my children and to my teams. It's important to have a dream for your life, to make your dreams come true, and to have concrete goals. You accomplish this when you surround yourself with people you trust, showing people you care about them, and by doing your best at any job that is put before you."
In 1996, Holtz left coaching to work as a commentator for CBS Sports. In 1999, he came out of retirement to coach at the University of South Carolina, where he stayed until 2004. Holtz brought his experience and charisma to ESPN as an analyst for the network's college football coverage from 2004-2015. He is also the author of the best-selling Winning Every Day: The Game Plan for Success, A Teen's Game Plan for Life, The Fighting Spirit: A Championship Season at Notre Dame and Wins, Losses, and Lessons: An Autobiography. His most recent book, A Lifetime of Love: A Game Plan for Marriage and Family Life, was released in February 2022.
In addition to his writing, Holtz has served as a motivational speaker since the 1980s. Called one of the greatest motivational speakers of our time, his sharp sense of humor often likens him to being a modern-day Will Rogers.
Lou Holtz was 28 years old when he learned to set goals. It was 1966 and he had just been made assistant coach at the University of South Carolina (USC). One month after he was on the job, he read in the morning paper that Marvin Bass had just been fired. "I said to my wife, I wonder if he is related to my Marvin Bass (the head coach at USC). Of course, they were one and the same, which meant that I was also out of a job. My wife had to go to work to support us and I thought it seemed like a good time for me to start setting some goals for my future."
Holtz wrote down his dreams, which he divided into five categories: Things I want to do…Religiously, As a husband and Father, Professionally, Financially, and For Excitement. He came up with 107 dreams, until his wife said he needed to find a job, which made the grand total 108 dreams. "My wife and I decided then that we were not going to go through life as spectators. We were going to decide what we wanted to do and then we were going to do it. I think that's what life is all about. To me, if you are bored, then you don't have enough goals."
Few college football coaches have had as much success as Lou Holtz. He says, "There is no way you can enjoy success if you don't have ambitions. I am a great believer that dreams do come true, but only if you begin to expect more of yourself. If you look at my high school yearbook, you will see that I was uninvolved. I didn't join clubs; I wasn't the president of anything. To look at that book, you would think I probably never amounted to anything. What my life proves, however, is that it is never too late to change. It is never too late to expect more of yourself."
Calling his Horatio Alger Award the capstone of his life, Holtz says, "You don't strive to become a member of the Horatio Alger Association. You just wake up one day and discover that someone thought your career and life choices made you worthy of this award. It is very humbling. I know there are many more people more worthy than I for this honor, but no one is more grateful."