Linda G. Alvarado
Class of 2001
President and Chief Executive Officer Alvarado Construction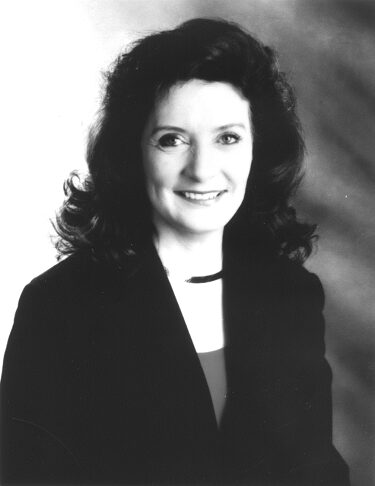 Linda Alvarado, born in 1952 in New Mexico, was the only daughter in the Martínez family. She was raised, along with five brothers, by parents who had high expectations for all their children. Their first home was an adobe, which for years lacked indoor plumbing and was heated by wood stoves. Located in a flood plain, the house got flooded each summer. Eventually, the family moved to higher ground after Alvarado's father got a government job.
Life for the Martínez family focused on their church and community. They attended church each day, and Alvarado and her brothers were active volunteers. Her parents also gave their children pride in their heritage. "They reminded us of our rich history of Hispanic leadership in the early days of California and throughout the Southwest," she says. "They believed one day Hispanics would return to positions of leadership in business and government in America, and they wanted us to be prepared for that. They helped us to understand that, as Hispanics, we would probably be faced with some form of bias in our lives, but that we should never use that as an excuse not to try."
Alvarado thrived in the competitive environment her parents created. She joined her brothers as a leader in sports and, as a senior, was named Girl Athlete of the Year. When Alvarado was young, her mother told her that the most valuable mother-to-daughter gift was allowing Alvarado time to study rather than having to do housework. However, all the children were expected to have jobs when they entered high school. Alvarado did her share of babysitting, and she and her younger brother had a lawn service business for a time. She also worked at a cooperative education laboratory, which provided educational support to rural areas. Alvarado worked in the lab's accounting office part time each day after school, and full time in summers.
Alvarado, an excellent student, belonged to her high school debate team, which won the state championship. She attended California's Pomona College on a full scholarship, but worked as a laborer for a landscaping company to pay her personal expenses. She graduated with an economics degree, and in 1971 began working for a developer that specialized in large retail, commercial, and housing projects. Alvarado worked as a contract administrator, managing subcontracts. Her position often put her on the construction site, and she soon discovered the satisfaction of seeing a building design on a blueprint become a structure. Wanting to be more directly involved in the creative process of building, Alvarado began taking classes in estimating, surveying, and computerized scheduling.
Eventually, Alvarado decided it was time to make her dream of starting her own construction company become a reality. She quit her job and convinced a few people to join her. She began building bus shelters, and she took on the curb-and-gutter work that large construction companies didn't want. To grow and launch her company into bigger projects, however, she needed capital. Alvarado wrote a business plan and began meeting with leaders. Six banks rejected her request. Eventually, her parents mortgaged their house for $2,500 to give her a small start.
In the beginning, Alvarado signed her proposals "L. Alvarado," fearing that if she used "Linda" she would lose the job simply because she was a woman. Alvarado recalls one meeting where she took a male estimator along on a project interview, and the clients extended their hands to him, assuming that, even though he was very young, he was the president of the company. It took 10 years before people stopped asking her, "Is this your father's company?" Alvarado learned to develop a sense of humor about the bias she faced, and she never let her perceived lack of credibility stop her. Instead, she became even more focused and determined to succeed in a highly male-dominated and competitive industry.
Alvarado Construction grew to have a national client base that has included Fortune 500 firms and specializes in commercial, industrial, telecommunications, and heavy engineering. The company's projects have included the Colorado Convention Center; the Denver Broncos stadium; an aquarium; and numerous municipal projects, offices, malls, schools, and transportation facilities. In addition, Alvarado made history as the first Hispanic owner of a major league baseball franchise when she became a partner in the Colorado Rockies.
Alvarado fervently encourages young women to avoid putting limitations on themselves. In addressing student groups, she uses her own story to illustrate her points. "I've been mistaken for a banker, a secretary, and even the office cleaning woman, but I've never had someone come up to me and tell me I look like a contractor," she tells her audiences. "What is important is not how others see you, but how you see yourself."
Regarding her Horatio Alger Award, Alvarado says she looks forward to focusing her attention on the students whom the Alger Association seeks to assist. "If I can make a small difference in terms of my story, that would be invaluable to me," she says. "I believe the American dream is one without gender or race. I still long for the day when people will be judged on their ability rather than on their background or their gender. We can't let go of that dream. America is a country of immigrants, and our nation's success is built not on everybody's being alike, but on our diversity."