Keith T. Koenig
Class of 2023
Co-Founder and Chairman City Furniture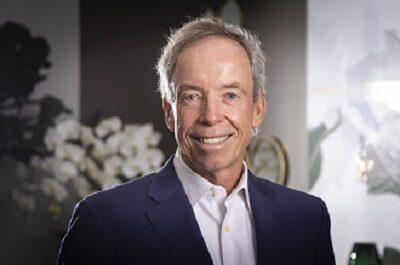 The youngest of three, Keith Koenig was born in 1951 in Ridgewood, New Jersey. His father worked for Blue Cross in New York City and his mother worked in a department store. When Koenig was five, his father had a massive heart attack. "It took him nearly two years to recover," says Koenig. "When I was 10, we moved to Fort Lauderdale, Florida, for what my parents thought would be a quieter lifestyle."
Koenig's mother again found a job in a department store and eventually his father got a job renting cars for National. "Money was always tight," says Koenig. "If I wanted something, I had to pay for it. I was resourceful and a hard worker. I washed windows, houses, and cars. I was a pretty enterprising boy."
Koenig credits his parents with giving him a loving, supportive upbringing. "Education was important to them," he says. "Neither of them went to college, but it was a given that we kids would go. When I got my first A in elementary school, I was motivated to keep getting them. I did very well academically throughout my school years."
Koenig worked his way through the University of Florida. In 1971, when he was 20, his older brother opened a waterbed store in Fort Lauderdale called Waterbed City. "I worked in his store during the summer of 1972," says Koenig. "When I returned to school, I rented a truck and took some waterbeds with me, which I sold on a street corner."
After earning his degree in business, Koenig stayed on at the University of Florida to pursue his MBA. In 1975, at the end of graduate school, Koenig's brother asked him to join his business as a partner. "I had $20 in my pocket the day I drove back to Fort Lauderdale," says Koenig. "But I had confidence we would do well. My brother and I learned from our parents to be hard workers, and I already knew I was a good salesman. I felt this was the right move for me."
The brothers were ambitious. Throughout the 1970s and 1980s, they grew Waterbed City into a 14-store chain. "It was fun," says Koenig. "Every penny we made, we reinvested into the business. But in 1989, we had our first decline in sales. We could see the writing on the wall that the waterbed business did not have a bright future. The precipitous decline was very concerning. We had to do something, or the business we had worked so hard to establish would fail."
Deciding to see this problem as an opportunity in disguise, the Koenigs chose to reinvent their business—converting it into a full-scale furniture store. Now called CITY Furniture, the brothers opened their first store in 1994.
"We were not an overnight success," says Koenig. "I would describe us in those days as hungry and ambitious. Within one year, we had converted all our stores. Unfortunately, my brother Kevin died in 2001 after years of failing health. He was smart and a visionary, and I have really missed him."
Keith Koenig has continued to expand CITY Furniture. Today, the company has 28 retail showrooms and 14 licensed Ashley HomeStore locations throughout Florida. It is the number one furniture store in South Florida and among the Top 100 retailers nationally. In 2003, CITY Furniture launched a partnership with Ashley Furniture and the company has since grown to become one of Florida's largest private companies, employing more than 3,000 associates across the state. The company has its own manufacturing facility in Mississippi and recently opened a new warehouse-showroom in Tampa, Florida, which is projected to bring 500 jobs to the area. In 2021, Keith's son Andrew took over as CEO of CITY Furniture and he remains involved as chairman.
Keith is an avid – and quiet – philanthropist, providing support to regional organizations including the Museum of Discovery and Science, Habitat For Humanity, Camillus House, Holy Cross Hospital, the University of Florida, Nova Southeastern University, The Boys and Girls Club, Covenant House, St. Gregory Catholic Church and the Archdiocese of Miami, among others. Through CITY Furniture, Koenig also donates furniture to shelters and organizations in need, including Alonzo Mourning's Overtown Youth Center. Committed to higher education, he is a member and past chair of the University of Florida Foundation and a member of the Board of Governors at the Nova Southeastern University Alan B. Levan Broward Center of Innovation.
Amidst his professional success, Koenig faced significant personal tragedy when he lost his first wife Doreen in 2015 to breast cancer. The couple had been married for 37 years. "This tragedy broke our family's heart," he says. "Even though it's difficult, I believe we have to face adversity because it's simply a part of life."
When he realized that his waterbed business was beginning to fail, Koenig looked for a way to change that trajectory. Converting his company to furniture sales was a risk, but he had an entrepreneurial spirit that gave him the confidence to move forward with his ideas and goals. "That is something I hope to convey to the Horatio Alger Scholars," he says. "I want them to understand the importance of perseverance in the face of challenge or adversity. You just have to keep going."
When asked how he defines success, Koenig says he sees it as multidimensional. "For me, it requires a balance of faith, health, effort, and nurtured relationships. I've met plenty of wealthy people I don't believe are successful because they have ignored other important aspects of their life. I believe you have to include the Lord in your life—that's number one. We have to take care of our physical being because if you don't have health, you can't have success. If we have children, we have to make sure we have given them values that will support them when they are adults. If we are married, we have to make sure we are a full partner in that relationship. And if we are the head of company, we have to provide a good work environment for our employees and our communities. If we want to make the world a better place, we should leave it better than we found it. We must put our time, talent, and treasure into the community. When you have done that, then I would consider you to be successful."
Koenig believes he has lived the American dream. "I have been blessed beyond anything I could have ever expected," he says. "I have built a business that gives back to its customers and communities, I have a family that makes me proud, and I have the ability to help others. I know the American dream can mean different things to different people, but for me and what I have achieved, this is my American dream."
Honored to become a Horatio Alger Member, he says, "This award is a capstone on my life. I have long admired the Association—its Members and its mission. I believe strongly in the scholarship programs. Education can break a cycle of poverty and other major challenges in life. So, to be a part of this organization is the most important achievement of my life by far."