John H. McConnell
*
Class of 1983
Chairman & CEO Worthington Industries, Inc.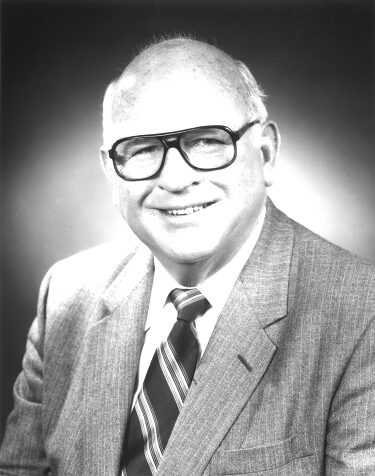 In 1923, John McConnell was born in Pughtown, West Virginia. He grew up during the Great Depression, which gave him a good work ethic early in life. His father was a steel worker who made only 60 cents an hour. McConnell spent two days a week from the time he was four until he was eight helping the local mailman deliver mail to outlying farms in a Model T Ford. His pay was an ice cream cone at the end of the route. "Mr. Moore helped develop my self-confidence and taught me that there's no substitute for honesty," he said of the mailman.
McConnell could have gone to college on a football scholarship, but he followed his father in the steel mills. Soon after World War II broke out, he enlisted in the U.S. Navy, spending three years in the Pacific. After the war, he used the GI bill to attend Michigan State University, where he majored in business administration and played football.
Graduating in 1949, McConnell began his business career as a salesman for Weirton Steel Corp. In 1955, he became a steel broker. McConnell's first purchase was a $1,800 truckload of steel, partially bought with a $600 bank loan using his car as collateral. With that first load of steel, he launched Worthington Industries, a business that helped create the steel processing industry.
McConnell's business philosophy was to treat customers, employees, investors, and suppliers as he would like to be treated. "It's the Golden Rule," he said, "and I apply it to both my business and personal life." Worthington was often listed as one of Fortune magazine's 100 Best Companies to Work for in the United States. In 1996, McConnell handed the leadership of the company over to his son.
Known in central Ohio for his generous philanthropy, McConnell donated more than $7 million to what became the McConnell Heart Health Center at Riverside Hospital in Columbus, Ohio. He was the majority owner of the Columbus Blue Jackets of the National Hockey League and was part owner of the Columbus Crew Soccer team.
McConnell received the Football Foundation and Hall of Fame Gold Medal Award, and he was inducted into the Ohio Veterans Hall of Fame. Financial World magazine once named him Outstanding Chief Executive Officer of the Year, and Industry Week gave him the Excellence in Management Award. But he said the greatest recognition he has ever received is his Horatio Alger Award.
Looking back over his career, McConnell said, "I believe you are a success when you reach a status in life that allows you to assist others either financially or spiritually. My advice to youth is to be honest in all endeavors and never fear hard work."