John F. Crowley
Class of 2023
Executive Chairman Amicus Therapeutics, Inc.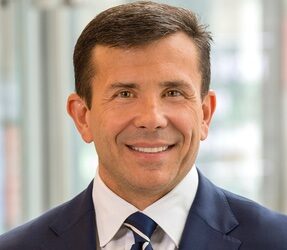 John Crowley was born in 1967 in Englewood, New Jersey, where his father worked as a policeman and his mother worked as a waitress and a legal secretary. They lived in a garden apartment complex that included both sides of their families—grandparents, aunts and uncles, and cousins. "It was great," says Crowley. "I always had someone to play with. I didn't think it was unusual to be surrounded by my family. I thought everyone lived like that."
Crowley fondly remembers the times his father drove him to school in his squad car, which made John feel special. As he was getting out of the car, his father would say each day, "Do right," and John would reply, "and fear no man."
Life was happy and normal until shortly before Crowley's eighth birthday. There was a knock on the door very early in the morning on January 12, 1975. The police chaplain and another police officer, Crowley's Uncle Jim, were there to deliver the news that Crowley's father had died in a tragic accident while on duty early that morning. "It was devastating for all of us," he says. "I believe, though, that those difficult moments in life either break you or make you stronger. For me, I think my father's death made me stronger. I had a younger brother and my mother to consider, and I felt a sense of responsibility."
The Crowley family moved into a two-bedroom home that his maternal grandfather had built after WWII. Living in that home were his grandparents, his mother, his younger brother, and his aunt. Both bedrooms in the small cape cod home included three twin beds. Crowley's mother took care of her sons during the day and then left them in the care of her parents at night to work as a waitress at the local mall.
Crowley attended public grammar schools and a Catholic high school. He thought much about his future and what he wanted to be. He enjoyed reading biographies about famous American leaders and considered a military career and even public service. His parents never attended college, but it was made clear to him from the beginning that he would. "My maternal grandfather, Frank, was a superintendent for a large apartment building. When I was young, he sometimes took me to work with him. I wore overalls and he built me a little toolbox I could carry. Over time, I began to realize that my grandfather was gradually taking the tools out of my box and replacing them with books. He wanted me to know that an education would give me different opportunities in life than he or anyone else in our family had ever had."
An able student, Crowley worked hard in school and won an appointment to the U.S. Naval Academy. After nearly 18 months as a Midshipman at the Naval Academy, he transferred on a scholarship to Georgetown University's School of Foreign Service. Before leaving the Academy, he wrote an essay on why he was leaving and ended by saying that he hoped one day he would have an opportunity to come back and serve his country.
Crowley graduated from Georgetown in 1989 with a foreign service degree and a major in international economics. Next, he earned a law degree from the University of Notre Dame. During his law school days, he married his high school sweetheart, Aileen.
After practicing law for three years, Crowley decided he wasn't interested in that as a lifelong career. He applied to and was accepted into the MBA program at Harvard. By then, he and Aileen had their first child, John. Two years later, they had Megan, and a year after that they had Patrick. To pay off his significant student loan debts, Crowley took the highest-paying job offered to him after completing his MBA. He moved his family to San Francisco, where he was a management consultant working on banking mergers.
In 1998, when John and Aileen's daughter Megan was 15 months old, it was discovered she had a rare form of muscular dystrophy known as Pompe disease. On the day of her diagnosis, their son Patrick was seven days old. The doctor told them that he should also be tested. Unfortunately, he was also diagnosed with Pompe, which is often fatal. Within six months, Megan and Patrick were very sick, requiring wheelchairs to move and ventilators to breath. At the age of five, Megan was given barely a year to live and Patrick was given even less time.
"After Megan and Patrick were diagnosed, my goal was to save their lives," says Crowley. If I couldn't do that, I wanted to extend their lives, improve their lives—not just for my own family but for all families affected by Pompe disease. Fortunately, our oldest son, John Jr., was okay. But I now had two kids on ventilators and in wheelchairs who required 24-hour care from nurses and our family, especially from my wife, Aileen."
To be closer to their relatives, the Crowleys returned to New Jersey and John went to work for Bristol-Myers Squibb, one of the world's largest pharmaceutical companies. After two years, he realized that he had to do more to try and save the lives of his children. He and Aileen took out a $100,000 home equity loan to start a biotech company—Novazyme Pharmaceuticals—in partnership with Dr. William Canfield, an Oklahoma researcher. Crowley served as the CEO at age 32. A year and a half later, they were acquired by Genzyme Corporation, which at the time was the world's largest rare-disease-focused biotechnology company. Crowley became senior vice president in charge of Genzyme's global Pompe program. Two years later, in 2003, Megan and Patrick received the enzyme replacement therapy for Pompe disease developed by Genzyme. The therapy reduced their severely enlarged hearts and improved for a time their muscle strength. It is a lifetime therapy, meaning the patients must receive the therapy every two weeks for the rest of their lives.
Crowley left Genzyme to ensure that his children would qualify for the enzyme replacement therapy. In 2005, wanting to start a second biotechnology company that would be enduring, he co-founded Amicus Therapeutics. Over more than 18 years now, Amicus has worked to develop treatments for rare genetic disorders. Amicus currently has a next generation medicine for Pompe disease that is expected to be approved in the U.S. and Europe in 2023.
Amicus has grown from a five-person start-up to a company now employing more than 500 people in more than 24 countries, with a market value of nearly $4 billion. "We are entering a golden age of medicine," says Crowley, "where we finally have in our grasp new ways to develop next generation medicines that have the potential to alleviate an enormous amount of human suffering, technologies like gene therapies and gene editing. I also believe that our biotechnology industry has a moral obligation to develop the best medicines and to get them to as many people as quickly as possible. Global access to new medicines is of paramount importance."
The Crowleys' journey has been featured numerous times on the cover of The Wall Street Journal. In 2006, Pulitzer prize winning author Geeta Anand wrote the book, The Cure, which inspired the 2010 major motion picture film, Extraordinary Measures, starring Harrison Ford and Brendan Fraser. Crowley also wrote a memoir, Chasing Miracles: The Crowley Family Journey of Strength, Hope, and Joy.
After 9/11, Crowley—as so many Americans did—felt a need to serve his nation. Through the U.S. Navy Reserve, he was commissioned as an intelligence officer. He served with the U.S. Special Operations Command and served three active-duty tours over more than a decade of service. In 2011, he served as the Deputy Chief of Intelligence for an elite special operations task force in Afghanistan. "I had a chance to work with some of the greatest warriors in the history of the world," he says. "It was one of the highest honors of my life to serve with them. I recall when I was at Bagram Airfield, waiting to come home, I noticed a poster with a picture of U.S. troops that said: Live a life worthy of their sacrifice. Six days later, I received a terrible call. The Navy SEAL team that I had worked with had all just been killed in a helicopter that had been shot down in Afghanistan. The nature of their service and ultimate sacrifice is the most humbling experience of my life. I only hope that I can live a life worthy of their sacrifice."
When asked to define success, Crowley believes it is making a difference. "You have to ask yourself if you did something meaningful. I don't think we should dwell on our failures—we all have them. I try to focus on those things that give me purpose and meaning and that make the lives of others better."
Crowley believes that life is a journey. "The journey is not just looking for happy times or reaching financial success," he says. "I've discovered that life isn't filled with rainbows and happiness no matter how hard you work. Life is a series of challenges and obstacles that you have to overcome. I believe happiness in life is directly proportionate to how well you handle those challenges and adversities."
In becoming a Member of the Horatio Alger Association, Crowley says he sees a bit of himself in the Scholars. "I think that's true for all the Members. We think about the people who helped us along our journey in life—the people who provided those opportunities, who opened those doors, who provided those scholarships. The Scholars are going to become the teachers. They are the ones who will show their generation what true success is and what true humility is. I believe we are all given this purpose in life. We don't want pity for our adversities, we want opportunities. The Horatio Alger Scholars are the young great leaders who will take us forward so that the generations that come after them will have better opportunities to live the American dream."