Joe L. Allbritton *
Class of 1994
Chairman of the Board The Riggs National Bank of Washington, D.C.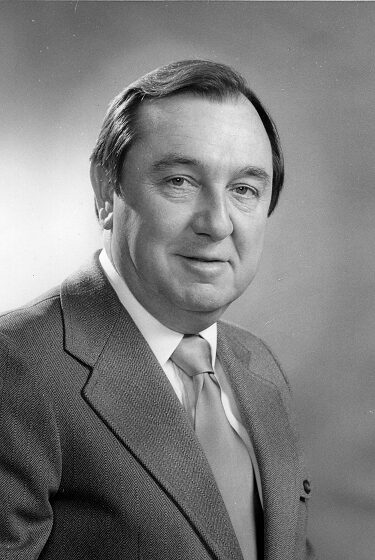 Born in 1924 and raised during the depths of the Great Depression in D'Lo, Mississippi, Joe Allbritton worked as a youngster for a local bottling plant, where he earned $1 a day stirring orange juice. When he was in junior high school, he moved with his parents to Houston, where his father opened a café. Allbritton worked there after school each day, washing dishes, cooking short orders, and manning the counter. Working with his father taught Allbritton the value of hard work and dignity.
A talented student, Allbritton discovered his skill for debate. In fact, his high school debate coach, O. B. Horne, who had been a classmate of President Lyndon B. Johnson, became a great influence on Allbritton's life. After graduating from high school, Allbritton enrolled at Baylor University, where he excelled as an intercollegiate debate champion. After one year at Baylor, he spent three years in the U.S. Navy and then returned to Baylor to enroll in law school. Upon earning his degree, Allbritton opened a small law office.
In 1952, looking for more than what he was getting out of his practice, Allbritton teamed up with some partners and began buying real estate on the outskirts of Houston. When the Gulf Freeway was opened, connecting Houston with Galveston, the value of his land skyrocketed. He sold his properties and made huge profits. He then organized and operated a savings and loan in Houston in the mid-1950s, which he sold so that he could purchase several enterprises in California.
In 1970, Allbritton led the merger of Citizens State Bank of Houston with Houston Bank & Trust. Several years later, he sold his shares and in 1974 took over as publisher of the Washington Star. This deal also gave him control of WJLA-TV in Washington, D.C., along with smaller television stations in Virginia and South Carolina. In 1975, he was forced to sell the Star to Time, Inc., which closed the paper soon thereafter.
Allbritton returned to banking in 1981 when he purchased stock in Riggs National Corp. He served as chairman of Riggs until his retirement. Throughout his successful business career, Allbritton said the difference between winning and losing often comes down to hard work and persistence.
"I've never worked for money in my life," said Allbritton. "I've always worked to get the job done. You have to be prepared to stay the course in this world. I also think that if you want to achieve success, you have to have a set of principles to start with. You have to have a moral code and a strong set of ethical principles."
Of all the endeavors he supported, Allbritton said helping young people get an education stands out as foremost. "That's the most important use to which money can be put," he said. "I don't know of anything that can help young people achieve more than an education."