Jim Moran
*
Class of 1996
Founder & Chairman of the Board JM Family Enterprises, Inc.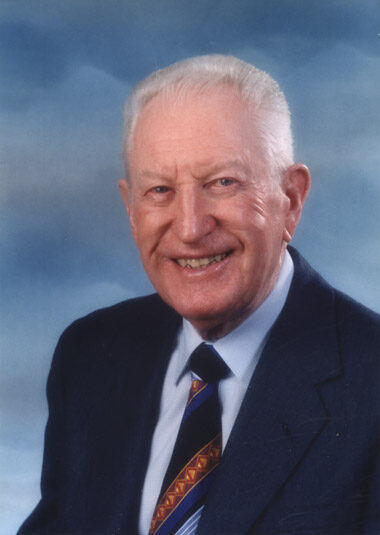 Born in 1918 in Chicago, Jim Moran was the son of immigrants from Ireland and Germany. The family lived in a fourth floor walk-up apartment that was close to the noise of the streetcar lines. Moran credited his mother with giving him the values by which he lived his life. Her rules were simple: Be on time; keep your word; don't take anything that doesn't belong to you; and if you do something, do it right.
Shortly before Moran turned 14, his father died during the height of the Great Depression. Moran went to work to help his mother and sister. Even though finances were difficult, his mother insisted he get a solid education. He worked off his tuition at Loyola High School by cleaning and sweeping floors, waiting tables, and serving as a gas station attendant five hours a night for 25 cents an hour.
In 1939, Moran spent his savings of $360 on a Sinclair gas station that soon became the largest volume outlet in Chicago. After serving in the U.S. Army during World War II, he returned to Chicago and began selling used cars off the lot of the Sinclair station. Within two years, he purchased his first used car lot.
Moran's phenomenal success brought him relationships with Hudson and Ford. Within 30 days of establishing Courtesy Ford in 1955, he became the world's largest Ford dealer. He was the first dealer in the nation to show new and used cars live on television. Soon, his slogan, "Jim Moran, the Courtesy Man," was a household phrase.
In 1961, Moran became the only automobile dealer ever to be featured on the cover of Time magazine. Four years later, he was diagnosed with cancer and given a 10 percent chance of survival. With fierce determination, he beat the odds and continued to build his automotive empire. JM Family Enterprises became distinguished as one of America's 100 Best Companies to Work For by Fortune magazine and was one of the nation's largest privately held companies. Its flagship subsidiary, Southeast Toyota Distributors, became the world's largest private Toyota distributorship.
Moran founded the Youth Automotive Training Center in Deerfield Beach, Florida, to provide basic automotive training, academic education, and life skills management to South Florida's at-risk youth. The Jim Moran Foundation works to improve the quality of life for the youth and families of Florida. In recognition of his outstanding business achievements, Moran was inducted into the Automotive Hall of Fame in Dearborn, Michigan, in 2005.