James R. Moffett *
Class of 1990
2000 Norman Vincent Peale Award Recipient
Chairman of the Board and CEO Freeport-McMoRan Inc.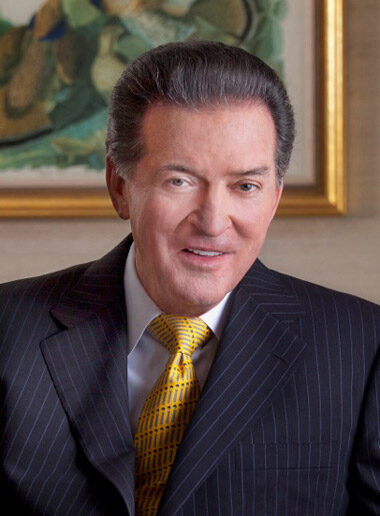 The son of an oilfield worker, Jim Bob Moffett was born in 1938 in Houma, Louisiana. When Moffett was very young, his parents divorced, and he and his sister moved to Houston with his mother, who worked as a department store credit clerk. As a teenager, Moffett had several odd jobs to help support his family. He bagged groceries, delivered newspapers, pumped gas, and sold shoes. Still, he found time to be an active Boy Scout and studied hard enough to become a member of the National Honor Society.
Moffett attended the University of Texas at Austin on a full football scholarship, playing for Darrell Royal, the legendary Longhorn coach, who became his mentor. Moffett graduated in 1961 with an award for excellence in geology and was the senior football player with the highest scholastic average, an accomplishment for which he was particularly proud. In 1963, he received a master's degree in geology from Tulane.
Moffett began working as an oilfield "roustabout" in New Orleans until becoming a consulting geologist in the oil and gas industry with W. K. McWilliams Jr. In 1969, McWilliams, Moffett, and B. M. Rankin organized McMoRan Exploration. In 1981, Moffett put together one of the largest corporate mergers in Wall Street history, combining McMoRan Oil & Gas Co. and Freeport Minerals Company to form Freeport-McMoRan, Inc. It became one of the world's leading natural resource companies, and Moffett served as chairman and CEO.
In 2007, under Moffett's leadership as chairman, Freeport-McMoRan Copper & Gold, Inc. bought Phelps Dodge Corp. for $27 billion, marking the biggest acquisition in the history of the mining industry. That transaction transformed Freeport-McMoRan into the world's largest publicly traded copper company and its largest producer of molybdenum. The company, headquartered in Phoenix, Arizona, engages in the exploration, mining, milling, and smelting of copper, gold, silver, and molybdenum in North America, South America, Asia, Europe, and Africa. Moffett was also co-chairman of McMoRan Exploration Co., a leading independent oil and gas exploration, development, and production company based in New Orleans.
Moffett defined success as "reaching a point in life when you can help other people to be successful." True to the principles and practices of Horatio Alger and since his climbing the ladder to success, Moffett worked hard to keep it in place for younger generations to follow through his work with the Horatio Alger Association and educational philanthropy. Under his leadership, Freeport-McMoRan supported educational, healthcare, and social development programs worldwide. Twice, BusinessWeek magazine named Freeport-McMoRan the most philanthropic company in America on the basis of total giving as a percentage of revenues.
He advised young people that success is available to anyone in America. To be successful, he said, "You need to find something that you think you can do better than anyone else and then out-work everyone around you." Hard work creates opportunities for success, he said, frequently quoting Royal, his football coach at the University of Texas, who told him as a young man that "luck is when preparation meets opportunity." Moffett added, "The harder you work, the luckier you get."
In 2000, the Horatio Alger Association awarded Moffett its Norman Vincent Peale Award, which is given to Members whose dedication to the Association and its mission and whose extraordinary humanitarian contributions to society distinguish them as exceptional role models. Moffett served the Association as a board member and chairman emeritus. "I want everyone to know that in America everyone can succeed," said Moffett, crediting the Association with "getting the message out that in America, success should be celebrated."