James R. Andrews, M.D.
Class of 2022
Chairman American Sports Medicine Institute
Chairman Andrews Research & Education Foundation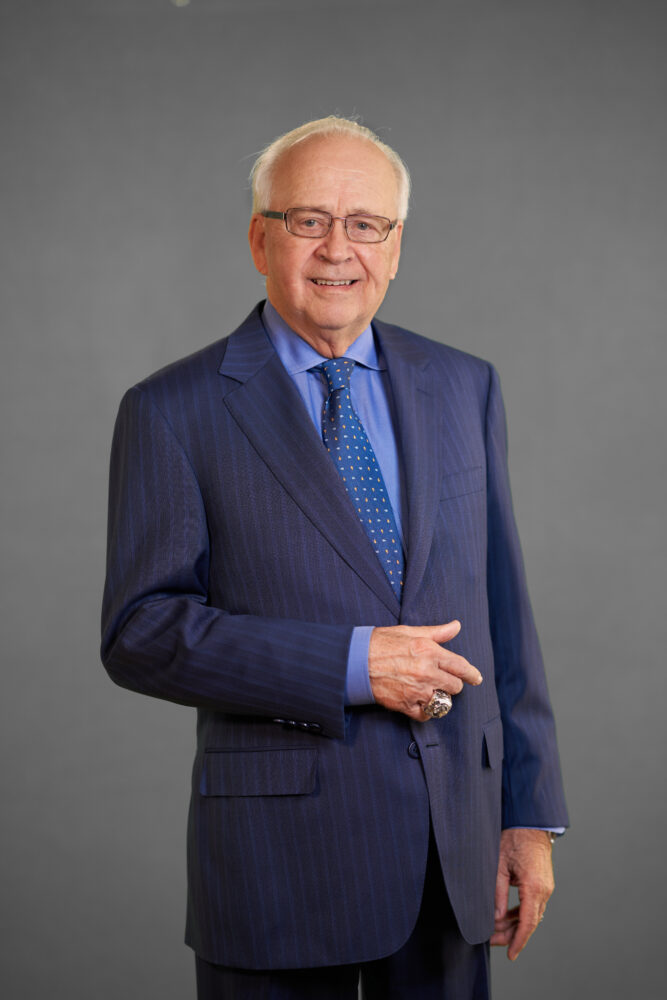 When James Andrews was born in 1942 in New Orleans, Louisiana, his father was leaving for overseas duty as America ventured further into World War II. He was gone for nearly four years. Jimmy moved with his older sister and mother to the northern part of the state, where they lived with his grandparents on their farm for the duration of the war. As a toddler, Jimmy knew his father only as a framed photograph. Upon his father's return, his mother presented his father to him, but Jimmy ran away from her saying, 'That man is not my father. This,' he said pointing to the photograph, 'is my father.'
It took some time for the family to adjust to having Jimmy's father back. He had been a supply sergeant in the Army. When he came home, he opened a laundry and dry-cleaning plant. 'For a number of years, we lived in a garage apartment. My father was a strict disciplinarian and a workaholic. He loved me, but I found it difficult to feel close to him. I spent a lot of time trying to please him, but when I came home with all A's and one B, he would ask why I got a B. Looking back on it, I realize now he may have suffered from post-traumatic stress disorder, but no one had ever heard of that in those days. I think, though, that it could have explained my father's distance.'
Jimmy did have a close bond with his grandfather. 'He only had a partial first-grade education, but he was very smart. He had always wanted to be a doctor, and from an early age whenever he would rock me, he would say, 'You are going to be my little doctor.' The idea appealed to me and I grew up with that as my only career choice. He truly planted the seed for me to go into medicine.'
Throughout his childhood, Jimmy worked on his grandfather's farm. He fed the livestock and picked cotton'a job he hated. To get out of that difficult labor, he learned how to drive the tractor. When he was older, he worked in his father's laundry plant and helped with deliveries. Boy Scouts also played a big role in Jimmy's life. Always an overachiever, Jimmy earned his Eagle Scout designation by the time he was in the eighth grade.
When he wasn't working, Jimmy's father enjoyed attending high school sports events. He carried the yardage chain at the football games and drove all over the state to track meets. To be closer to his father, Jimmy participated in athletics, and his skill as a pole vaulter earned him a full scholarship to Louisiana State University (LSU). From the beginning of his college entrance, Jimmy knew he wanted to combine his love of sports with his desire to be a doctor. The term sports medicine was not yet a career field, but Jimmy knew he would one day be a team physician.
At the end of Jimmy's sophomore year in college his father died. 'My father became a chain smoker when he was in the Army,' says Jimmy. 'He had survived a heart attack earlier in that school year. Then when I was getting ready for my final exams, I got a call that he was dying. He had lung cancer that had spread throughout his body. By the time my mother called me, she didn't think he had more than a day to live. In our small town, we all knew each other, and some of my family friends reached out to the state police to help get me home. They radioed the police in Baton Rouge who came to escort me home. We drove all night, but when I finally reached the hospital at daylight, my father had just passed away.'
It took Jimmy nearly two years to recover somewhat from the loss of his father. He also worried about his mother, who suffered with considerable depression following the death of her husband. 'My mother had a music degree from LSU and a master's degree from the University of Arkansas. She was a music teacher before she met my father, but he would not allow her to work once they were married. He felt he should be the sole supporter of the family. My mother was very fragile, having never made any real family decisions, so I felt like that was now my role and duty.'
Jimmy's mother had become the choir director for their church. Eventually she was able to work as a high school music director. 'She never made much money,' says Jimmy. 'If it hadn't been for my sports scholarship, I would not have been able to complete my schooling.'
Jimmy's scholarship from LSU continued through medical school. In the summers, he worked for the Louisiana State Highway Department, which gave him spending money. When he graduated from LSU in 1963, he was the Southeastern Conference indoor and outdoor pole vault champion. He completed medical school at LSU in 1967. He did an orthopaedic residency at Tulane Medical School, from 1967 to 1972, and then did surgical fellowships in sports medicine at the University of Virginia School of Medicine and also in France with Professor Albert Trillat, who was known as the father of European knee surgery. Jimmy also sought out his idol, Dr. Jack Hughston, who attended the football players at Auburn University. Jimmy spent a year of his residency with him, and the two became close. Eventually Jimmy worked with Dr. Hughston for 13 years. 'He became the father figure I so longed for,' says Jimmy. 'He was a lifelong mentor and molded my career in sports medicine.'
In 1974, Jimmy and Dr. Hughston started the Hughston Sports Medicine Foundation, which is devoted to research and education in sports medicine. Jimmy was the team physician for several smaller colleges and was an assistant with Dr. Hughston at Auburn University. In 1986, Jimmy decided it was time to break out on his own. He moved to Birmingham, Alabama, and co-started the Alabama Sports Medicine and Orthopaedic Center. In 2005, he moved the entire complex to St. Vincent's Hospital in a new 'Ortho Sports Center' complex, which then became the Andrews Sports Medicine & Orthopaedic Center. In 2007, he opened the Andrews Institute, a second center in Gulf Breeze, Florida. A third center, the Andrews Institute at Children's Health in Dallas, Texas, opened in 2017.
Over the years, Jimmy has become internationally known for his skills as an orthopaedic surgeon. His prestigious patients' list includes athletes Bo Jackson, Payton Manning, Eli Manning, Jack Nicklaus, Jerry Pate, John Smoltz, Roger Clemens, Emmett Smith, Drew Brees, Troy Aikman, and Michael Jordan.
Since 1974, Jimmy has mentored more than 450 young physician fellows as part of their post-graduate training in sports medicine. In 2000, he started the STOP Program with the American Orthopaedic Society of Sports Medicine (AOSSM), which focused on sports trauma and overuse prevention in youth sports. He is dedicated to offering his services to athletes whether or not they are insured. He is especially involved in providing sports medicine coverage for historically black colleges in the South, particularly for Tuskegee University and Grambling University. 'Taking care of young athletes has been a very rewarding and important part of my career,' he says. 'Many athletes who don't have medical insurance drop out of school because they can't pay to have their injury repaired. They often end up on the streets and in trouble, which is what I am trying to prevent with my services.'
In the professional sports arena, Jimmy is the senior orthopaedic consultant for the Washington Redskins and orthopaedic medical director for the Tampa Bay Rays. He serves as the medical director of the Ladies Professional Golf Association and has worked in a similar capacity for the PGA. He is also the senior orthopaedic consultant for the University of Alabama athletics and Medical Director for Auburn University.
Dr. James Andrews has received many awards and honors. In 2014, he received the President Gerald R. Ford Award, which honors those who have provided significant leadership in the role of advocate for intercollegiate athletics. As a 'Louisiana Legend,' he was named one of 200 most influential people since statehood. He is a member of the Sports Hall of Fame for the states of Alabama and Louisiana.
'I have always tried to lead a positive life,' says Jimmy. 'In setting my daily, yearly, and lifetime goals, it has been important for me to determine my priorities in life. My first priority is my faith and a close second is my family. My career is third. For me, success is not defined by fame and fortune.'
Jimmy has had mentors throughout his life. He mentions the importance of his grandfather and father, his high school and college English teachers, his coaches, Dr. Hughston, and many others. He often talks with young people about the role of mentors in life, and he says, 'When you look in the mirror in the morning, if all you see is yourself, then you've got a problem and you won't be successful. What you should see in the mirror is the reflection of all your mentors'those who helped you along the way.' Jimmy believes that it is just as important to turn around and help those coming behind him as it was for him to accept help from those who brought him along. He adds, 'If all you do is glorify yourself as you move up the ladder, then you will not be very successful. In other words, as you climb up the ladder, turn around and help those coming behind you.'
Jimmy believes that humility is a trait that one must develop, which has allowed him to reach the top of his field. 'Humility,' he says, 'allows me to be a listener rather than a talker. Other important traits that I have tried to cultivate include persistence, honesty, and appreciation for others.'
Jimmy and his wife Jenelle have been married for 40 years and have six children and 12 grandchildren. 'I'm often asked for the best advice I have ever been given and it has come from my wife when she says and I quote, 'If you are still talking about what you did yesterday, then you are not doing much today.'
Excited about his Horatio Alger Award, Jimmy says, 'When I got the call about my induction, it was one of the greatest moments of my life. It is a real privilege and a responsibility to be a member of this illustrious association.'