James B. Freedman
Class of 2023
Chairman Intrepid Investment Bankers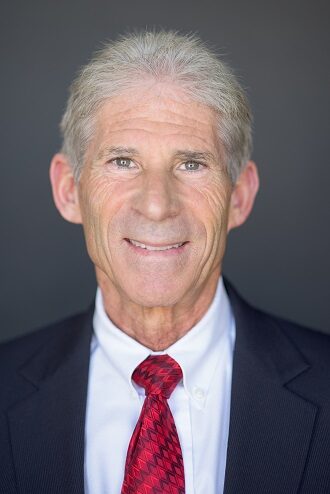 Jim Freedman, the youngest of three and the only son, was born in 1953 in Groton, Connecticut, where his father worked on submarines and his mother was a substitute school teacher. "Both of my parents were second generation immigrants who had achieved college degrees," says Freedman. "It was expected that my sisters and I would also go to college. Education was very valued in my family."
Freedman earned good grades in school, but "was a bit of a rabble-rouser," he says. "I talked a lot but eventually began to see the positive side of listening. Today, I think I'm one of the best listeners I know. I discovered that the more I tune into what people are saying, the more I can process. It has worked very well for my career."
From an early age, Freedman had an entrepreneurial spirit. At the age of seven, he searched for lost golf balls in the woods near the local golf course. He cleaned the balls and sold them to golfers for 50 cents each. At the end of that summer, he had made $30.
When he was 13, Freedman's parents celebrated his Bar Mitzvah by gifting him a small used boat with an engine. It was up to him, however, to figure out how to buy gas for it. He learned that a nearby resort hotel had guests that paid for room service and offered tips to the waiters. Freedman applied for a room service delivery job, alluding that he was older than he was to get himself hired. Each day during that summer he delivered oatmeal and cream of wheat to the hotel patrons and used his tips to pay for his boat's gas.
Other teenage jobs included being a delivery boy and busboy. He attended Cornell University's state-supported Industrial and Labor Relations school, graduating in 1975 with a BS degree. In the summer before his junior year college, he hitchhiked to California where he worked as a burger chef, forklift driver, and selling Fuller Brush products door to door. After graduating from college, he earned his MBA from UCLA's Anderson School of Business. To pay his way through his graduate education, he worked as a cargo handler for Delta Airlines.
As Freedman began interviewing for financial positions with large institutions, he felt something wasn't right. He went to the school library for four hours to reflect on what he liked and what he was good at. "It was a very pivotal and revealing moment for me," he says. "I decided I wanted to take more risk with a smaller company, where I could work with a close-knit team of people."
With a talent for finance and strategy, Freedman joined a boutique finance firm as an analyst trainee. His hard work paid off quickly, and within a few years he was promoted to vice president of corporate development and strategy.
In 1982, he was faced with a new boss. "I felt he was too conservative for us and I didn't like the way our company was headed. One early morning, we got into a heated discussion and I was abruptly fired. I was stunned. I found myself back home at 7:30 in the morning, trying to figure out what to do next. I had to do some real soul searching about what I really wanted to do in life."
At the age of 28, with no capital, Freedman started a small investment bank named Barrington Associates. "I was under the impression," he says, "that I would open my doors and business would just come to me. The first seven or eight years were the toughest of my life. My condo went into foreclosure and I was forced to move to a friend's house. But the one thing I would not do was give up. I think that perseverance is a unique characteristic that is critical for entrepreneurs. I knew that if I failed, the worst thing to me would be having to go back and work for someone else. That thought was the biggest motivator to not give up in my entrepreneurial venture."
By 1990, Freedman had brought in two like-minded partners (who are still his partners to this day) and over the next 15 years through hard work and shared commitment, the firm grew and became very successful. In 2006, Barrington Associates was sold to Wells Fargo Securities. Upon completing his work contract with Wells Fargo, Freedman and his partners founded Intrepid Investment Bankers in 2010. In 2019, that firm was sold to MUFG, the fifth-largest bank in the world. Intrepid continues to operate as an independent subsidiary of MUFG, where Freedman serves as Chairman.
Freedman has advised more than 500 middle-market companies in the areas of corporate finance, mergers and acquisitions, corporate valuation, and strategic decisions. He has acted as the principal financial advisor in transactions ranging in value from $20 million to more than $1 billion.
One trait that Freedman says is integral to the success of his firm is the positive work culture his group has created. "Really, it comes down to integrity," he says. "My definition of integrity is very simple and that is to do the right thing. You do the right thing by your employees, you do the right thing in your business dealings, and you do the right thing in your personal relationships. A sort of magic takes place when you, your partners, and your business associates all share this philosophy."
From 2016 to 2022, Jim Freedman has been featured as one of the most influential people in Los Angeles finance by the Los Angeles Business Journal. A passionate believer in the benefits of higher education, Freedman has given substantial financial donations to the UCLA Anderson School of Management Venture Accelerator program, which gives assistance to UCLA budding entrepreneurs. "I want to nurture the next generation of entrepreneurs," he says. "Some amazing companies are coming out of this program. These young people are learning that part of being an entrepreneur is failing. But failure is not the end if you are a true entrepreneur. You learn from your failures, you withstand them, and then you move on."
Freedman's personal philosophy is that everyone can and should try to make a positive difference in the world. He is active in community affairs and serves on the Board of the UCLA Jonsson Cancer Center, the Board of Advisors of the UCLA Anderson School, the Board of the Yosemite Conservancy, the Board of Governors of Cedars-Sinai Hospital, the Board of the Concern Foundation for Cancer Research, and the Board of the Ronald M. Simon Foundation.
Success is a word that is often attributed to Freedman. When he thinks about how he defines success, he remembers a quote from his good friend, Ron Simon—who became a Horatio Alger Member in 2005. "The quote," says Freedman, "is 'Success is achieving what others believe to be impossible.' That has always stuck with me. We can all dream the dream, but you also have to be a doer. You have to work hard and you must persist through the most challenging of times."
When he considers the American dream, Freedman describes it as having the freedom to work hard and achieve your highest potential. "It all starts through education that gives you access to opportunities. That's why I believe so strongly in the mission of the Horatio Alger Association, which provides that access to young people who need those opportunities. It's a mission that just can't be beat. Becoming a Member of this prestigious organization is one of the highest honors a person can achieve."