Henry L. Aaron *
Class of 1978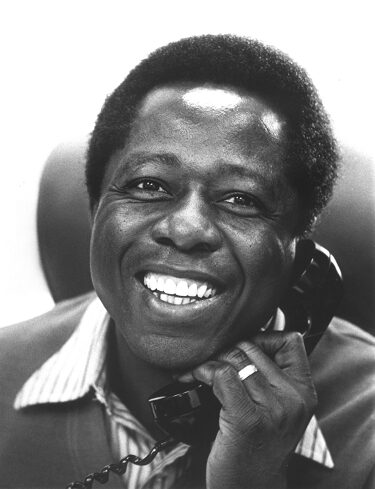 Henry Louis "Hank" Aaron, born in 1934 in Mobile, Alabama, was one of eight children in his family. His father was a boilermaker's helper in a shipyard. While still in grade school, young Aaron contributed to the family income by working for a brickmaker and as an ice boy.
Gifted with athletic skills, Aaron excelled in baseball. He and his friends often used mop handles for bats and bottle caps for balls because they could not afford baseball equipment. In high school, Aaron played outfield and third base on the school team and helped lead his team to the Negro High School Championship. He also excelled in football and was offered several football scholarships, but Aaron turned these down to pursue a career in Major League Baseball (MLB). In 1949, at the age of 15, Aaron had his first tryout with a MLB franchise. It did not go well, and Aaron returned to school to finish his secondary education. In his junior year, Aaron joined the Mobile Black Bears, an independent Negro league team. While with the Bears, Aaron earned $10 per game.
In 1951, Aaron was signed to play for the Indianapolis Clowns, which was part of the Negro American League. In 1954, he joined the Atlanta Braves and in his first year was named the team's Most Valuable Player, an honor he repeated five times. In 1957, he was the National League's Most Valuable Player, and 25 years later he was inducted into the Baseball Hall of Fame. In his 23-year MLB career, Aaron rewrote baseball's hitting record book. He held more major league batting records than any other player in the game's history, including most lifetime home runs (755) and most lifetime runs batted in (2,297). Aaron was the only player to hit 30 or more home runs in a season at least 15 times. He was one of only four players to have at least 17 seasons with 150 or more hits. He was also in the top five for career hits and runs.
On May 17, 1970, Aaron became the first player to compile both 3,000 career hits and more than 500 homers. Known as "Hammering Hank," Aaron broke Babe Ruth's career total of home runs, a record that was broken in 2007 by Barry Bonds.
In 1999, editors at The Sporting News ranked Hank Aaron fifth on their list of "Baseball's 100 Greatest Players." That same year, baseball fans named him to the MLB All-Century Team. After retiring as a player in 1974, Aaron became an executive vice president for the Atlanta Braves. Aaron's autobiography, I Had a Hammer, was published in 1990. In 2002, he received the Presidential Medal of Freedom, the nation's highest civilian honor.
Aaron was a long-time Churches and Popeye's restaurant franchisee, and he also operated Krispy Kreme franchises in Atlanta and Columbus, Georgia. Along with his wife, Billye, he founded the Hank Aaron Chasing the Dream Foundation.
Aaron believed his talent in baseball was a gift from God. "Everyone has special gifts from God," he said. "The challenge is to use those gifts well, on the field and when the game is over."