Harry A. Merlo *
Class of 1980
1999 Norman Vincent Peale Award Recipient
Chairman and President Louisiana-Pacific Corporation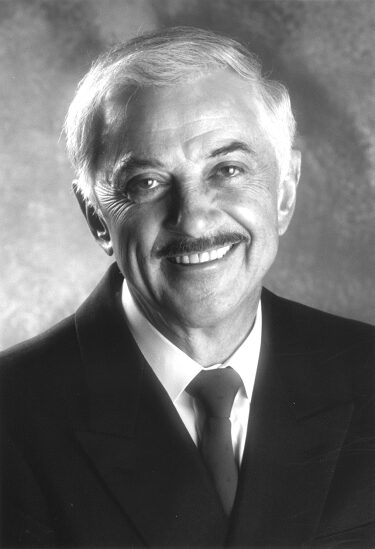 Harry Merlo was one of six children born to poor immigrants in the small northern California lumber town of Stirling City. The family rented three small homes for $30 a month, used two of them, and had several boarders in the third. Merlo and his brothers had to run more than a mile home from school every day at noon to serve the boarders lunch, wash the dishes, clean the wood stove, and race back for class, all within an hour. When he was older, Merlo worked in the town's only general store, cleaning, sweeping the floors, and stocking the shelves. In high school, he spent summers stacking lumber at the mill.
Merlo left home to join the U.S. Marine Corps, where he served four years, rising to the rank of first lieutenant. He then worked his way through the University of California at Berkeley, earning a degree in business in 1949. He did a year of graduate study while working as a shipping clerk with the Rounds Lumber Company. While there, Merlo saw ways to improve the company's profitability, and he started making suggestions. He quickly rose through the company's ranks, eventually becoming part owner. His innovative operating style caught the attention of the chairman of Georgia-Pacific, who bought Rounds Lumber and made Merlo a vice president.
To avoid creating a monopoly, Georgia-Pacific spun out a portion of its operations to form a new company, Louisiana-Pacific (LP), with Merlo at the helm. LP became one of the world's largest lumber producers and the world leader in the development and production of oriented strand board (OSB), a reconstituted plywood substitute.
Merlo retired as founding president of Louisiana-Pacific in 1994, but he remained active in the forest products industry, overseeing construction of an OSB mill and hardboard plant in Venezuela, operating a sawmill and remanufacturing lenga wood in Chile, and researching timber opportunities in Brazil. In addition, his company exported pulp and lumber products to Europe and Asia.
Merlo believed that success comes to those who do their best. "Whether you are the CEO of a major corporation, an athlete, an artist, a volunteer, or a gardener, a successful person is one who strives to reach the pinnacle of that endeavor," he said. "One of the most important roles, and one of the most neglected these days, is that of a parent. I wish more people would strive to be successful parents by ensuring that their children grow up in a loving home with nurturing support. An anonymous quote has guided many of my actions: '˜One hundred years from now, it will matter not what my bank account was, the sort of house I lived in, or the kind of car I drove, but the world may be better because I was important in the life of a child.'"
Merlo said that his Horatio Alger Award was the "most distinguished award I have ever received." He served on the Association's board of directors and was then designated chairman emeritus. In 1999, he won the Norman Vincent Peale Award for his long-standing commitment to the Association and its mission. Merlo believed strongly in higher education as a stepping-stone to success and said, "Education doesn't stop with your college degree. You must continue to read, listen, and learn throughout your lifetime."