Harland Sanders
*
Class of 1965
Founder Kentucky Fried Chicken Corporation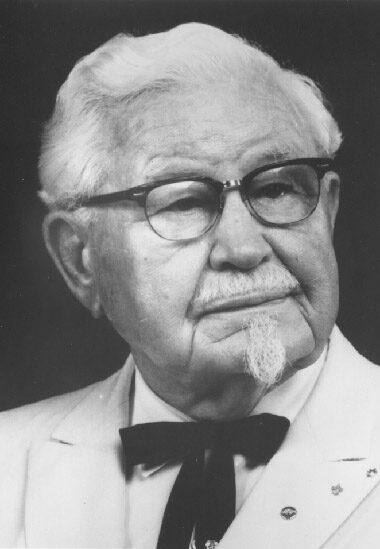 Born in 1890 on a farm in Henryville, Indiana, Harland Sanders was five when his father died. He assumed the responsibilities of cooking and caring for his siblings while his mother worked. He later dropped out of the seventh grade and went to live and work on a nearby farm. As a teenager, Sanders worked at many jobs across Indiana, including firefighter, steamboat driver, and insurance salesman.
After serving in the U.S. Army, Sanders moved to Alabama in 1907. While working a series of railroad jobs, he studied law by correspondence through the La Salle Extension University.
In 1930, Shell Oil Company offered 40-year-old Sanders a service station in North Corbin, Kentucky, rent free, in return for a percentage of his sales. Sanders began to cook and serve chicken dishes, country ham, and steaks for people who stopped at his service station. In 1936, Kentucky's governor gave Sanders the honorary title of Kentucky Colonel.
Eventually, Sanders perfected his method of cooking chicken and opened a 142-seat restaurant. With the development of the interstate highway system, Sanders, at age 65, took to the road, traveling city to city franchising his fried chicken recipe across the country. Kentucky Fried Chicken (KFC) eventually became the world's second largest restaurant chain.