H. Wayne Huizenga *
Class of 1992
2008 Norman Vincent Peale Award Recipient
Chairman & CEO Blockbuster Entertainment Corporation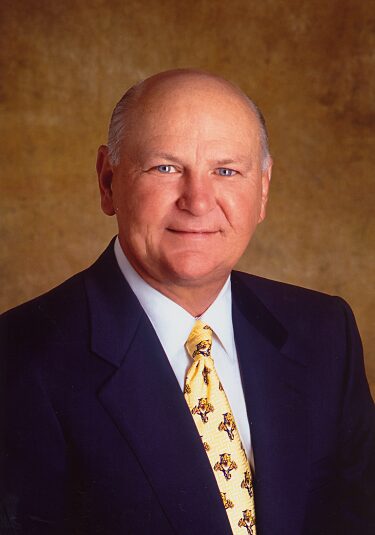 Wayne Huizenga, the son of a builder, was born in a Chicago suburb in 1937. As a teenager, he moved with his parents to Florida, where his father's building business failed. After his parents divorced, he lived with his mother. To help with expenses, he drove a truck and pumped gas after school and on weekends.
Huizenga attended Calvin College in Michigan, but he left school to work with a friend who owned a garbage collection company in Pompano Beach, Florida. In less than two years, Huizenga branched out on his own with only an old truck. He worked from 2:30 a.m. until noon, and then he spent the rest of the day seeking new clients. Eventually, he co-founded Waste Management, Inc., and acquired 100 companies in nine months. Huizenga served as president and COO of that company until 1984, when he retired to pursue other interests.
In 1987, he and two partners bought control of Blockbuster LLC, with Huizenga serving as chairman and CEO. From eight stores initially, the business grew to become the world's largest home video rental company, with more than 9,000 outlets. In 1994, Huizenga sold Blockbuster to Viacom for $8.4 billion. Huizenga chaired four NYSE companies: AutoNation, Inc., Extended Stay America, Republic Services, and Boca Resorts, Inc. He has also owned three professional sports teams, the Miami Dolphins, Florida Marlins, and Florida Panthers, as well as New Miami Stadium (formerly Pro Player Stadium), and he is involved in real estate. Fortune magazine once reported that Huizenga is the only person to ever build four Fortune 500 companies and own three professional sports teams.
Proud of his Horatio Alger Award, Huizenga says, "It is the ultimate of all awards." A long-time member of the Horatio Alger Board, Huizenga served as president and CEO from 2000 to 2002, and he was chairman from 2002 to 2004. "Being an officer of the Association has been very rewarding," he says. "It is a tremendous organization that does so much to help the Scholars, not only with their education but also beyond."
He continues: "I don't think any of us members have had as much success as our Scholars. Overcoming hardships and working around and through their obstacles to achieve an education is what I call a true success." Huizenga often addresses the Scholars, advising them is to get an education and then work with good people. "People are what determine your success in the future," he says. "Surround yourself with good people and you won't fail."