George L. Argyros, Sr.
Class of 1993
2004 Norman Vincent Peale Award Recipient
Chairman and CEO Arnel & Affiliates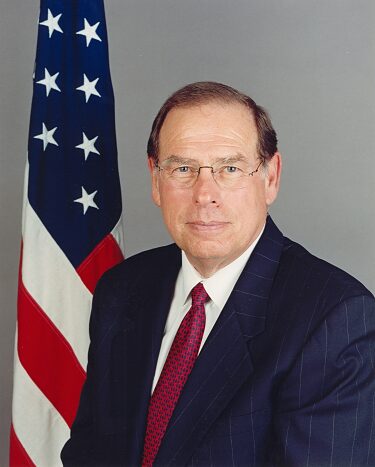 George Argyros was born in Detroit in 1937, but his family moved to Pasadena, California, when he was 11. Although his family struggled financially, he says they were 'rich in love and support.'
Argyros had a paper route at the age of 11; then at 14, he took a second job in a supermarket for 25 cents an hour. As a senior, he worked nearly full time to support himself and help his family. He put in more than 50 hours a week as a grocery department manager to pay his way through Chapman College in Orange, California. Working and studying at the same time was difficult, he says, but it gave him a sense of self-worth. He graduated in 1959 with a degree in business and economics.
Still working in the grocery business after graduation, Argyros became licensed in securities, insurance, and real estate. He began to invest in real estate and opened his own brokerage office in 1963. In 1968, he established what would soon become Arnel Development Company. In the 1970s he began to diversify into other businesses.
Argyros served as the U.S. Ambassador to the Kingdom of Spain and Principality of Andorra from 2001 to 2004. He became chairman and CEO of Arnel & Affiliates, a prominent West Coast diversified investment company, with corporate offices in Costa Mesa, California. He also became a general partner in Westar Capital, a private investment company. From 1981 to 1987, he was co-owner of AirCal, and from 1981 to 1989, he was owner of the Seattle Mariners Baseball Club of the American League for nine full seasons.
Argyros served as a member of the Advisory Committee for Trade Policy and Negotiations for the U.S. Trade Representative until 1990, when President George W. Bush appointed him to the board of the Federal Home Loan Mortgage Corporation (Freddie Mac). He completed his term at Freddie Mac in March 1993.
From 1976 to 2001, Argyros chaired Chapman University's Board of Trustees of Chapman University. He remained on the Chapman Board while also serving as a life trustee for California Institute of Technology. He became an International Councilor and Trustee of the Center for Strategic and International Studies in Washington D.C., which provides world leaders with strategic insights on and policy solutions to global issues. He has also served as trustee emeritus of the Library of Congress' Open World Leadership Board; former member of the U.S. Chamber of Commerce; member of the Hoover Institution's Board of Overseers; former Chairman of the Richard Nixon Library & Birthplace Foundation; founding Chairman for the Nixon Center in Washington D.C.; member of the Board of Regents for the Orange County Council of Boy Scouts of America, as well as former chairman and board member of the Council; chairman emeritus of the Arnold and Mabel Beckman Foundation, a major philanthropic foundation for scientific research.
A member of the Horatio Alger Association, Argyros has served as president and CEO from 1995 to 1998, chairman from 1998 to 2000, and now serves as chairman emeritus. 'I have been greatly inspired by the Horatio Alger members,' he says. 'It has been an honor and privilege for me to participate in helping our young Scholars pursue their dreams and goals.'
Argyros has often addressed America's youth and his advice is heartfelt. 'The American dream is all about risk, reward, hard work, commitment, and dedication,' he says. 'Fight courageously for the principles you believe in. Use every resource at your command to improve and advance yourself. Create better lives for your families, work hard for the sake of your communities and your faith, and make this a better world. Success takes hard work and commitment. Remember that freedom and democracy will survive and prosper only if each of us takes personal responsibility for our actions and ourselves. We need to inspire people to reach high and dare to dream big dreams.'