Fredrick D. Schaufeld
Class of 2023
Managing Director SWaN & Legend Venture Partners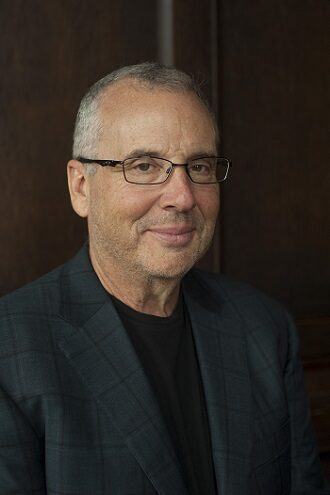 Born in 1959, Fredrick D. Schaufeld grew up in Westbury, New York, on Long Island, where his mother sold used cars. "She was the main breadwinner," says Schaufeld. "She always made sure we were taken care of. She and my father had a difficult relationship. Being home with them was stressful, so I often hung out at my friends' homes. By the time I was 14, they were separated."
Schaufeld was an independent child and worked from an early age. He had a paper route and sometimes worked at this mother's car dealership, vacuuming cars that had just been sold. As a teenager, he worked as a busboy and in an ice cream store. "I helped out at my mother's car dealership as well," he says. "When I was 15, I was the one who took all the paperwork to the DMV to get the car license plates. I had to ride my bike through heavy traffic of New York City back and forth. It's a job no kid today would be allowed to do."
When Schaufeld was 16, his mother's boyfriend moved in. "I had a good connection with him," he says. "We got along well and he made my mother happy. He was a successful businessman and my mother was able to stay home and take care of us. It was a good time."
Schaufeld attended Westbury High School, which was a poor performing school academically. "There were a lot of fights there and it was a rough environment," he says. "I would not say the majority of students were college bound. But for my senior year, I attended Port Jefferson High School, where being a good student was respected. My whole value system started to change once I was exposed to kids who wanted to do well."
Schaufeld attended Lehigh University in Pennsylvania. His stepfather paid for his education, until the middle of Schaufeld's junior year. "My stepfather had cancer and we knew he didn't have long to live. He and my mother married two days before he died, and 15 minutes after his passing I learned he was my biological father. I had no idea. That was a life-changing event for me. My father's death taught me that life can be short, and I needed to make the most of my time. It also taught me that sometimes shocking things can happen."
Unfortunately, without his father's income, Schaufeld no long had a way to pay for college. He went to the dean of his school and asked for help. The dean secured him enough scholarships and loans to get him to his graduation 1981. "I will always be grateful to Lehigh for what they did to help me at a time when I really needed it. The empathy and kindness I received from people at this difficult time in my life was a valuable lesson in how I would treat others in the future."
Since childhood, Schaufeld had been fearful of failure, which prevented him from doing a number of things he did not have the courage to do. Failure and embarrassment no longer seemed so bad, however, after loss of his father. "In baseball, you miss 100 percent of the pitches if you don't ever take a swing," he says. "I wanted to run for the Concert Chairman, which was part of the Student Activities Council. By now I was learning to embrace opportunities more. I was afraid of losing the election, but I tried anyway. I won, and the experiences I gained in this position were a tremendous help to me. I brought in to the Lehigh campus more than 20 big-name acts, such as Ozzy Osbourne, James Taylor, Journey, Rodney Dangerfield and The Allman Brothers. I learned all aspects of running a business, such as booking acts and support staff, determining expenses and profit points, contract negotiations, marketing, customer service, and more. These skills served me well in my future career."
While going through his father's illness, Schaufeld met his future wife, Karen. "She got me through all the turmoil of my father's passing and then discovering he was my real father. I found someone I could confide in and with whom I could be completely honest. We are still together, and I feel truly blessed to have her in my life."
With a vague idea of becoming a lawyer, Schaufeld enrolled in law school, but financially he needed to work full time. While attending American University Law School at night, he had a series of sales jobs. One job was selling car warranties on commission. He was good at his job, but when he discovered his employer was using highly unethical business practices of only insuring some of the clients who were buying warranties from Schaufeld, he knew he had to act. "That's when I decided I could do this business better than my employers," he says.
Schaufeld's business quickly took off and soon he had 30 employees. "I sort of stumbled into the warranty business," he says. "I just needed something to tide me over until I finished law school. But when I really considered it, I realized I didn't really want to be a lawyer. What I really wanted was to be successful in business. With my vision cleared, I decided to leave law school and fully pursue my business."
Out of his studio apartment, Schaufeld started National Electronics Warranty Corporation (NEW Corp.), which was the first fully insured consumer product warranty program. Schaufeld's company was in the right place at the right time. He had quick success and had a client list that included Best Buy, Walmart, and Kmart. In 2008, the company was acquired by Asurion. NEWAsurion is the world's largest consumer product protection company, employing more than 23,000 people worldwide.
In 2007, Schaufeld co-founded SWaN & Legend Venture Partners, where he serves as managing Director. "We invest in special human beings who lead companies with social impact," he says. "Ethics mean a lot to me. We focus on companies people are passionate about. Some of those companies include KIND Healthy Snacks, Airbnb, José Andrés Group, Cava and Sugar23."
Schaufeld is a partner in Monumental Sports and Entertainment, a holding company that owns the Washington Capitals, Wizards, Mystics, Valor, Baltimore Brigade, and Verizon Center. He is also a partner in the Washington Nationals Baseball Club, Team Liquid, and the Professional Fighters League.
A 1998 recipient of the Ernst & Young's Entrepreneur of the Year award, he is an active supporter of organizations dedicated to early childhood development, literacy, health, environment, peace, and the arts. In particular, the Schaufelds set up a scholarship program at Westbury High School. "I spent a lot of time at that school," says Schaufeld, "and I wanted to go back and do something for the kids who want to improve their opportunities through a college education."
When he addresses young audiences, Schaufeld has three important things he has learned over the years.
First: Do not fear failure. "I failed a bunch of times. When you fail, you might go back a little, but you can build on that and keep going forward."
Second: Time is worth more than money. "If you're miserable, do it a different way or do something else."
Third: Don't wait for wisdom to find you. "You are wealthy now, whether or not you realize it. I learned that at a relatively young age, with no money in my pocket."
Schaufeld believes he is living beyond the American dream. "The opportunities in this country are staggering. I want to help our young people to fully understand this. I want them to learn that most barriers are in are in our own heads. That is why becoming a Member of the Horatio Alger Association is such an honor. I take my membership with a fair amount of responsibility, and I want to share what I have learned."
Schaufeld's greatest joy is his family. He once attended a party with his kindergarten son, who served breakfast to him and a Beanie Baby. "I went home that day and told Karen that I realized at that breakfast, when he served me so proudly, that my son loved and admired me. That feeling made me the richest man in the world."