Frank L. VanderSloot
Class of 2015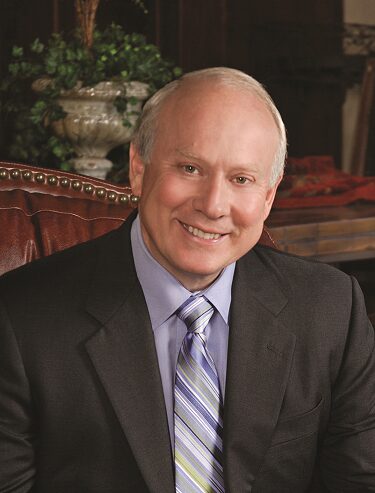 Frank VanderSloot, the third of four children, was born in 1948 in Billings, Montana, and moved a year later with his family to an 80-acre farm in northern Idaho. After a failed doughnut shop business, VanderSloot's father worked as a laborer on the railroad, and the family struggled financially. Because his father was away five days a week working, the children ran the farm in his absence. By age 12, VanderSloot had inherited the mantle of managing the farm's daily affairs. He raised crops, fed cattle, milked cows, cared for chickens, and chopped wood for the stove.
Over the next few years, to earn a little money, VanderSloot sold cream from a cow his father had given him, raised and sold calves, hired out to work on other ranches, loaded trucks, cleaned laundromats, sold beef jerky, and even did a stint for the railroad. He saved every penny so that he could to pay for his own college tuition, staying true to his family's philosophy of debt-free living.
"In my mind, my father was a hero," says VanderSloot. "His parents were immigrants from the Netherlands, and my father had to leave school in the third grade to help till sugar beets. He was a hard worker and extremely honest. Bragging or talking about his accomplishments is something that would have made him very uncomfortable. He demonstrated his love for me by teaching me but never lecturing. An example of that centered on my fascination with matches and lighting fires. One night at dinner we discussed the unfortunate occurrence of a neighboring house burning down. I said that I would've loved to have seen it.
"The next morning, my father got me out of bed and told me we were going to build a house. We spent the whole day building a little house that had windows, doors, and even a picket fence. My father asked me if I liked the house. I said I did. Then he told me to burn it down. Rather than being upset at his direction, I was excited. I set the little house on fire and watched as the walls caved in. When it was all over, my father put his hand on my shoulder and asked me if I needed to see any more houses burn down. I said, '˜No, Dad.' I knew what he was teaching me, but he accomplished it through a demonstration rather than a lecture."
VanderSloot's mother, an orphan, was deeply religious and took the children to church every Sunday. She loved her family but was often overwhelmed with raising four children on her own during the week. VanderSloot admired the teamwork his parents showed and their obvious love for each other. His father knew that a lack of education prevented him from making a good living. In fact, VanderSloot's father felt he had failed his wife because he was unable to give her a nice house.
"Our house was very basic," says VanderSloot. "We had a wood stove and a little propane heater that we only turned on occasionally. There was one bathroom, a living room, and two small bedrooms. We kids all shared one room until we got older and bigger. At that point, my father took a saw and cut a hole in the ceiling and added a folding ladder to allow us to sleep in the attic. My brother and I slept on one side of the attic, and my older sister slept on the other. The attic had no insulation. In the winter, I could look up and see the frost building up on the metal screw that came through the wall where the power line came into the house. We had two dogs, and when it was really cold, I called it a two-dog night, which meant I took the dogs to bed with me to keep warm."
VanderSloot was shocked the night he overheard his father apologizing to his mother for failing to provide well for the family. He had always seen his father as a success. But that night he realized the importance education and how it contributed to success. VanderSloot understood that his father would never be able to help him attend college, so he became determined to accomplish that for himself.
When VanderSloot was 16, he joined the Mormon Church, and two years later, he decided to go on a church mission, using the money he had been saving for college. "One of my earliest mentors other than my father was my mission president," says VanderSloot. "Peter Dalbout had emigrated from the Netherlands, and my mission was going to be in the Netherlands. Peter had started as a janitor for a steel mill, which he eventually bought. He was an advocate of free enterprise, and he taught me that we have the potential to do anything we set our minds to. That was a new concept for me."
Upon his return, VanderSloot received a scholarship to attend Ricks College, a private church-run school in Rexburg, Idaho. There, he served as student senate president as well as class president. He later received scholarships from Utah's Brigham Young University, where he majored in business administration. Shortly before graduating in 1971, VanderSloot was recruited by National Inventory Control Systems, which within three months was purchased by Automatic Data Processing. After seven years there, VanderSloot became a vice president, and two years later he was recruited for a vice president position with Cox Communications.
Nearly four years later, in 1985, VanderSloot and a friend started a new company. Within five months, VanderSloot had determined that the business plan in place at that company would not work, and he closed the company. He drew up a new business model, developed new products, and invested his life savings in a company he knew would work.
VanderSloot led Melaleuca, Inc., a health and wellness enterprise. The company does not advertise; rather, it ships products, on a monthly basis, to hundreds of thousands of households through independent contractors.
Under VanderSloot's leadership, Melaleuca was listed repeatedly on Inc. magazine's list of the 500 fastest-growing companies in America and was inducted into the, Inc. 500 Hall of Fame. The U.S. Chamber of Commerce presented Melaleuca with the Blue Chip Enterprise Award, which recognizes companies that have overcome great adversity.
When talking with young people, Frank offers this advice: "If you always try to do the right thing, everything else will take care of itself. That is a principle I learned from my father, and it has served me well. I also think it's important to try to enhance the lives of others by helping them reach their goals. That is what we do at Melaleuca with our associates and vendors, and it has proven to be a successful business philosophy. I tell those who dream about starting their own business to first work for a top-rated company for about 10 years. You will learn how a successful business operates, and that will save you from making mistakes when you are on your own. College and the classroom are important, but your real education comes afterward, when you get on-the-job training and experience."
Asked about his Horatio Alger Award, VanderSloot says, "Although I have long admired this organization, I never anticipated receiving this award. I am honored to be a part of this great organization and to be affiliated with the great men and women whose stories are much more impressive than my own. I'm also very impressed with the Scholars and with their accomplishments. I look forward to doing my part."
VanderSloot has served on the U.S. Chamber of Commerce's executive committee and its board of directors. He was named Entrepreneur of the Year for the Northwest by Ernst & Young, CNN, and USA Today. Idaho State University also named him Idaho's Business Leader of the Year. VanderSloot has received the Silver Beaver Award from the Boy Scouts of America and the Most Valuable Player award from the Idaho Republican Party. He was also inducted into the Idaho Hall of Fame. He was a national finance co-chair for Mitt Romney's 2008 and 2012 Republican presidential campaigns.
In 1992, VanderSloot started Idaho's Melaleuca Freedom Celebration, the largest Independence Day fireworks display west of the Mississippi River. He restored a historic schoolhouse that had been vacant for 30 years and donated its use to a public school district. He also created the Melaleuca Foundation, which sponsors a special orphanage in Quito, Ecuador, and provides assistance to thousands of families in need each year.
"