Ed McMahon *
Class of 1984
2003 Norman Vincent Peale Award Recipient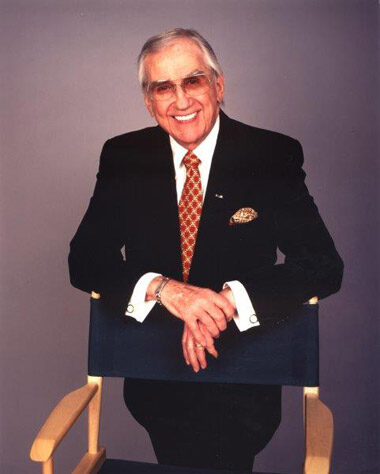 The son of an itinerant professional fundraiser for charity projects, Ed McMahon was born in 1923 in Detroit. His childhood revolved around traveling from town to town with his parents. By the time he settled permanently with his grandparents in Lowell, Massachusetts, he had attended 15 different schools. He became entranced with radio and by age 11 was practicing his announcing techniques by reading Time magazine aloud into a flashlight.
At 17, McMahon landed his first job as a radio announcer with a local station, WLLH-AM, and he began his television career in Philadelphia at WCAU-TV.
When World War II broke out, McMahon left Boston College and joined the U.S. Marine Corps and fulfilled a lifelong dream by becoming a fighter pilot. After the war, he attended Catholic University in Washington, D.C., and sold cookware door to door. He earned his degree and moved to Philadelphia, where he became "Mr. Television" while hosting, writing, and producing more than a dozen television shows.
At the start of the Korean War, McMahon set aside his promising career to serve his country. In Korea, he flew 85 missions and earned six air medals. After he retired from the military as a Marine colonel, he had to rebuild his career as an announcer. He became the host of Who Do You Trust? starring Johnny Carson, and four years later hosted Carson's The Tonight Show, which spanned nearly 5,000 episodes from 1962 to 1992.
After becoming a member of the Horatio Alger Association, McMahon served as a director on the board. He was also master of ceremonies for the annual Horatio Alger induction ceremony starting in 1997 and served as the event's executive producer beginning in 2002. In 2003, McMahon received the Norman Vincent Peale Award, which honors exceptional Horatio Alger members for their ongoing involvement in Association activities; their humanitarian contributions to society; and their service as role models of courage, tenacity, and integrity in the face of great challenges.
McMahon's humanitarian work included co-hosting the Jerry Lewis Muscular Dystrophy Telethon for more than 35 years, as well as serving as an officer of the Muscular Dystrophy Association. He was also closely involved with the Lou Rawls Parade of Stars Telethon for the United Negro College Fund.
"I have always been extremely honored by my Horatio Alger Award, especially because Horatio Alger once sold pots and pans door to door as I did," McMahon said. "There is no substitute for hard work. Nothing replaces that. If opportunities are presented, you must seize them and work hard to achieve. We are fortunate in this country that opportunities abound. I want to help America's young people understand that in America opportunity still knocks. Of all the things this Association does, I am most pleased with our commitment to deserving youth."