Donald T. "Boysie" Bollinger
Class of 2023
Chairman & Chief Executive Officer Bollinger Enterprises, LLC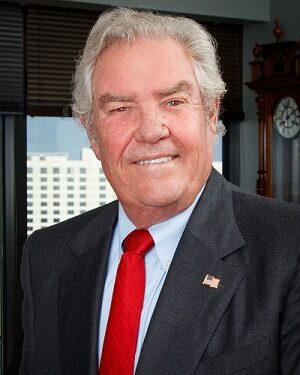 Born in 1949, Donald (Boysie) Bollinger was raised in the small town of Lockport, Louisiana, where his father had started a small business three years before. "My dad was a machinist," says Bollinger. "He expanded his machine shop to include a shipyard, making it possible not only to work on vessels out of the water but also to build vessels."
Bollinger, who was the middle child and only boy, describes his family life as very loving. "My mother was the caregiver and my father, who was my hero, was the provider. I think the three most important values from him were hard work, family, and giving back. My parents were married for 11 years before having children, but during that time my father served as the local scoutmaster. He wanted to give his time to young people, to guide them. When I was growing up, that was very inspirational to me."
For as far back as he can remember, Bollinger wanted to work and earn money. The family's small home was in the middle of his father's shipyard, and at the age of 12 Bollinger began working there doing odd jobs at $1.25 an hour. At the age of 14, he learned how to weld, and by 16 he was making good money. When he was in college, he spent his vacations working off shore, making $45 a day.
Bollinger attended a local Catholic school, but in the eighth grade, he felt a calling to become a priest. He attended seminary for two years. "In the end, I decided the priesthood wasn't for me, but I have never regretted for a minute the time I spent in seminary."
After his high school graduation, Bollinger attended the University of Louisiana in Lafayette. "I wanted to be an engineer," he says. "But in discussing this with my father, he convinced me I would be better served majoring in business. Looking back, it was one of the best pieces of advice I've ever received." Following his graduation, Bollinger returned home to work in the family business. Within five years, his father began spending less time at the company—at first to take care of his wife, who had developed Alzheimer's, and then when he was appointed to a cabinet position in Louisiana's state government. In 1980, Boysie Bollinger became CEO of the Bollinger Shipyards. "I was grateful for the opportunity," he says. "My father gave us a foundation with the business he started, but I was eager to take it to the next level."
Once he was in charge, Bollinger began a steady expansion of the facilities. However, his world was upended in 1982, when his wife was killed in a car accident. Their children were 10 and 2. "That was a very difficult time for me," he says. "The sudden loss was tremendous for all of us. I was devoted to building the business and I depended on my wife to raise the kids. Becoming a single parent for the next 15 years was difficult, but we got through it. I've always had a positive attitude and it has served me well in tough times. I learned to balance my home and work life. I'm very proud of my children and all they have accomplished. I've been remarried for 25 years to Joy. She rejuvenated my life and together we are doing all we can to make life better for others."
By 1985, Bollinger became Chairman and CEO of Bollinger Shipyards. He led the business in a number of critical acquisitions that made the company the largest privately owned shipyard in the country. In 1991, he was awarded a contract by the U.S. Navy to build 13 patrol boats, thereby expanding the company's growing government business. To date, Bollinger has built more than 170 cutters for the U.S. Coast Guard. In addition, the company has 12 divisions in Louisiana, and two in Mississippi, and it is the largest vessel repair company in the Gulf of Mexico region. In 2014, Bollinger passed the leadership of the company to his nephew, Ben.
Today, Boysie Bollinger serves as Chairman and CEO of Bollinger Enterprises, LLC, and devotes much of his time to professional and civic organizations. He is chairman of the Nicholls State University Foundation, the Audubon Nature Institute Foundation, the University Medical Center Management Corporation, and co-chair of the ACE Scholarship National Advisory Board. He previously served on the President's Export Council under the administration of President George H.W. Bush.
An avid philanthropist, Bollinger says, "I learned from my parents the importance of giving back. We've been blessed with very fortunate resources, which make it possible for us to support a lot of worthy causes and we're happy to do so." Of special importance to Bollinger is his financial support of the World War II Museum, located in New Orleans. "I fervently believe that the story of that war and the victorious sprit of America's part in it need to be told."
Bollinger has made significant donations to education, the Audubon Zoo, and the National Coast Guard Museum. In 2015, Joy and Boysie Bollinger provided The National World War II Museum with the largest private donation in its history. As a result of his impact on his home state, Bollinger is the recipient of numerous awards such as Entrepreneur of the Year, the Woodrow Wilson Award, and the Junior Achievement Laureate Award, as well as being named a Louisiana Legend by Louisiana Public Broadcasting.
When asked about success and how he defines that word, Bollinger says, "I have lived a successful life, but not because I overcame challenges. I credit my success with my positive attitude. My approach to a challenging situation is to see it as an opportunity. It's an opportunity to think about a problem in a new way, and I see it as a learning situation."
His advice to young people choosing a career path is to pick something that makes them happy and fulfilled, rather than simply chasing the highest salary. Bollinger is an enthusiastic mentor and he believes education is the first step toward expanding opportunities. "My father's business gave me a foundation on which to build. A good education does the same thing. Couple that with the way in which you approach a problem—hopefully with a positive attitude—and that's a good recipe for staying out of trouble and moving forward."
A strong believer in the American dream, Bollinger says, "There is no ceiling to the dream, and the Horatio Alger Association supports that. That's why I'm so excited about this nomination. I have bookshelves full of awards, but none of them are nearly as important to me as this. Hard work, perseverance, and giving back—those are the hallmarks of this Association. Success comes to those who work for it. It doesn't just fall into your lap. We Members all have that in common. Becoming a Member of this organization is the biggest reward of my life."