David L. Steward
Class of 2014
Founder and Chairman World Wide Technology, Inc.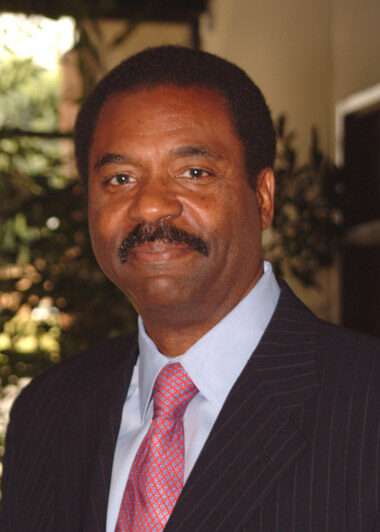 David Steward was born in Chicago in 1951, but he was raised on a farm in his mother's hometown of Clinton, Missouri. "When my mother was ready to start high school, the local high school in Clinton didn't allow black students," he says. "Her parents wanted her to finish her education, so they moved to Chicago. My grandfather did factory work in Chicago during World War II, which is when my parents met and married. I was the fifth of their eight children, the last one born in the city. Right after my birth, our family returned to Missouri."
The Stewards lived in a small house that had no indoor plumbing or heating and was on the edge of town. They raised cows and pigs, churned their butter, and grew vegetables. All the children were responsible for the many daily chores required in such an environment. "My jobs included emptying the chamber pots, shaking down the ash in the potbelly stove and then spreading it on the driveway for traction, cleaning the barn, feeding the cows and pigs, milking the cow, and skimming the cream for the butter churn. Our chores seemed endless," says Steward. "But it was just the way we grew up, and it was all just a part of our lives."
Steward's father was a personal mechanic; he also ran a janitorial service and hauled trash and coal with his truck. Occasionally, he worked as a night watchman or guard, and also tended bar at parties. "My father was the first entrepreneur I ever knew," says Steward. "He was an entrepreneur out of necessity. We probably would have qualified for welfare, but my father was proud, and he did what he had to do to support his wife and children. He was a master mechanic and should have been able to make good money working at the nearby power company, but they weren't hiring people of color. He and my mother were caring and committed to the next generation. Having two parents who understood their roles and their responsibilities, and then watching them work together to provide for their family, made them the best teachers in the world."
When Steward started first grade, he was the first person of color to attend Clinton's newly integrated elementary school. Local rules at the time prohibited his family from eating at white-only restaurants, sitting with whites at the local theater, and using public pools. But his parents taught their children to forgive, be self-reliant, and take control of their own destinies.
In 1967, Steward was part of a small group of black students who integrated Clinton's public swimming pool. "I was the only African American male in my high school class," he says. "My experiences with forced integration taught me at a young age how to get along with and work well with people from other experiences and perspectives. My people skills have served me well in my career."
Besides his parents, other people in his community also influenced Steward. "I had good role models who reinforced what my parents were teaching me," he says. "Our minister at church, or my Boy Scout leader, or some of the teachers or coaches I had, they all taught me about discipline, teamwork, and having a positive attitude."
At six feet and five inches tall, Steward played basketball in high school. He started college at Central Missouri State University as a walk-on player, but his skills on the court eventually earned him a scholarship. In 1973, he graduated with a degree in business administration, thus making him the first male in his family to graduate from college.
Steward decided to begin his career in St. Louis, where an older sister lived. She agreed to let him stay with her until he became established. Steward hitchhiked to St. Louis and worked as a substitute teacher while applying for full-time jobs. He became an executive for the Boy Scouts of America for a short time and joined Wagner Electric Corp. in 1974.
A year later, when Wagner went out of business, Steward accepted a marketing and sales position with Missouri Pacific Railroad as its first person of color to sell rail services.
In 1979, Steward joined Federal Express as a senior account executive. Just two years later, the company named him Salesman of the Year, an award that also earned him a place in the Federal Express Sales Hall of Fame. "I was very excited to earn this honor," says Steward. "On the day of the ceremony, I was given a silver ice bucket with my initials engraved on it. I was enjoying my job; I liked the company, but when I looked inside that bucket, I saw that it was empty. That vision sort of hit me then that there was an emptiness and a confinement to working for someone else. That's when I really started thinking about buying my own business."
In 1984, Steward borrowed $2,000 from his father and leveraged his railroad experience to launch Transportation Business Specialists, which audited and reviewed freight-bill and overcharges for the rail industry. In 1987, he founded a sister company, Transport Administrative Service, which audited undercharges for railroad companies.
In 1990, Steward created World Wide Technology, Inc. (WWT) to distribute computer hardware, software, and services to the federal government. WWT became the U.S. government's leading supplier of advanced technology solutions, and one of Cisco's top partners in North America.
Steward credits the free-enterprise system and American culture for much of his success in business. "The breadth and depth of opportunities we have here, coupled with a culture that allows you to be all you can be, makes it possible for anyone to be successful," he says. "We have a competitive edge over other countries, and it is important for us to preserve that. It's great that my story is only one of millions in America. I feel blessed to live in this great country."
Steward's deep Christian faith also plays an important role in his life. In 2004, he wrote a book with Robert L. Shook titled Doing Business by the Good Book: 52 Lessons on Success Straight from the Bible. In the foreword, President George H. W. Bush says of Steward: "His story of success epitomizes the American dream, and his example is an inspiration to us all."
Steward has served as chairman emeritus of the board of directors of the Children's Charity of St. Louis, president of the Boy Scouts of America's Central Region, and a member of the board of curators for the University of Missouri System. In 2006, he was named St. Louis Variety's Man of the Year, which shows the effect he has had on the city. In 2008, Steward received the National Urban League's Business Pioneer Award. He also received the Dr. William D. Phillips Technology Award from the St. Louis County Economic Council.
Over the years, Steward has served on numerous committees and boards, including Civic Progress of St. Louis, St. Louis Regional Chamber and Growth Association, Regional Business Council, Webster University, St. Louis Science Center, United Way of Greater St. Louis Executive Committee, Greater St. Louis Area Council of Boy Scouts of America, and Harris-Stowe State University African American Business Leadership Council. He has also won honorary doctorate degrees in humane letters from three institutions, St. Louis University, Harris-Stowe, and Lindenwood University, for his humanitarian work.
"I believe it takes a community to raise a child," he says. "Serving in our communities is a responsibility we all share. We have a personal obligation to help the next generation, because they are the future of this great nation. That is why I am so honored to become a member of the Horatio Alger Association. I want to be a part of the Scholar program and to let them know that we are here to support them in their goals of higher education. We believe in them, and we believe in the future of America."