David L. Sokol
Class of 2004
2018 Norman Vincent Peale Award Recipient
Chairman & Chief Executive Officer Teton Capital, LLC
Chairman of the Board Atlas Corp.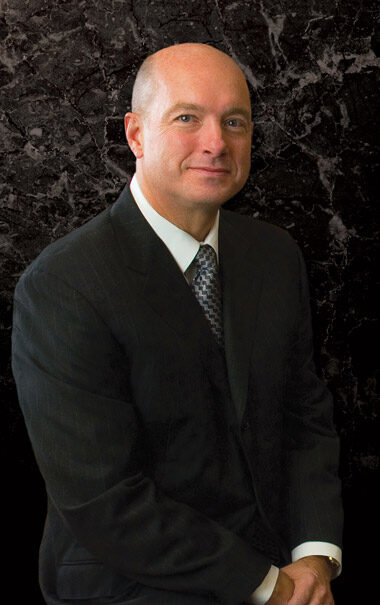 David Sokol, the youngest of five children, was born in 1956 in Omaha, Nebraska. At the time of his birth, Sokol's father managed a grocery store. "My parents had been married for 25 years by the time I came along," says Sokol. "My oldest sibling is 23 years older than me, so there were times when it seemed like I had more than just two parents."
Sokol's father was focused on the positive side of life. On weekends, he would browse through the newspaper looking for articles that would inspire his family. "We were all expected to sit together for dinner on Sundays," says Sokol. "My father would ask us to read aloud the stories he had circled. They were always about a local businessman who had done well, or maybe about someone who had given money to help resolve a problem. He instilled in us a belief that we, too, could do the great things we read about in the paper. His parents came over from Poland and he was a 100 percent believer in America, that if you apply yourself in this country, you can do anything. I was raised with that philosophy, and I agree with my father."
Sokol describes his mother as traditional and loving. Even though their home was modest, she made it comfortable and welcoming. "She was the kind of mother who had cookies warm out of the oven when you came home from school," says Sokol. "She focused on our care and education." Sokol's parents would not be able to pay for their children's college education, but it was expected that each of them would go. "My father expected us to work our way through school, but he didn't think that was a bad thing. He believed you learned a lot from working."
When Sokol was 11, his mother was diagnosed with breast cancer. To help out with expenses, Sokol worked as a paperboy, as a caddie at a golf course, and as a janitor in a hardware store. He also helped local farmers bale hay. In high school, he worked as a maintenance manager for an apartment complex. He also worked for a local grocery store, where he started as a bagger and, in less than two years, became the night manager.
Sokol was able to keep this job when he entered the University of Nebraska. His life was busy and focused. He lived at home, went to school during the day, and worked at night. Sokol was an able student who got progressively better as he got older. He had been involved in football, wrestling, and track in high school and went on to play football in college. When he realized he couldn't have a career in football, he began to take school more seriously.
Shortly before the end of his junior year in college, Sokol married. He moved out of his parents' home and into a trailer with his bride, Peggy. By the time he graduated, he had a child on the way. "At that time, my main goal was to get my salary above my age," he says. Sokol graduated in 1978 and went to work as a structural engineer for one of the top five engineering companies in America, HDR, Inc. Until 1982, he worked in a newly created division that advised clients on engineering-related business decisions. Citibank, one of HDR's largest clients, offered him an internal position, which he accepted in exchange for financial education.
Sokol was selected to run a start-up waste energy subsidiary called Ogden Projects, Inc. in 1984. By 1990, Ogden Projects had grown from four to 1,200 employees and was the leader in its industry. In 1991, Sokol was named CEO of CalEnergy, which in 1999 was renamed MidAmerican Energy Holdings Company. He went on to serve as MidAmerican's chairman and CEO. In 2011, Sokol left MidAmerican to found his own private equity firm, Teton Capital, LLC.
While Sokol was experiencing tremendous career success, he and his family were facing the hardest challenge of their lives. Their youngest child, David Sokol, Jr., (DJ) was losing a long battle with Hodgkin's disease. He died a few weeks after graduating from high school. "My son had the greatest influence on my life," says Sokol. "He was a wonderful young man. Through DJ we all learned the true value of life. His cancer recurred five times in 2-1/2 years and he went through several debilitating treatments. But rather than being concerned for himself and what he was going through, he worried about the elderly people going through the same process. He felt bad for them having to suffer at their advanced ages and once told me he thought it was better for God to give this disease to young people because they could better endure the punishment of the treatments. He was that way all the way through his illness. It was extraordinary to watch his inner strength. His goal was to maintain his grades and graduate, and I'm thankful that he was able to accomplish that."
One year after his son died, Financial Times presented Sokol its CEO of the Year award. The following year, he received the Individual Achievement Award from The Energy Daily. Sokol says his success and that of his company is based on a united group effort. "I'm not a big believer in one person does it all," he says. "I've been blessed with an ability to set goals and targets for our organization, and we've put together a good team to drive the process. I'm not an inventor. My gifts go back to my dad, who told me to believe I can accomplish anything, but to remember that believing is not enough. You have to set goals and measure yourself against them. You have to constantly push to overcome barriers. I see myself more as an orchestra leader or a coach."
Sokol says his father also taught him to treat others the way you want to be treated. "That's a necessity for long-term accomplishment," he says. "Be a good observer and listener. Watch others' mistakes and learn from them. And remember, life is a team sport." When asked about his Horatio Alger Award, Sokol says, "I salute the work the Association is doing to find youth who need the most help and to give them a chance at a successful future. That's how we make a difference. This Association is all about the award winners saying '˜I've had help along the way, now let me give you a hand.' The ability to help influence the lives of youth is an honor in itself, and the award is a salute to the people who helped me get where I am today."