David Hoffmann
Class of 2023
Founder/Chairman Hoffmann Family of Companies
Founder Osprey Capital LLC
Founder DHR International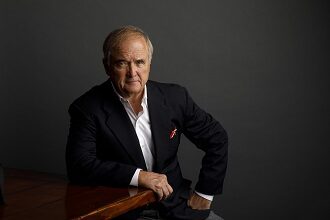 David Hoffmann was born in 1952 in the small farming community of Washington, Missouri, where his father, a World War II veteran, drove a milk truck. At the age of seven, Hoffmann often accompanied his father on his route and says of him, "My father left school in the seventh grade, but he worked hard to provide for his family. He was very patriotic and I had a tremendous bond with him."
Hoffmann's mother worked at night as a waitress. Later, she became a nursing assistant at the local hospital. "My mother, who was an orphan, took care of the newborns. She was very loving."
Money was scarce during Hoffmann's youth. "I remember when I was in elementary school, I wanted to take violin lessons, but they cost $8 and my parents just didn't have $8 to spare. There was another time when we had to go out and collect firewood to keep our furnace going so that our pipes wouldn't freeze. We were on the poor end of our blue-collar community, but we were a happy family."
Hoffmann didn't think too much about his future, but in high school he had a few options. He considered becoming a barber, or accepting the offer from the nearby vinyl manufacturer to go into sales for them. At the beginning of his senior year, his football coach asked him where he was going to go to college. Hoffmann told him he hadn't really considered it. His coach told him it would probably be free because he was getting a lot of inquiries from college football scouts.
Hoffmann received an offer from Northeast Missouri State University (now Truman State University) to play football and baseball. An injury during his freshman year kept him out of football for the rest of the season, but he was able to play baseball in the spring. The next year, he was concerned about reinjuring his knee. When his coach would no longer allow him to play baseball, he quit school.
"My father wasn't very happy about that," says Hoffmann. "He wanted me to go back and earn my degree. Without my athletic scholarship, I had to work my way through school. I worked in factories, baled hay, and cleared lots for a big development company."
In 1974, Hoffmann earned a BS degree in industrial safety and occupational health from the University of Central Missouri. "There were only two other schools in the country that offered that degree," he says. "OSHA (Occupational Safety and Health Act) was passed in 1970 and that's also when the Environmental Protection Agency was created. Not many people knew about these new laws and I had 17 job offers when I graduated."
Hoffmann accepted a job with the Clark Equipment Company in North Dakota and married his high school sweetheart, Jerri. They recently celebrated their 50th wedding anniversary, and have three children and 12 grandchildren.
For the next few years, Hoffmann worked in his field for a few companies, but then branched into a new career working in mergers and acquisitions. "I was the guy who right sized the company after a takeover," he says. "I soon discovered that I neither had a great aptitude for that work nor did I have the stomach for it. After a few more years of working at the executive level in a couple of companies, I decided to start my own company. I was 33 years old."
In 1989, the company Hoffmann had been with, which was an executive search business, was experiencing financial difficulties. When he announced that he was leaving to start his own company, 30 people opted to go with him. "I put two mortgages on my house and set out to make a successful executive search firm," he says.
His company, DHR International (now DHR Global), grew into the largest privately held executive search firm in the world. Shortly after its founding, he established Osprey Capital, LLC, a private family office. Today Osprey is one of the largest family-owned offices in the world with more than 110 brands in 27 countries and 200 properties worldwide. The Hoffmann Family of Companies portfolio includes businesses in agriculture, aviation, financial services, hospitality, business and professional services, industrial, marine, media and marketing, real estate, and transportation. Additionally, Hoffmann Commercial Real Estate is accredited with the revitalization of the downtown areas of Avon, Colorado; Winnetka, Illinois; Naples, Florida; and Augusta, Missouri. In each ofthese locations, they are the largest private commercial real estate owners, as well as Mackinac Island in the upper peninsula of Michigan.
In 2022, Hoffmann stepped down as CEO of the Hoffmann Family of Companies and named his sons, Geoff and Greg, as co-chief executives. "This was not a spur-of-the-moment decision," says Hoffmann. "My wife and I wanted more time to spend on our investments in Augusta, which is just eight miles from my hometown of Washington, Missouri."
The Hoffmanns have purchased more than 25 properties in the Augusta area, including four wineries and over 1,500 acres of vineyards. They are on schedule to open a new business in the town every few months. So far they have created a fashion boutique, a gourmet shop, a real estate office, and more. Eventually, they will open a hotel and conference center and golf course. Intent on making the town a travel destination location, they hope to begin selling Missouri wines internationally within 10 years.
A serial entrepreneur, David Hoffmann believes his accomplishments could not have taken place anywhere but America. "You can become anything you want to be in America," he says. "I believe that in my soul."
Hoffmann believes that his humble but stable upbringing contributed to his success in school, in business, and in his personal relationships. "I have met a lot of rich people who aren't happy," he says, so money is not the answer. If you don't have strong relationships in your life, I think it is impossible to be happy or to feel successful. My parents had a long marriage. My wife's parents are 94 and have been married for 74 years. I met my soulmate, Jerri, when I was 15 years old, and she has been a big part of my success in business and my happiness in life. We came from a small town, and now we are back trying to make a positive difference to the place that gave us our start."
Hoffmann's advice to young people is to dream big and take risks. "Don't be afraid of failure—learn from it," he says. "Once success is achieved, I believe you have a responsibility to give back. Be generous, treat others the way you want to be treated. Empower others and support them when you know they are trying their best. These are the ideals that I live by."
When asked about his Horatio Alger Award, Hoffmann says it is the biggest accolade he has ever received. "My first thoughts go to the man who nominated me for this honor, Bill Farley, who became a Horatio Alger Member in 1986. I didn't meet him until I was 55, but I put him in the camp of what I call one of my roaming mentors—people who have come in and out of my life who have had an abiding effect on me. Secondly, however, I revere this award because it is bestowed on those who have come from nothing or very little and who—now that they have made it—are giving back. They are helping young people who are striving to improve their lives. That is something I truly support and I am very humbled by this recognition."