Condoleezza Rice
Class of 2010
Former Secretary of State United States Department of State
Professor Stanford University
Director Hoover Institution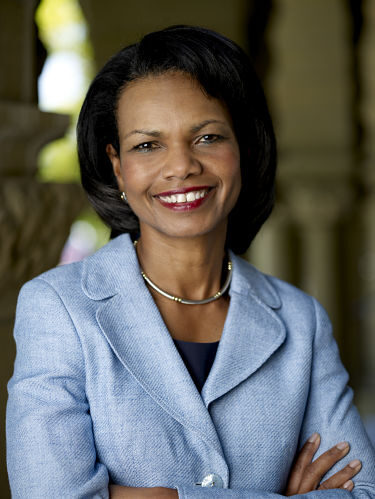 Born in Birmingham, Alabama, in 1954, Condoleezza "Condi" Rice is the only child of a Presbyterian pastor and a music, science, and oratory teacher. At the time of her birth, the family lived in a collection of five dark rooms at the back of her father's church. There was one bedroom, a living room, an office, one bathroom, and a kitchen.
When Rice was three, the family moved to a separate parsonage that the church had built. This small bungalow had two bedrooms and one bathroom. "Our neighborhood was called Titusville," says Rice. "It was a community that, despite segregation, was determined their children would have the best educational opportunities that could possibly be brought to them. I went to segregated schools, but I was fortunate to be in a family and community that valued education."
The segregation that permeated the South during Rice's childhood did have an effect, even though her parents tried their best to protect her from it. Restaurants, restrooms, water fountains, public transportation, and schools were all segregated. "You couldn't even eat a hamburger at Woolworth's," she recalls. "If our family was driving to New York, we had to go as far as Washington, D.C., before we could stay in a hotel. But somehow my parents convinced me that if I was twice as good at the things I attempted, then even if I couldn't have a hamburger at Woolworth's, I could be president of the United States. So despite the very negative messages all around me, this was very much the ethos in my little community."
Still, the reality of the situation was grim and often frightening. The Ku Klux Klan was active in Birmingham, and Rice's father joined a neighborhood watch group that patrolled the area at night. On September 15, 1963, when his daughter was nine, four girls were killed in the bombing of Birmingham's Sixteenth Street Baptist Church; one of the four was Rice's friend and classmate.
A year later, the Civil Rights Act was passed. Rice's parents decided to go out and see what would happen if they entered a restaurant. "When we entered the restaurant people sort of looked up, but then they went back to eating," she recalls. "Birmingham began its journey out of segregation and is today a fairly integrated city. It shows that America is a place that is capable of change."
Before Rice started school, her grandmother took care of her while her parents worked. Her grandmother gave piano lessons, and by the age of three, Rice was asking to be taught how to play. She learned to read music before she could read words, but that soon followed as well. In fact, Rice was so bright that her mother attempted to have her start the first grade when she was only five. Learning she was too young, Rice's mother took a year off from teaching and schooled her daughter at home. Rice did enter school in 1961, shortly before her seventh birthday and as a second grader.
At the same time, her piano tutelage was intensifying. By the time she was nine, Rice accompanied her mother, who played the organ at church. She also traveled to other churches to play at recitals.
Another influence on her childhood was the youth group her father directed at his church. His intent was to expose the children to a wider world, the arts and history, as well as religion. They went on field trips to concerts, museums, and college campuses. In the afternoons, the church was open for chess lessons, ballroom dancing, and other activities.
Once a month, her father even had a dentist come to check the children's teeth. "My parents were extraordinary people," she says. "They really did believe I could do anything. They gave me every educational opportunity they possibly could."
In 1966, Rice's family moved to Tuscaloosa, where her father worked as dean of students at Stillman College. It was 50 miles from their Titusville home, and Rice and her mother continued to return there once a week for her piano lessons at Birmingham Southern College, where she was the music conservatory's first black student.
Each summer from the time Rice was six, the family traveled to Colorado, where her father was working on his master's degree in student personnel administration at the University of Denver. When the university offered him the job of assistant director of admissions, the family moved there permanently in 1968.
Rice attended St. Mary's Academy, a private all-girls Catholic high school. She dreamed of someday playing piano at Carnegie Hall, but when she attended the Aspen Music Festival at the age of 15, she changed her mind. "I realized at the music festival that there were people there who were only 12 and a lot better than I was," she says. "It was a sort of crisis of confidence for me, and I suddenly realized I had to find another direction."
But that change in direction would have to wait until her mother, having earlier been diagnosed with breast cancer, had surgery and was on the road to recovery. Reassured, Rice continued studying piano and won a young artist's competition, which allowed her to perform with the Denver Symphony Orchestra.
Having completed all the courses necessary to graduate by the fall of her senior year, she was allowed to begin part time at the University of Denver. But her schedule was challenging. She took three classes in the morning at the university, went to St. Mary's to practice piano for one hour, and then took classes there throughout the afternoon. Thanks to her father's position at the school, half of her tuition was covered; a scholarship paid for the other half.
Rice did not declare a major at the university until her junior year. She took a course in international politics taught by Josef Korbel, father of former Secretary of State Madeleine Albright. Rice was particularly drawn to the stories her professor told about the Soviet Union. She decided then to study Russian and international politics. In 1974, at age 19, she earned her bachelor's degree cum laude and Phi Beta Kappa. The following year, she earned her master's in political science from the University of Notre Dame.
Rice interned at the State Department in 1977. In 1981, at age 26, she received her doctorate in political science from the University of Denver's Graduate School of International Studies. In 1987, she became an assistant professor of political science and a specialist on Soviet affairs at Stanford University, a post she held until 1993.
After the election of George H. W. Bush to the White House, Rice was appointed to the National Security Council. She returned to Stanford in 1991 and within two years was appointed Stanford's Provost. She was also granted tenure and made a full professor. During George W. Bush's run for the presidency, she took a year off from Stanford to serve as his foreign policy adviser.
In 2000, Rice was named national security adviser, the first woman ever to occupy the post. In 2005, President George W. Bush appointed Rice secretary of state, a position she used to push for the expansion of democracy around the world. She also restructured the State Department, reopened nuclear talks with North Korea, and crafted the terms of a United Nations resolution to investigate war crimes in Sudan.
She traveled widely in her position and initiated many diplomatic efforts on behalf of the Bush administration before her term ended in 2009. Her close bond with the president made her one of the most powerful secretaries of state in recent history.
Rice then joined the faculty of the Stanford Graduate School of Business and a director of its Global Center for Business and the Economy.
Looking back over her impressive career, Rice says her life is explained in part by the American dream. "It doesn't matter where you come from," she explains. "It matters where you are going. In this country, you can come from humble circumstances, and you can do great things. That's why so many people from around the world want to come here. This country is not united by creed or religion or nationality. The United States is a mélange, and what unites us is that essential belief that you can come from humble circumstances, and you can do great things."
Rice says becoming the first African American woman to serve as secretary of state was not inevitable. "I believe that my career success came from taking risks at important times, combined with faith in myself to do unusual things. I never believed I had to take the safe way out," she says. "I never believed there had to be somebody who looked like me in place before I could take the same position. It's important not to limit yourself based on what others think you can or should be, or by the constraints of your own imagination."
When offering advice to young people, Rice says, "You can't always control your circumstances, but you can control your reaction to them. I think it's important to find a mentor who will take an interest in you and guide you, but it's even more important to believe in yourself. Even though the possibilities are endless in the United States, you have to work hard and seek out opportunities to be educated and mentored."
In accepting her Horatio Alger Award, says Rice, "I am deeply humbled to become a member of this organization. I think the award stands for what's best in America, that we achieve despite our circumstances."
"