Charles R. Scott *
Class of 1984
2002 Norman Vincent Peale Award Recipient
President & CEO Intermark, Inc.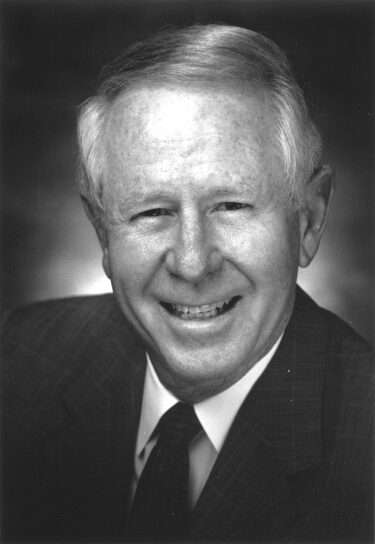 Charles Scott was born in 1928 and raised in Paris, Texas, during the Great Depression. When his father lost his job as a "cotton classer," the family did not have a radio, telephone, or car, so their subscription to the Saturday Evening Post at five cents a copy became a treat that they all enjoyed. Scott worked odd jobs throughout his childhood to help with family finances. At one point, he and his brother wrote and circulated a mimeographed neighborhood newspaper. He also had jobs delivering groceries and doing yard work.
Scott's mother, who had a strong belief in him and his abilities, instilled in him self-confidence and a positive outlook on life. "She was a warm, loving person," he said. "When I was young, she would tuck me in at night and whisper in my ear that I was special and that someday I would be something great."
After he graduated from high school, Scott attended the University of Texas on a scholarship that was awarded to those in the state who had served as high school senior class presidents. He graduated in 1949 with a degree in journalism. He began a career in advertising, but soon switched to finance. In 1957, he and a friend formed a securities firm in Dallas.
In 1962, Scott became president and CEO of Roberts, Scott & Co., Inc. in San Diego. Under his leadership, the firm grew in rank from 432nd to 62nd place among New York Stock Exchange member firms. In 1970, he served as president of Intermark, Inc., a holding company that grew into a diversified, profitable enterprise under his guidance. Next, he served as president and CEO of the Actava Group, Inc. Later, he served as CEO of the Executive Committee of Florida. He was a chairman and CEO of Leadership Centers USA, which offers programs and affiliations for chief executives.
When he was younger and a member of the Young Presidents Organization, Scott worked on research to learn what makes a person successful. He said his group identified several traits that highly successful people have in common, including a feeling of being lucky, an ability to dream bold dreams, a dedication to hard work, a sense of urgency, an enthusiastic attitude, a willingness to take risks, a feeling of high self-esteem, and a belief in a higher being. "There have been some years when I have addressed 15,000 high school students in one year, and I tell them all they can be successful," he said. "It is not born in you, it is created."
Scott said that next to his wife and sons, his Horatio Alger Award was the most significant thing that had ever happened to him. Following his induction into the Horatio Alger Association, Scott served as president and chairman. He was a designated chairman emeritus and served as a board member. "The work of the Association exemplifies the American dream," he said. "We're sending hundreds of kids to school each year that would not otherwise go. I believe the Horatio Alger Association is one of the noblest institutions in America. It is a beacon not only for what can be done, but how it should be done."