Carlos J. Arboleya *
Class of 1976
President Barnett Bank of South Florida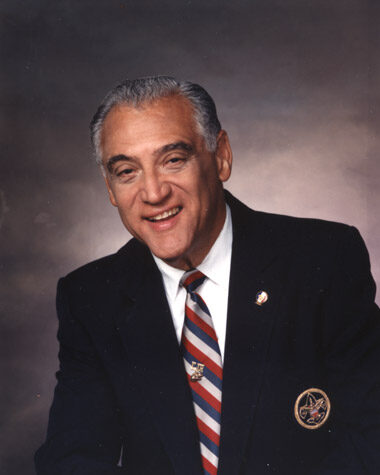 Cuban-born Carlos Jose Arboleya was the son of a watchmaker. When he was eight, Arboleya's father lost his larynx as a result of cancer, and Arboleya was sent to live with an aunt in Brooklyn, New York. He attended public school there and graduated from Stuyvesant High School.
Arboleya returned to Cuba to help his family financially, attending the University of Havana and graduating with degrees in business administration, commercial and administrative law, and accounting and commercial sciences. He worked as an office boy for Havana CitiCorp, and by the end of 11 years he was managing the bank's trust and fiduciary department. He then joined Banco Continental Cubano, Cuba's largest bank. He worked there as chief auditor until Fidel Castro's communist revolution took power in 1959 and confiscated all the banks. Less than a month later, Arboleya left Cuba with his wife and small son. They made their way to Miami with only $40.
Unable to find work in the banking industry, Arboleya took a job as a shoe factory inventory clerk, eventually working his way up to vice president. He then returned to banking, and in only seven years, he became the first naturalized Cuban-American president of a national bank in the United States. Subsequently, he founded his own bank, the Flagler Bank, which became a part of Bank of America. After selling his interests in that financial institution, he joined Barnett Bank in 1974, which was also acquired by Bank of America. In 1981, he became vice chairman and chief operating officer of Bank of America, and retired in 1994. He went on to serve as a director and chairman of its executive committee until 1996.
In addition to a successful banking career, Arboleya dedicated his energies to working for the advancement and guidance of youth, as exemplified by his 45-year involvement in the Scouting movement. The city of Miami dedicated its Carlos J. Arboleya Camping and Picnic Grounds in recognition of Arboleya's 37 years of leadership in Scouting. He received Scouting's highest awards, including the Silver Beaver and the Silver Antelope; he was also awarded the Golden Plate Award of the American Academy of Achievement in recognition of his inspiration to young people. In 1995, Arboleya became president of the Boy Scouts of America South Florida Council. He was also the recipient of the National Catholic Committee on Scouting's St. George Award, a five-time recipient of the Freedoms Foundation at Valley Forge George Washington Honor Medal, and a recipient of the Ellis Island Statue of Liberty Honor Medal. A portion of Miami's SW Eighth Street was renamed Carlos Arboleya Boulevard.
Arboleya's advice for today's young people was to work hard, work harder, and keep on working until you reach your goals. He said his feelings for the Horatio Alger Award are "indescribable," adding that it "symbolizes the great American dream. Receiving it recognizes my pride and belief in this great country."