Byron Pitts
Class of 2017
Co-Anchor of "Nightline" ABC News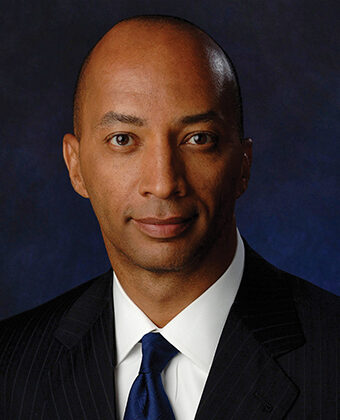 Byron Pitts was born in Baltimore, Maryland, in 1960, and was the youngest of three children. He describes his boyhood neighborhood as "on the shy side of working class," with its red brick row houses, lined with the city's famed marble steps and small matchbook patches of grass posing as front yards. "Most of the people I knew worked with their hands and worked hard for their money," says Pitts. "You loved family, your faith, the Colts, and the Orioles."
Pitts's father worked as a meat cutter at a local factory and drove a taxi. His mother was a seamstress at the London Fog coat factory and made hats and dresses for the women across the city. They separated on Christmas Eve in 1972, when Pitts was 12. "Their marriage was strained for most of my childhood," he says. "I felt a lot of anger toward my father, and that anger drove me for at least half of my life. I took their separation as a rejection of me. I thought that somehow I wasn't good enough or that I wasn't worthy of love. I was in my forties when I finally realized that anger is like fire, and it eventually will consume you. Through faith, I overcame that anger and now believe that my parents' split was actually beneficial to me. Through God's grace and my mother's remarkable strength, I had more than what I needed to live a full and successful life."
Throughout his youth, Pitts had a pronounced stutter and struggled academically, and for most of his childhood, he could not read. "Children learn to read from birth to seven, and from seven on they read to learn," he says. "Somewhere in those early years, I just missed the basics. I didn't learn to read. Because of my speech problems, I was quiet in general. But I was well-mannered and somehow it was assumed I knew the material well enough to keep me passing from grade to grade."
His illiteracy was discovered when Pitts was in the sixth grade, when he failed math because he could not read the questions or directions. He was placed in a remedial class and was later diagnosed as mentally retarded by a team of therapists, who recommended institutionalizing him. Pitts's mother refused to accept the diagnosis and instead placed Pitts in a literacy program. "For most of her life and all of my life, my mom wore around her neck a small mustard seed embedded in a clear plastic ball on a thin silver chain. It was her reminder of the scripture in the book of Matthew: If you have faith the size of a mustard seed you can move any mountain. Nothing will be in impossible to you. It was with her mountain-moving faith she found a reading program instead of a mental institution."
Thinking back to those days, Pitts says, "Unlike many of my classmates in remediation, I still had an optimistic spirit. I still believed that with hard work success was possible. I got that from my mother. She believed in the power of education. She got her GED and went on to get a college degree, making it possible for her to eventually get a job as a social worker. She taught me loyalty, work ethic, the power of prayer, and the power of options."
With the help of an adult literacy program, Pitts slowly began to make improvement in his reading skills that he was able to return to the regular class. Once he could read, Pitts's mother started leaving notes for him, mostly quotes from the Bible. "I loved getting these notes," he says. "They were reminders that there are always options and choices. You can choose to be negative, or you can choose to be positive. That's a lot of power. It's the power of how you choose to view yourself. The obstacle in front of you doesn't change, but the way you look at it can change; it's up to you." Next to the Bible, his mother's favorite book was The Power of Positive Thinking by Norman Vincent Peale ('52).
By the time Pitts was in high school, he loved reading. He joined his high school newspaper as a sports writer. He enjoyed watching other students reading his reports, and wanted to be a television journalist, despite his stutter. He was raised to believe that anything could be accomplished through faith and hard work. Therefore on his 18th birthday, Pitts prayed with his mother to become a reporter on 60 Minutes, and enrolled at Ohio Wesleyan University, which was known for its excellent journalism department.
However, college was a challenge for Pitts. He was not prepared for the college level classes and was academically overwhelmed. His freshman English teacher told him that he was not college material and to drop out of school. After picking up the withdrawal forms, he sat on a bench and cried. This drew the attention of Dr. Ulle Lewes, who decided to help Pitts with his academic work. "Angels have come my way all my life," he says. "Professor Lewes didn't simply change my life, she saved my life."
Pitts became more dedicated to his studies, and made slow and steady progress. "I see hard work as a renewable energy," he says. "The harder you push, the further you realize you can go. Hard work is the great equalizer. It's the one gift we can give to ourselves. As I see it, success is just your work made public."
Another professor, Dr. Ed Robinson, a speech pathologist who ran the school's radio station, helped Pitts with his stutter by giving Pitts a shift at the station. "I never stuttered on the air," says Pitts. "I used a technique of singing my sentences. It was a habit I had to break years later in my professional career, but it helped me at the time."
During the rest of his college years, Pitts lettered in football, had a column in the school newspaper, was news director for the school's cable television news show, and cohosted a nighttime radio show. He also worked as a freelance reporter for the local area radio station, and had spent a summer interning at a television station. He graduated in 1982, with a degree in journalism and speech communications and a minor in political science.
During his senior year, Pitts sent out more than 100 résumé reels to potential employers, but was rejected by all of them. Eventually he was hired to serve as the weekend sports anchor in Greenville, North Carolina. Later he was a military reporter in Portsmouth, Virginia, for two years, and then a reporter for a station in Orlando, Florida. In 1988, he became a reporter and substitute anchor for a station in Tampa, Florida, and then moved to Boston, Massachusetts, as a special assignment reporter. His last local job was as a general assignment reporter for a television station in Atlanta, Georgia.
In 1997, he moved to Washington, D.C., as a correspondent for CBS Newspath, the 24-hour affiliate news service of CBS News. A year later, he became a CBS News correspondent, and was based in the Miami and Atlanta bureaus, before finally moving to the CBS NEWS Broadcast Center in New York in 2001. He spent 15 years at CBS News, where he last served as chief national correspondent for the CBS Evening News and contributing correspondent for 60 Minutes, making one of his dreams come true. He covered presidential campaigns and political conventions, the wars in Iraq and Afghanistan, Hurricane Katrina in New Orleans, the earthquake in Haiti, the tsunami in Indonesia, and the refugee crisis in Kosovo. He was also one of CBS News's first reporters at Ground Zero during the 9/11 terrorist attacks and won an Emmy award for his coverage.
Pitts joined ABC News in 2013, as anchor and chief national correspondent, and has covered national news stories and in-depth features for the network, and has reported for all broadcasts and platforms, including Good Morning America, World News with Diane Sawyer, Nightline, This Week and 20/20. He has also reported for all ABC News digital properties, including ABCNews.com. In 2014, he became the co-anchor of Nightline. In less than 24 hours after joining ABC News, Pitts participated in live special coverage of the Boston marathon bombing.
Pitts is a multiple Emmy award-winning journalist, and in 2002, he was named Journalist of the Year by the National Association of Black Journalists.
Looking back over his career, Pitts says, "In America if you work hard enough and dream big enough, you can do anything and become anyone you choose to be. I don't think that is true of anywhere else on Earth."
Of his Horatio Alger award, Pitts says, "I am excited about an increasing life of service. That's what I love so much about receiving the Horatio Alger Award. It gives me an opportunity to serve, and it reinforces everything I believe. It proves the promise of America, not only can you do anything with your life, but we are generous in support of each other. I would not be where I am today without the help of others along the way, and now I have an opportunity to give back. You can't ask for anything more than that."
Pitts has moderated the Scholar panel of the Breakfast Saluting the National Scholars on the final morning of the Horatio Alger Awards events, making him fully aware of the challenges that have faced Horatio Alger Scholars. "One of the things I think is so powerful about this organization is that the Scholars see that they are not alone in their adversity, and then they learn that there will be someone to support them in their efforts to improve their opportunities" he says. "My advice for them is to work hard, pray hard, and good things will happen."
"