Byron Allumbaugh *
Class of 1996
Chairman of the Board Ralphs Grocery Company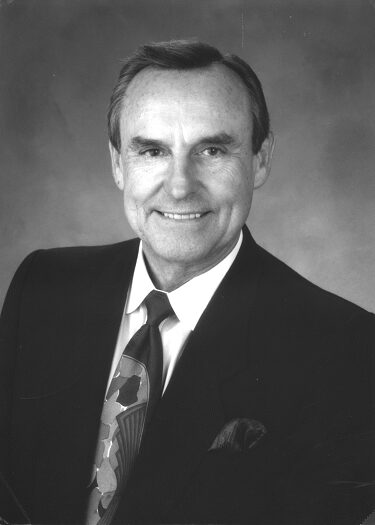 Byron Allumbaugh grew up in the early 1930s in Chicago, where he watched his parents struggle throughout the Great Depression. His father, a baker, had to work two or three jobs to make ends meet. Even though times were difficult, Allumbaugh's family life was warm and loving. His mother came from a poor family in the South where she worked in the cotton fields as a child. She imbued in her son a sense of personal worth and taught him to be honest with himself and others.
During World War II, the family moved to the Pacific Northwest to take advantage of the jobs in the defense industry. Allumbaugh's father became a welder and his mother worked as a riveter. Large for his age, Allumbaugh got a job as an apprentice butcher at a meat market when he was just 12. He took advantage of the opportunity given him and worked his way up to journeyman meat cutter by the time he graduated from high school. He then entered college, planning to train for radio and television broadcasting. But when he discovered he could make more money as a butcher, he quit school.
At the age of 19, Allumbaugh married and became a meat buyer. By now, veterans were returning to the job force, but Allumbaugh had a major head start on them. In 1958, he became the director of meat operations for Ralphs grocery chain, and spearheaded the process of preparing beef at a central point before shipping it to the stores for final cuts. Allumbaugh began taking jobs in other management areas and was soon appointed chief operating officer; in 1973, he was named president. Three years later he became Ralphs' CEO.
For the next 22 years, Allumbaugh guided the company through tremendous growth, expanding from 60 to 430 stores. After several years in retirement, Allumbaugh became chairman of CKE Restaurants, Inc., the parent company of the Carl's Jr., Hardee's, La Salsa, and Green Burrito restaurant chains. In addition, he served on numerous corporate boards, both public and private.
Of his Horatio Alger Award, Allumbaugh said, "It was an honor to receive this award, and I am proud to have been a part of the growth that has taken place in our scholarship programs. My advice to these young people is to do the best job they can in whatever job they have at the time. If you do that, the rest will take care of itself."