Brian Lamb
Class of 2023
Managing Director and Northeast Segment Head for Middle Market Banking & Specialized Industries JPMorgan Chase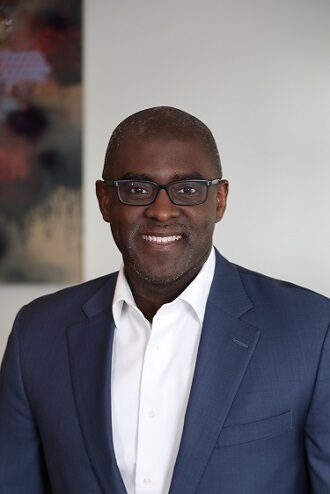 Brian Lamb was born in 1976 in a home that was built by his father. Forty-seven years later, his parents are still living there. The house is located in Midway, Florida—a predominately black community 20 miles from the state capital in Tallahassee, where he was born. "I wasn't born in our hometown," says Lamb, "because there was no healthcare there. My father, who was 1 of 16 children, was from Midway. It's rural and was mostly tobacco farms. It has always been a challenging place to live."
Lamb's parents met at Stillman College, a historically black college in Tuscaloosa, Alabama. His father was there to play basketball, which was his path to higher education. Following his graduation, he became a physical education teacher. Lamb's mother became a corrections officer for the state of Florida. "My father always had at least two jobs and often he had three. He worked for the recreation department and also at a golf course. For 40 years, he juggled multiple jobs and responsibilities to provide for our family. My greatest hope is that I will be half the husband, father, son, and human being my father is. If I achieve that, then I will be successful."
Lamb describes his homelife as loving but disciplined. His parents infused him with a deep respect for family and diligently tried to keep him safe from drugs and violence. "They taught me about the importance of integrity and doing what you say you will do. I had a simplistic view of things: I just knew I didn't want to embarrass my household or myself."
Lamb focused on his education and was passionate about sports, particularly basketball. When he graduated from high school, he was one of the top basketball players in the country. He received offers from elite colleges, including Cornell, Stanford, and George Washington University. "Ultimately, I didn't want to be too far from home," he says, "so I chose the University of South Florida."
Dreaming of a career in the National Basketball League, Lamb put all his energy into his sport. He made all-conference at the end of his freshman year, and by the time he was a sophomore, he was captain of the team. "It was during my junior year that my dream ended in a split second," he says. "I was a point guard and I ruined my shooting arm by completely tearing my rotator cuff. It was a devastating injury. Just terrible."
When Lamb had the one thing that he believed made him a superstar taken away from him, he couldn't imagine going forward. "I had reconstructive surgery on my shoulder. When I woke up, I thought I was alone, but I wasn't. My father was sitting right there next to me. It was the lowest moment of my life, but my father was there to give me hope. My parents helped me to change my focus and to channel the huge amount of anger I had after my injury. I will always be grateful to them for that."
Lamb became a high-performing accounting student. After his shoulder surgery, he got a summer job in Tampa as a meter reader for a utility company. "That wasn't a great job," he says. "I think I ran from more dogs than I read meters."
After completing his BS degree, Lamb did his MBA—also from the University of South Florida. He is also a graduate of the Stonier Graduate Banking School at the University of Pennsylvania.
Lamb quickly moved up the ladder at the utility company from meter reader to become the director of Financial Services, the youngest in the company's 100-year history. In 2006, he became the Regional CFO for Fifth Third Bank and over 13 years held national roles leading Wealth & Asset Management, Retail, Middle Market and Business Banking.
In 2020, he joined JPMorgan Chase as the Global Head of Diversity, Equity & Inclusion to build a world-class Diversity, Equity, and Inclusion (DEI) organization at the firm. In this position, he was responsible for executing a strategy that built on the firm's existing work and further incorporated a diversity lens into how the firm developed products, served clients, supported employees, and helped communities. He was also instrumental in propelling the firm's $30 billion commitment to racial equity.
"I joined the firm just as everything was closing down due to the pandemic," says Lamb. "At the same time, the country was experiencing a social and racial awakening. I chose to take this position at JPMorgan Chase because it gave me purpose. It was an unbelievable opportunity to design and launch the largest strategy of its kind in our history. The company's financial and operational commitment to this project was transformative and generationally impactful in terms of building a diverse and inclusive culture at the firm."
In 2022, he became Northeast Segment Head for JPMorgan Chase's Middle Market Banking & Specialized Industries business, covering the Northeast. He also serves as chair of the Florida State University System Board of Governors and, after serving as a Board Trustee, is now chair of the National Urban League's Audit Committee.
Notably, Business Insider named him as a DEI Trailblazer in 2021. He's also been recognized as a 2020 person of Vision by Preserve Vision Florida, a 2019 Man of Honor in Cincinnati, Savoy Magazine's Top 100 Most Influential Blacks in Corporate America in 2018, and he was named to the Tampa Bay Business Hall of Fame in 2016.
"Success for me is achieving something that is sustainable; something that will last for multiple generations. Horatio is in its 76th year, which means that someone made a decision many years ago that has had a lasting impact. I want my decisions to make a lasting, positive difference."
Looking back on his career-ending sports injury, Lamb sees that time in his life as a crossroads. "I was filled with anger over what happened to me in the blink of an eye. I could have let my anger be destructive, but instead I channeled it into my education. When I talk with young people, I try to emphasize how important it is to find something that you can be passionate about and perform at a high level. It turns out, basketball wasn't my only passion—even though at the time I thought it was. Find something that excites you and that you are good at and success will find you."
Lamb credits his education for his launch into corporate America. "Choosing to pursue higher education is making an investment in yourself," he says. "It's one of those decisions that have a lasting impact. That's why I am so excited to become a part of the Horatio Alger Association. This organization's purpose perfectly aligns with my belief in the importance of education."
Lamb has not forgotten his alma mater. A few years after his graduation, he established a scholarship fund for first-generation minority and female college students at the University of South Florida.
In addition to the Association's educational mission, Lamb is honored to stand with fellow Members. "The members in this organization are arguably some of the most accomplished professionals in American history," he says. "To become a part of that is truly humbling for me."