Barbara M. Barrett
Class of 1999
25th Secretary of the U.S. Air Force
Owner Triple Creek Guest Ranch
Former United States Ambassador to Finland, 2008-2009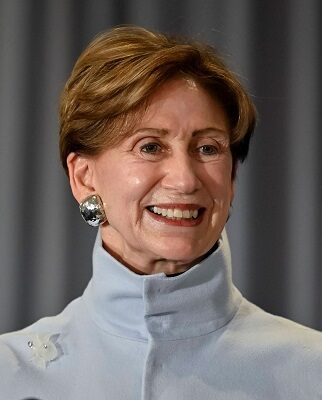 In the coal-mining country of southwestern Pennsylvania, Barbara Barrett was raised on a modest farm in the 1950s. She was the second of six children born to a former Arizona cowboy who traveled 50 miles each day to work in a Pittsburgh steel mill. Her days were filled with planting, raising and harvesting crops and tending the few chickens, pigs and cows that fed the family. Barrett's father was hard-working and had a love of the outdoors.
Barrett's father had not graduated from high school, but he wanted his children to attend college. "Every penny we found was put away for college," says Barrett. "We each used a battered old Prince Albert tobacco can to '˜bank' our nickels and dimes." When Barrett was four years old, her father gave her a calf. It was her responsibility to tend her calf, then make the decision to sell, raise, or trade it. "My father couldn't afford to give us much, but he gave me a calf, which was really a savings account for college, a lesson in personal responsibility and a business course, all in one."
When Barrett was 13, her father died suddenly and Barrett had to support her mother and six siblings. She earned $1.50 an hour giving horseback riding lessons on the family's horses. Her older brother accepted an appointment to the U.S. Merchant Marine Academy. Her two younger brothers went to the Milton Hershey School for Boys, an orphanage more than 200 miles away, which gave them room, board, clothes and a good education.
Barrett was accepted with honors at Arizona State University (ASU) in Tempe. After paying for her airline ticket to school, she was left with only $34. She worked as many as five jobs at a time while carrying a full load in math and political science. She proctored exams, did clerical work and library research for professors and worked at the bookstore. She even worked at the state fair selling hot dogs on a stick during her undergraduate years.
Following graduation, she worked as the personnel director of a hospital in Prescott, Arizona. Twice a week after a full day of work, she drove a total of 240 miles round trip to attend night classes at ASU to finish her master's degree. Barrett attended law school at ASU while working as a law clerk at The Greyhound Corporation, which later hired her as a lawyer.
In 1979, a Phoenix program called Valley Leadership invited Barrett to join their first class of 45 young leaders. Her participation in the group led to her recruitment into the political realm. In 1980, Barrett was a surrogate speaker for Barry Goldwater, who was running his last race for the U.S. Senate. Although she was only 29, her speeches caught the attention of Arizona political leaders. When Ronald Reagan won the 1980 presidential election, he recruited Barrett to serve as vice chairman of the Civil Aeronautics Board (CAB). Her aviation negotiations with China, Poland, Ireland, the United Kingdom, Peru and many other countries often resulted in treaties or agreements. When the CAB closed in 1985, Barrett returned to Arizona and married Craig Barrett ('07).
Barrett was also a partner with the esteemed law firm of Evans, Kitchel & Jenckes, specializing in international business and aviation law. Later, she was again summoned to Washington to take the number two post at the Federal Aviation Administration (FAA), the highest FAA position a woman had ever held.
In the early 1990s, Barrett served as a civilian advisor at a time when women were excluded from flying fighters and bombers. She urged that the women be allowed to fly all aircraft types. The law was soon changed and Barrett became the first civilian woman to land in an F/A-18 Hornet on an aircraft carrier.
In 1994, she ran for governor of Arizona, the first Republican woman to run in that state. She lost in a close election, but two years later, Barrett chaired the successful Arizona campaign of presidential candidate and friend Steve Forbes.
Nominated by President George W. Bush and sworn in by Justice Sandra Day O'Connor, Barrett served as Ambassador of the United States to the Republic of Finland. Barrett broadened United States-Finland technology and commercial relationships and spoke at leading Finnish facilities, from paper mills and nuclear power plants to universities and military installations. To advance public diplomacy, Barrett piloted a small plane to over a dozen airports, bicycled more than 900 kilometers from Finland's Swedish border to the Russian border, and visited all seven of Finland's UNESCO World Heritage Sites.
Barrett then became President and CEO of Triple Creek Guest Ranch in Darby, Montana, and she has served on the governing boards of the Smithsonian Institution, RAND, Aerospace and Sally Ride Science corporations, the Lasker Foundation, and the Space Foundation. She was also Interim President of the Thunderbird School of Global Management, and served on the boards of Raytheon, Exponent, Mayo Clinic, and Hershey School and Trust. She was chairman of the board of Valley Bank of Arizona and CEO of the American Management Association. Barrett also represented the United States at the United Nations, where she addressed the U.N. General Assembly. Barrett taught leadership at Harvard's John F. Kennedy School of Government and was president of the International Women's Forum. She has also mentored young men and women interested in careers in aviation, technical fields or international business.
In addition to receiving honorary doctorates from six universities, Barrett has been recognized with the Sandra Day O'Connor Board Excellence Award. An instrument-rated pilot, Barrett has summited Tanzania's Mt. Kilimanjaro and has trained at the Gagarin Cosmonaut Training Center in Star City, Russia, and Baikonur Cosmodrome in Kazakhstan.
As a certified astronaut, Barrett believes that space exploration inspires young people today just as the cosmos captivated Galileo and Copernicus centuries ago. "Education is decisive. Today's students who build science and math skills will have access to the thrill of space travel almost routinely in their lifetimes. A young person elects whether or not to study." she says. "Choosing to study or not may be the first decision a young person makes that predicts the quality of the rest of his or her life."