Angelo R. Mozilo
*
Class of 2004
Chairman and CEO Countrywide Financial Corporation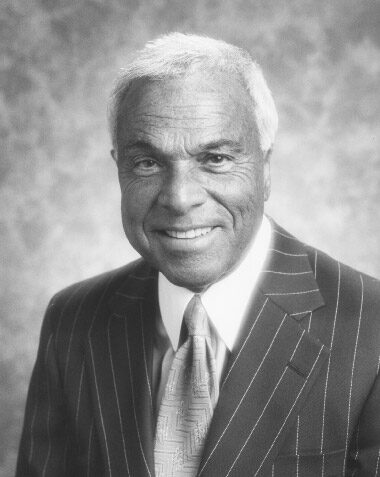 Born in 1938 in New York City, Angelo Mozilo was the son of first-generation Italian-Americans who had minimal formal education. His father was a butcher in the Bronx, and the family lived in a two-family house owned by Mozilo's uncle. The oldest of five children, Mozilo slept on a sofa in the dining room so that his sister could have the second bedroom.
Mozilo's mother believed that her children would need a good education before they could fully take advantage of America's opportunities. She insisted from the time they were young that her children would go to college.
Mozilo liked school and loved sports, but he was a severe asthmatic and could not participate in strenuous physical activity. "There were no effective medications for asthma in those days," he said. "Sometimes I had to stay in bed for a week waiting for an attack to lessen on its own."
When he was 12, Mozilo began helping his father in the butcher shop. He cleaned floors, made sausage, cut up chickens, and learned all there was to know about running the small shop. Even though it was tough work, he didn't mind helping his father. Still, he realized he did not want butchering to be his career. The day Mozilo turned 14, his father woke him up and took him down to the health department to get his working papers, making it clear he had to pull his fair share of the load.
From the eighth grade on, Mozilo attended Catholic schools, and he had to work to pay the tuition. He got a job with a mortgage company, where he worked during the week. On the weekends, he continued to help his father in the butcher shop.
Mozilo did well in school. When it came time to make a decision about college, Mozilo's father was reluctant to give his permission. Finally, it was decided that Mozilo could go to Fordham University because it was close enough that he could come home each night. To pay his tuition, Mozilo continued working at the mortgage company. He began as a messenger boy and worked his way up to filling in for staff members who were on vacation. He graduated in 1960 and decided to stay with the mortgage business.
Mozilo had just begun graduate school when his mortgage company merged with one in Virginia. He was sent to that office to help with the merger, and he performed his job so well he never returned to New York. Mozilo's company sent him to Brevard County, Florida, home of Cape Canaveral. The race to the moon space program had just begun, and the area had little to no housing available. "Space science engineers were pouring into the area," said Mozilo. "It was like the Gold Rush. They were literally living in tents on the beach."
Investing his company's total net worth on the project, Mozilo financed a newly formed development company. On the day the subdivision was scheduled to open, torrential rains flooded the model homes. "My life flashed before my eyes," said Mozilo. "We had furniture floating in the models, and I thought we would probably go bankrupt.
But the anxious home-buying engineers came anyway. They took off their shoes and rolled up their pants. I couldn't take their loan applications fast enough. We sold out that subdivision, which helped build my reputation. From that point on, we financed mortgages throughout Orange County, Brevard County, Cocoa Beach, Orlando, and almost all of Central Florida."
Mozilo worked his way up to executive vice president, but when a conglomerate took over the company in 1969, the new owners' practices did not mesh with what Mozilo thought was in the company's best interests, so he left and returned to Virginia, full of foreboding about his jobless future.
Soon, he formed a partnership with his mentor and former boss, David Loeb. They named their company Countrywide Credit Industries because they wanted to be the first national mortgage banking company. Their two-man office moved its headquarters to Los Angeles and evolved into Countrywide Financial Corp., which in 2008 was sold to Bank of America for $4.1 billion.
In 1991, Mozilo was elected president of the Mortgage Bankers Association, which represents thousands of mortgage professionals and their firms. In 1995, he was inducted into the National Association of Home Builders Hall of Fame, and he continued to serve on the board of its National Housing Endowment Foundation. In addition, he received the Ellis Island Medal of Honor.
Honored by his Horatio Alger Award, Mozilo said, "We all live for applause, whether it's from our co-workers, our spouses, or our children, but this award is a standing ovation, and I'm very appreciative."
Wanting to make a positive difference in the lives of others, Mozilo had put education at the forefront of his philanthropic endeavors. "My mother's gift to me was being very concerned with education," he said. "I spend time and resources on children and education because they are the future of our country. Education is critical to having choices in life."