Al Annexstad *
Class of 2010
Chairman Federated Insurance Companies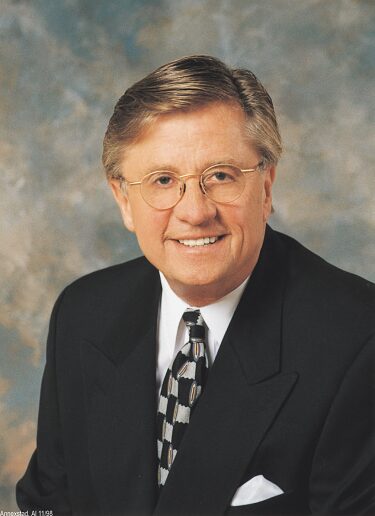 Al Annexstad, the youngest of four children, was born on a small dairy farm in the early 1940s near St. Peter, Minnesota. The farm had no plumbing or electricity, and the Annexstads did their chores tirelessly without the help of modern conveniences. "My father was very hard working," said Annextad Annexstad. "He had to milk 40 cows twice a day, by hand. He awoke early and went to bed late, which meant he had little time to spend with his family. He was, however, well-respected in the community for operating a fine farm."
When Annexstad was only five, his father, Sanford, suffered a fatal heart attack. His mother, Alice, tried to keep the dairy operation going, but after a year she and her children were exhausted and overwhelmed. She sold the farm, paid down her debts, and moved her children to a tiny house in St. Peter.
The rural farming community was also home to Gustavus Adolphus College, a small, prestigious private school. After two years of working multiple jobs to support her children, Mrs. Annexstad got a steady job preparing and serving food in the college cafeteria. "My mother worked there for 40 years," he said. "She made sure the students had a nutritious breakfast, lunch, and dinner. Her days were long, but she never complained. She loved working with the Gustavus students and staff, and they loved her."
Annexstad remembered St. Peter as being an ideal place for his boyhood. The small community embraced his family, and his friends' parents took an interest in the young, fatherless boy, as they spent quality time with him in family activities. When he was nine, Annexstad took on a paper route that required him to deliver 110 newspapers each Sunday. He needed a bicycle for the job and went alone to see the owner of the local hardware store, Bill Francis, to work out a deal. Annexstad explained why he required a bicycle, and Francis told him he could take one of Francis' bikes that day if he came to the store each Saturday for a year with a $1 payment. They shook hands and Annexstad honored the arrangement. Years later, Francis offered to turn his business over to Annexstad because he had no heirs. "He told me he'd watched me work hard over the years and felt he would be putting his store into good hands," said Annexstad. "I wasn't interested in going into the hardware business, but I was honored he thought enough of me to make such a generous offer."
Early on, Annexstad's mother told him if he wanted success in life, he would have to achieve it on his own. From the age of 10, he worked to pay for most of his own expenses. In his teen years, he delivered milk for a local dairy and detassled and shucked corn for area farmers. He often worked alongside his mother in the college cafeteria, washing dishes and clearing tables. Later, he worked in construction.
In high school, many of Annexstad's friends were preparing for college. "I had watched the families of my friends whose parents had received higher education," he said. "I could see that they were doing well financially. I knew I wanted to improve my earning power, and so I told my mother I wanted to get a college education. We would have loved for me to attend Gustavus where she worked, but we couldn't afford it. So instead, I worked my way through the nearby state university."
Henry Komatz was a prominent St. Peter businessman and owner of a construction company. He befriended Annexstad as a young lad and gave him many opportunities to work. "One day Mr. Komatz offered to pay my college tuition," said Annexstad. "I appreciated his offer, but told him I would feel better if I paid my own way. I asked that he give me a job in the summer and fall, which helped me earn enough money to pay my tuition. Looking back, Henry Komatz was one of my greatest mentors."
Annexstad majored in social science and business at Minnesota State University. For his first two years, he remained at home with his mother and commuted to school. As a junior and senior, he worked as a night clerk in a hotel, getting off his shift at seven in the morning, and then going straight to an eight o'clock class. "I lost out on a lot of the college experience because I had to work so much," he said. "Fortunately, however, I often entertained conversations with businessmen who stayed in the hotel where I worked. Those enlightening discussions revealed a broader world that I became eager to explore."
Annexstad's plan was to be a teacher and a coach. He had played sports throughout his high school years and thrived on the mentorship he received from his coaches and teachers. One day during his senior year of college, he was making a bank deposit for the store where he worked as a furniture salesman. When he walked out of the bank, a man tapped him on the shoulder and said he wanted to talk to him about working for Federated Insurance. "That was it," says Annexstad. "From a friendly tap on the shoulder, the course of my life was forever changed."
As soon as Annexstad finished his student teaching, he went to work in his hometown as a sales representative for Federated Insurance. He immediately embarked upon record sales achievement that soon led to his promotion. He worked steadily through the ranks of the company, becoming president and CEO in 1999. He added the title of chairman in 2000. Since taking over the reins of leadership, Federated has experienced unprecedented growth and reached a position of superior financial strength. Annexstad was credited with developing numerous strategies and opportunities that have led Federated from a regional company to a prominent national insurance organization. He was recognized as having more impact on the company than any other executive in its 108-year history.
Looking back over his 47-year career with Federated, Annexstad said, "I put my small town values to work in a great company and it has turned out very well. I have done my best to surround myself with quality people, employees and clients alike, and I'm very proud of that. No doubt my success has a lot to do with how and where I grew up, and the kind of people I have been associated with: my family, the wonderful people of St. Peter in my youth, and the many, many trusted friends, colleagues and business associates that I have come to know throughout my life." Annexstad's leadership in taking Federated to national prominence was recognized in 2006 by his induction into the Minnesota Business Hall of Fame.
Annexstad boasted that marrying his high school sweetheart Cathy has been his greatest accomplishment in life. Together, the Annexstads have been committed to giving back to their community. Their charitable efforts are spearheaded by their family foundation, which helps send at-risk youth to college. Annexstad believed true happiness comes when life's bounty is shared with those who need a helping hand. "Education," he said, "is the great equalizer. It is the surest path to realizing the opportunities that life has to offer. If you lead your life with unrelenting knowledge, energy, and passion for doing what's right, then life will be good for you and for those whom you care about."
Deeply humbled by his Horatio Alger Award, Annexstad said, "I am very grateful and honored that the Association looks upon my life as one that sets an example for our nation's youth. I shall cherish this honor, recognizing that it carries with it a lifelong commitment to the values the founders set forth more than 60 years ago. This Association is focused on helping deserving young people who have overcome great adversity in life to earn a college education. The future of this great nation depends upon our youth, all of them. To this end, I believe the mission of the Horatio Alger Association represents a profound and lasting investment in America's future."
Annexstad has served as a member of the Board of Trustees of Gustavus Adolphus College, the institution that played such an important role in his and his mother's lives in St. Peter. In 2000, the school bestowed upon him an honorary doctorate degree in recognition of his lifetime achievements and contributions on behalf of our nation's youth. More than a decade ago, he and his wife established the Annexstad Family Foundation to provide college scholarships for youth who have matured through the Big Brothers Big Sisters program.
In 2005, the Minnesota Business Partnership, a group of CEOs representing Minnesota's largest corporations, bestowed its Lifetime Achievement Award on Annexstad in recognition of his contributions to youth mentorship. In recent years, his alma mater, Minnesota State University, presented him with the Distinguished Alumnus Award, the institution's highest honor of achievement, in part for his contributions to humanity. This was followed in 2012 with MSU awarding honorary doctorate degrees to both Al and Cathy Annexstad in recognition of their many contributions to society, only the fifth time the institution has awarded such honors in its 144-year history.
"